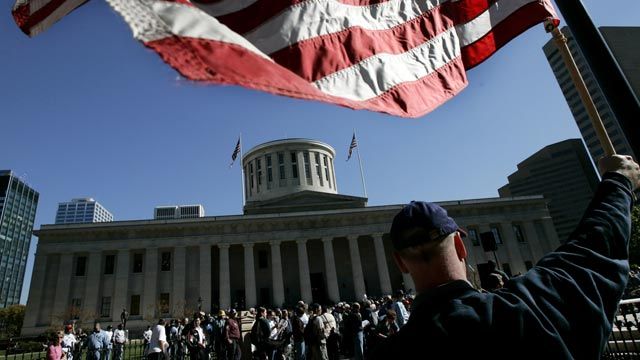 JB Lawton of Dublin, Ohio holds up an American flag as people gather at the state capitol building in Columbus, Ohio, following a march sponsored by the Ohio Voter Protection Coalition on Monday, October 25, 2004. (AP Photo/Laura Rauch)
This post originally appeared at the Brennan Center for Justice blog.
Latest Developments
Nearly one year after the US Supreme Court gutted the Voting Rights Act's core provision and six months before a crucial midterm election, a bill to restore many of the VRA's key protections remains stalled in Congress.
The primary roadblock is House Judiciary Committee Chairman Bob Goodlatte (R-VA), who has yet to hold a hearing on the measure. Reports indicate Goodlatte and other GOP leaders have claimed restoring Section 5 — which required jurisdictions with a history of discrimination to obtain certification that a proposed voting change would not hurt minorities — is unnecessary because the VRA's Section 2 provides adequate protection, MSNBC reported.
Advocates contend Section 2 is not enough for a number of reasons, including that challenges must be done on a case-by-case basis, which is inefficient, costly and will allow some discriminatory changes to fall through the cracks. To prove this point, voting rights groups presented Goodlatte with a 16,000-word document highlighting scores of election changes halted by the VRA and others that went into effect after the high court's decision. The memo also outlines the critical role Section 5 played in blocking those changes, many of which happened at the local level and garnered little notice.
With only a few months before Congress leaves for its summer recess, time is running out to move forward on the bill.
"The next several weeks are very crucial," said Nicole Austin-Hillery, Director and Counsel of the Brennan Center's Washington, DC, office. "The hope was always to have this passed and signed before the midterms."
For the latest updates on the push to strengthen the Voting Rights Act, visit www.VRA4Today.org.
State Updates
Arizona/Kansas – For the time being, residents will not need to provide proof of citizenship when signing up to vote using the federal registration form, a federal court ruled this week. The decision halts an earlier ruling — which would have required the documents to register — while the Brennan Center and other groups appeal it to the 10th Circuit Court of Appeals. The Center, with Kirkland & Ellis, represents the League of Women Voters US and its state affiliates in the case. Read more about how the new law has hurt the League's registration efforts.
Arkansas – The state Supreme Court last week vacated a lower court decision striking down Arkansas's voter ID law while it considers an appeal in the case. The ID requirement was in effect for Tuesday's election. Reports indicate it caused some problems, with a few voters saying they were quizzed about information on their IDs. And the winner of the Republican gubernatorial primary, Asa Hutchinson, who supports the law, forgot his ID when he went to the polls. He was able to vote after a staff member retrieved it for him.
Illinois – The legislature is drafting a package of election reforms to modernize the state's voting system, which will boost registration and cut costs. "Better voter turnout and more accurate voter rolls are goals everyone should support," wrote the Chicago Sun-Times editorial board.
Massachusetts – The legislature passed a bill to create an early voting period, allow citizens to register online and give 16- and 17-year-olds an opportunity to pre-register. Governor Deval Patrick (D) is expected to sign it.
Missouri – Voters this November will decide whether to create an early voting system for the Show Me State — but they may have two options to choose from. The legislature approved one initiative last week, which would allow six business days of early balloting. Citizen groups have led a separate drive proposing a six-week early voting period, including weekends. Meanwhile, state lawmakers agreed not to pursue a voter ID law as part of a deal on an abortion bill.
New Jersey – Military veterans who are in prison, on parole, or on probation could vote under a new bill introduced by one state senator. The Asbury Park Press called the idea misguided because it only impacts certain citizens, but offered an alternative: restore everyone's rights after they're released from incarceration.
North Carolina – A legislative commission last week approved new rules cracking down on protests at the state Capitol — a move advocates see as a direct attack on the Moral Monday movement, which last year organized numerous rallies against restrictive voting measures. Watch the Brennan Center's Myrna Pérez discuss the changes on MSNBC's "Hardball with Chris Matthews." Meanwhile, advocacy groups asked a federal judge this week to stay North Carolina's restrictive voting law for this November's election.
Ohio – State Democrats are pushing a variety of voting improvements before the November election, including "more early voting, online registration, and broader counting of provisional ballots."
Pennsylvania – The state's voter ID law is officially dead after Governor Tom Corbett (R) announced he will not appeal a court ruling striking down the measure.
Wisconsin – Attorney General JB Van Hollen last week asked a federal judge to put his decision overturning Wisconsin's voter ID law on hold until it is reviewed by an appeals court.
Wyoming – A legislative committee is considering a measure to automatically restore "voting rights to nonviolent felons after their incarceration or probation ends."

Media Round-Up
– Voters scored significant victories recently with courts striking down Wisconsin and Pennsylvania ID laws. But President Obama can also safeguard the right to vote through executive action, wrote Lucy Zhou at The Hill's Congress Blog and take several steps to improve elections and modernize registration.
– Myrna Pérez joined a panel of leading experts, analysts and advocates at the University of Chicago's Institute of Politics for a conversation on the state of voting rights in America and the current push in Congress to strengthen the Voting Rights Act.
– Many outlets have tapped secretary of state races as the latest front in the voting wars. But "access to voting should not be a partisan issue," argued the Woodrow Wilson Center's Linda Killian in The Wall Street Journal and "election administration shouldn't be political either."
– US Senator Rand Paul (R-KY) took heat for recent statements indicating he may not support voter ID laws. Appearing on Fox News's "Hannity," Paul clarified his remarks, making clear he supports the laws but thinks Republicans should emphasize them less. Read more on where other GOP leaders stand on voter ID.
---
For more Brennan Center news, connect with them on Facebook and Twitter.