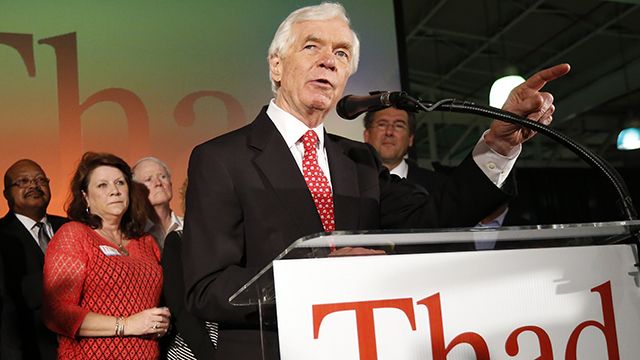 Senator Thad Cochran (R-MS) addresses supporters and volunteers at his runoff election victory party on Tuesday, June 24, 2014, at the Mississippi Children's Museum in Jackson, Mississippi. (AP Photo/Rogelio V. Solis)
This post originally appeared at the Brennan Center for Justice blog. For more Brennan Center voting updates, sign up for their newsletter.
On Civil Rights Anniversary, Push to Revive Voting Rights Act Continues
As lawmakers and activists commemorated the 50th anniversary of the signing of the Civil Rights Act last week, advocates continued to push a bill to restore a key Voting Rights Act protection.
The latest target is US Senator Thad Cochran (R-MS), who voted to reauthorize the VRA in 2006 and recently benefitted from black voters turning out to support him in a tough GOP primary.
"We are hopeful that as a result of the voting turnout from African-American communities that there is some reciprocity — that his staff will support reauthorization to ensure African-Americans in the future, if needed, could also go out and vote," said Mississippi NAACP President Derrick Johnson.
The Voting Rights Amendment Act, which has bipartisan support, is currently stalled in the House. In a hearing last month, Sen. Patrick Leahy (D-VT) explained why the proposal is needed to prevent discrimination in voting.
"Since 2010, 22 states have passed new voting restrictions that make it more difficult to vote," he said, citing statistics from the Brennan Center's latest study, The State of Voting in 2014. "Of the 11 states with the highest African-American turnout in 2008, 7 of those have new restrictions in place."
See all of the Center's 2014 voting resources.
Bipartisan Consensus Forming on Restoring Voting Rights
Senators Rand Paul (R-KY) and Ben Cardin (D-MD) will hold a panel this month to explore ways to restore voting rights to people with past criminal convictions — an issue gaining bipartisan movement on Capitol Hill.
"It's the biggest voting rights issue of our day," said Paul, days before introducing a bill to restore rights to nonviolent ex-felons. "We think there may be a million people who are being prevented from voting from having a previous felony conviction."
In April, Cardin and Rep. John Conyers (D-MI) introduced the Democracy Restoration Act, based on a Brennan Center proposal, which would go further and restore voting rights to nearly 4.4 million citizens. The two measures build on recent bipartisan support for rights restoration, including from Attorney General Eric Holder and GOP governors.
"Having both a Republican voice and a Democratic voice on this issue is a huge step forward," Nicole Austin-Hillery told Politico. "That is going to help change the national conversation."
State Updates
Alaska – State officials violated the Voting Rights Act by not providing enough language assistance to Alaska Natives, attorneys for four tribal villages argued in a federal trial last week. State election officials contend they are meeting the law's requirement, and say turnout in Native village precincts are higher than the statewide average.
Arkansas – Two civic groups asked a state trial court to halt Arkansas's voter ID requirement after they found more than 1,000 eligible votes were not counted in May's primary due to the law. The judge previously ruled the ID measure violated the state constitution, but he stayed the decision until it is considered by the Arkansas Supreme Court.
Hawaii – Gov. Neil Abercrombie (D) signed a law creating same-day voter registration, which lawmakers hope will boost the state's poor turnout.
Illinois – Gov. Pat Quinn (D) signed a law expanding early voting and creating a same-day registration pilot program for the November election.
Iowa – Secretary of State Matt Schultz's (R) controversial plan to purge voters from the rolls and investigate voter fraud will likely die, the Associated Press reported. Schultz lost a congressional primary last month, and those running to replace him as Iowa's top election official have downplayed the issue.
Kansas – The ACLU asked a state judge to block Secretary of State Kris Kobach's (R) plan to create a complicated "two-tiered" registration system, calling it a "profound and unprecedented restructuring of the way elections are administered in Kansas." The issue stems from the state's new law requiring voters to provide documentary proof of citizenship when signing up, which is currently being litigated in federal court. Read more on potential problems with the plan.
Mississippi – Tea party candidate Chris McDaniel may challenge the result of the June 24 Republican primary, claiming some voters who supported his opponent, incumbent Sen. Thad Cochran, were ineligible because they participated in the June 3 Democratic primary. Reports indicate Cochran may have benefitted from a "surge in black, Democratic turnout." Legal analysts are skeptical the challenge will succeed.
North Carolina – A federal judge heard arguments this week on whether to temporarily block a series of voting restrictions, including cutbacks to early voting and limits on registration, before the November election. The Department of Justice, NAACP, Advancement Project and others argued the measures were designed to hurt minorities, seniors and young people. Read more on the trial from the Brennan Center's Jennifer Clark. One provision allowing 16- and 17-year-olds to pre-register is already causing confusion, The Charlotte Observer reported. Meanwhile, The New York Times chronicled how even small, local election changes have stirred controversy since the Supreme Court's Shelby Countydecision, which freed the state from federal oversight.
Ohio – The NAACP and ACLU of Ohio asked a federal judge to expand early voting by restoring "Golden Week" — the one week when voters can register and cast a ballot on the same day — and add Sunday and evening hours. The cuts will disproportionately affect African Americans, who vote early at more than twice the rate as whites, the groups argue. Meanwhile, a drive to amend the state's constitution to include a "Voters Bill of Rights" failed after activists were unable to gather enough petition signatures.
Virginia – The state's photo ID law went into effect on July 1, but the Board of Elections plans to re-evaluate the rule after State Sen. Mark Obenshain (R) raised concerns that the Board's definition of "valid" identification conflicted with state law. Courtney Mills of Fair Elections Legal Network explained why Obenshain's challenge could confuse voters.
Wyoming – A legislative committee will consider a measure next week to automatically "restore voting rights for nonviolent, first-time offenders once they finish serving their sentences."
Click here for the Brennan Center's comprehensive list of 2014 state voting proposals.
Media Round-Up
Students are joining the legal fight against voting restrictions, arguing North Carolina's recent rule changes violate the 26th Amendment by making it harder for young people to cast a ballot. The challenge comes amid other efforts to restrict student voting, from Ohio to Maine to Texas.
Obsolete equipment and old regulations are creating a looming crisis in voting technology. "In a worst-case scenario, current equipment will start to fail in the next couple years, forcing fewer voting booths to process more ballots, a recipe for longer lines and voter frustration," wrote Governing magazine.
"Some voters in nearly half of the country will find it a lot tougher to cast ballots due to new voting laws," reported CNN.com, using data from the Center's The State of Voting in 2014 report. Read more on the study in Newsweek and in Erik Opsal and Myrna Pérez's Newsday op-ed.
---
This post originally appeared at the Brennan Center for Justice blog. For more Brennan Center voting updates, sign up for their newsletter or connect with them on Facebook and Twitter.