This post originally appeared at the Brennan Center for Justice blog. For more Brennan Center voting updates, sign up for their newsletter.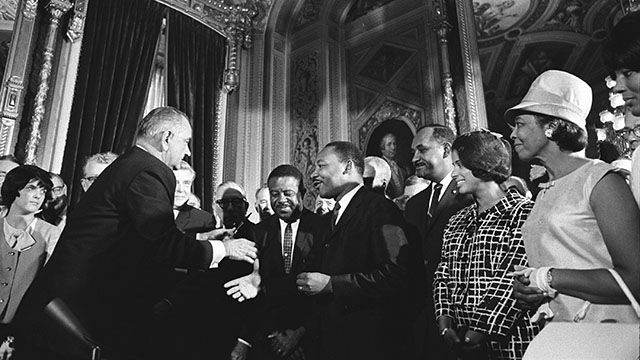 President Lyndon B. Johnson meets with Martin Luther King Jr. on August 6, 1965, after signing the Voting Rights Act. (Photo: Yoichi R. Okamoto, Lyndon Baines Johnson Library and Museum)
Civil rights advocates launched a petition drive last Wednesday to mark the 49th anniversary of the signing of the Voting Rights Act — calling on members of Congress to move forward on a bipartisan bill to strengthen the law's core protection.
A number of states — including North Carolina, Texas and Virginia — advanced voting restrictions since the US Supreme Court gutted the VRA last year. Rep. Jim Sensenbrenner (R-WI), Sen. Patrick Leahy (D-VT) and others introduced the Voting Rights Amendment Act in January to modernize the law's key provision.
Sen. Rand Paul (R-KY) recently boosted the measure's prospects, announcing he "wants to restore a federal role for the government in the Voting Rights Act." But the Senate has held just one hearing on the bill, and the House has failed to act.
Fortunately, lawyers fanned out across the country this year to preserve the Voting Rights Act and challenge new restrictions, noted Brennan Center contributor Victoria Bassetti.
The VRA anniversary is also an opportunity to reflect on how the civil rights fight has expanded to include other human rights, such as criminal justice reform, education inequality and LGBT protections, wrote Nicole Austin-Hillery.
---
State Updates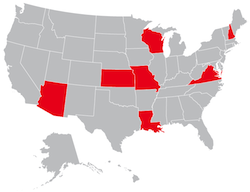 Arizona/Kansas – Kansas and Arizona's new voter registration rules will make it harder for some to vote during primaries this month. The states require documentary proof of citizenship, which federal registration forms do not require. Arizona and Kansas have set up "two-tiered" systems so that some who used the federal form can vote only for federal candidates. Experts warn this new type of restriction could spread. "If Arizona and Kansas succeed, I have no doubt that this will continue to be an agenda item, and it will be an ongoing battle in many states," Wendy Weiser told The Wall Street Journal. The Brennan Center represents the League of Women Voters in a suit challenging the provisions.
Louisiana – A federal court heard arguments this week on whether Louisiana should again be subject to the Voting Rights Act's preclearance requirement. Plaintiffs allege voting sub-districts for city court judicial elections were designed to intentionally discriminate against African-Americans. "It would put Louisiana back where it was before Shelby County, which is not where it wanted to be," said the Brennan Center's Michael Li.
Missouri – A proposal to create a six-week early voting period will not be on the November ballot because the initiative did not secure the required number of petition signatures.
New Hampshire – A state judge struck down a law that "effectively blocked out-of-state students" from voting, calling it "unduly restrictive." The provision had required anyone registering to vote to officially establish New Hampshire residency, which meant getting a state driver's license, among other conditions.
Virginia – The Board of Elections adopted a new rule Wednesday that prohibits citizens from using a photo ID expired more than a year for voting purposes. Meanwhile, a Department of Elections glitch led to 125,000 voters receiving erroneous letters saying they were registered in another state and needed to update their registration status. After last year's voter purge problems, advocates stressed the importance of "clear and concise guidelines" for voting lists. And last week, Gov. Terry McAuliffe (D) restored voting rights to more than 2,500 with past criminal convictions.
Wisconsin – The state Supreme Court last week upheld Wisconsin's photo ID law, but the measure will still not be in effect because a federal judge blocked it earlier this year. Importantly, the state court changed a provision and made it easier for voters get a free ID. State officials are trying to determine the best way to implement the court's ruling. On Tuesday, the state attorney general asked a federal appeals court to lift the judge's previous injunction and allow the law to be enforced in this November's election.
Click here for the Brennan Center's comprehensive list of 2014 state voting proposals.
---
Featured Research
The National Commission on Voting Rights released a new report Wednesday detailing how racial discrimination is a recurring problem for minority voters and states formerly covered by the Voting Rights Act are the worst offenders. "Without the key protections of the VRA, minority voters will be more vulnerable to discrimination as they head to the polls for the upcoming mid-year general elections than at any time in recent decades," the study found. Read more on the report from PBS Frontline and MSNBC.
---
Media Round-Up
See more coverage of the right fight to vote on our spotlight page. For more Brennan Center voting updates, sign up for their newsletter or connect with them on Facebook and Twitter.