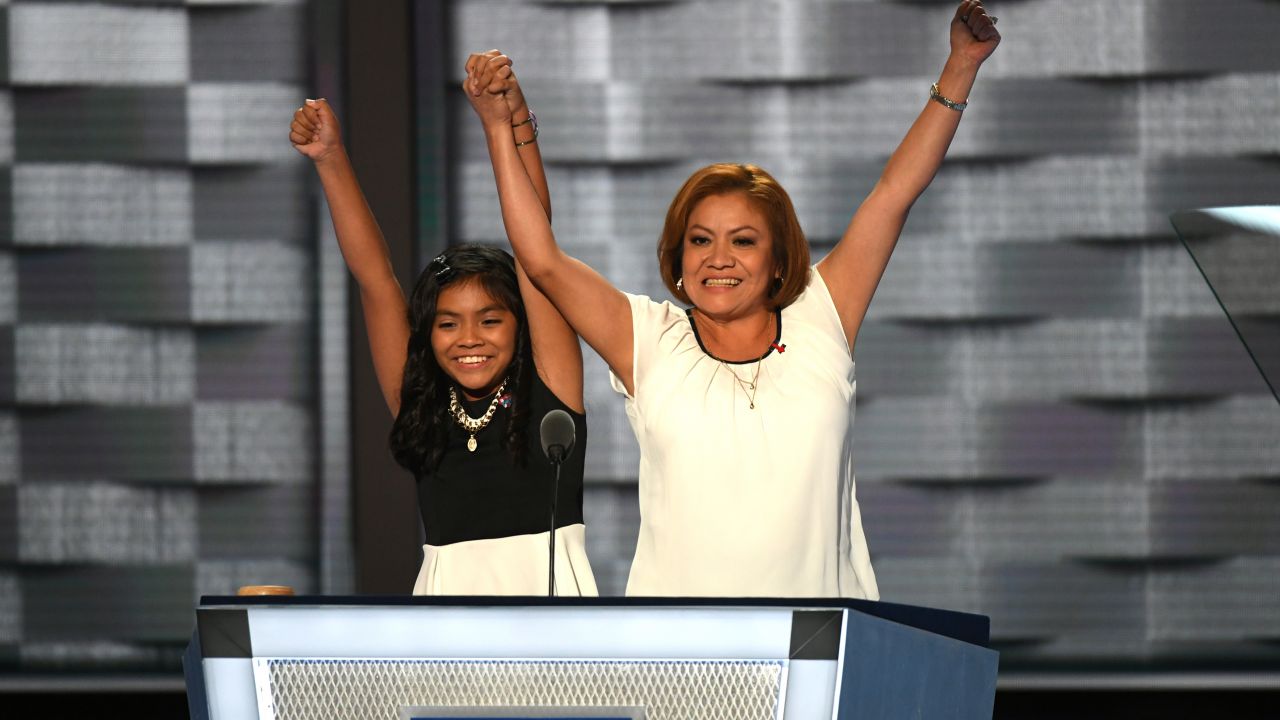 When Harry Reid won the final race of his career in 2010, he knew whom to thank.
"I would not be the majority leader in the United States Senate today, but for the Hispanics in Nevada," Reid declared after he prevailed against Sharron Angle's xenophobic bid with 94 percent of the Latino vote.
That contest remains one of the best examples of why Democrats should never take Latino voters for granted. While Democrats have already won the allegiance of most of the eligible Latinos who do vote, they may pay a price in November if they fail to make the most of that advantage by boosting Hispanic turnout.
There's lots of fertile ground for Democrats. The question is, do they go and do the registration work?
— Sylvia Manzano, Latino Decisions
The victory Latino voters handed Reid in 2010 was one of his party's few triumphs in bruising midterm elections. That was the year the tea party emerged, shaving 6 seats from the Democratic Party's Senate majority. Two years later, heavy Latino support and slightly higher turnout helped the Democrats claw back two Senate seats as well as assure Barack Obama's re-election. But in 2014, aided by a record-low rate of Hispanic turnout across the nation, Republicans took over the Senate with an 8-seat advantage. Latino Decisions, a political opinion research firm that looked into why the Democrats lost their edge, determined that they failed to "do a good enough job convincing Latino voters that they truly cared, or that they would stand for their issues."
This diverse demographic was already skewing far more blue than red even before the GOP made Donald "It's going to be a big, fat, beautiful wall!" Trump its standard-bearer. A Univision poll taken in June 2015 found that 58 percent of Latinos at that point were identifying as Democrats, 26 percent as independents and 16 percent as Republicans. But expert after expert says Democrats can't count on Trump to win the Latino vote for them, and some are concerned that the party isn't investing the right way to turn out a constituency for whom the rhetoric of this election has been an understandable turnoff.
"There's lots of fertile ground for Democrats," said Sylvia Manzano, a principal at Latino Decisions. "The question is, do they go and do the registration work? Do they make sure that the people who are Republicans but can't bring themselves to vote for Trump vote for Democrats?"
Billionaire George Soros teamed up with other Democratic donors in March to pledge $15 million for what was billed as the largest Latino-focused turnout effort to date. Yet Chuck Rocha, president and founder of Solidarity Strategies — the nation's largest Latino-owned and operated political consulting firm — says Hispanic registration and get-out-the-vote efforts are being under-funded.
"I absolutely think that there is not enough being done," said Rocha, who spent 13 months cultivating young Latino supporters for the Bernie Sanders campaign. "We work with a majority of the Latino nonprofits in the country and everyone's budgets and fundraising for registration efforts are significantly less than four years ago. We just got money to register 20,000 Latinos in North Carolina. We got the contract yesterday. We needed it three months ago."
Eric Rodriguez, a National Council of La Raza vice president, shares Rocha's concern. NCLR's nonpartisan arm is now registering Latino voters in Florida and will soon begin registering Hispanics in Pennsylvania and Nevada, two battleground states with close Senate races. "We're seeing less investment in voter registration this election, and it's starting too late," he said. "We would have preferred to start in February and March but we did not have the funding."
The Hispanic community is roused and angry in a way that I've never seen in 30 years.
— Sen. John McCain (R-AZ)
Democrats must gain at least four seats to win back a Senate majority if Clinton wins because a Vice President Tim Kaine could break tied Senate votes. They'll need to net five if Trump prevails.
About half of Latino voters reside in Texas and California, where one party dominates. That means geography dilutes Latino electoral clout, Manzano observed — especially when both contenders for California's open Senate seat are Democrats. Yet with Trump headlining the Republican ticket, Hispanic voters may play a decisive role this year in many Senate races, including Pennsylvania, Colorado and even Arizona, where Republican Sen. John McCain's lead over Democratic Rep. Ann Kirkpatrick stands a hair over the margin of error. "This may be the race of my life," the McCain said at a fundraiser. "The Hispanic community is roused and angry in a way that I've never seen in 30 years."
Since fewer than half of eligible Latinos have voted in recent presidential elections, versus 2 out of 3 white and black voters, the National Association of Latino Elected and Appointed Officials (NALEO) expects about 13 million Latinos to vote this year. That estimate falls far short of the 27 million Hispanic Americans eligible to cast ballots in November, yet would mark a big jump from the 9.7 million who went to the polls in 2008. If Latinos voted this year like whites and African-Americans, they would cast an additional 4 million ballots, says Matt Barreto, a Latino Decisions pollster now working for Hillary Clinton's campaign.
You need that community voice, a brown person to knock on the door.
— Chuck Rocha, Solidarity Strategies
"There's not a doubt in my mind that Clinton's going to run a robust Latino outreach program. She's hired a lot of good people," and is going to spend heavily on Spanish-language ads, Rocha said. "But down-ballot, you need something else in addition to Hillary. You need that community voice, a brown person to knock on the door and tell that Latino voter she stands for $15 an hour and health care and education."
Democrats appear likely to deny the GOP at least the 42 percent of the Latino vote experts deemed necessary in pre-Trumpian times for the presidency. (That is, without a nominee prone to retweeting white supremacists, asserting that a judge with Mexican heritage isn't qualified to preside over his own fraud case, advocating mass deportations and attacking the Latina Republican governor of a purple state.) Nationally, 3 out of 4 Latinos have unfavorable opinions of Trump and believe he's racist.
"What really matters is state by state. It's how badly Democrats lose Cuban-American votes and how well they do with Puerto Ricans in Florida and what happens in Nevada," Rocha said. "The Latino vote could determine the outcome in Ohio or Wisconsin but to my knowledge, no Latino firm has been hired" to register those new voters.
Take A Look: The Rise of Hispanic America
During the two parties' presidential nominating conventions, the Democrats certainly worked harder to appeal to Latinos. The only Hispanic speakers at Trump's coronation in Cleveland were Sens. Marco Rubio (R-FL) (who didn't attend in person) and Ted Cruz (R-TX) (who got booed when he didn't endorse the nominee), conservative activist Rachel Campos-Duffy, and Kentucky State Sen. Ralph Alvarado Jr. While Alvarado did utter a few words in Spanish, any appeal they might have had for Latinos was countered by the crowd's periodic chants of "build the wall," several speakers decrying statistically insignificant crimes committed by undocumented immigrants, and light booing when Campos-Duffy mentioned that her grandparents came here from Mexico.
"They're not even trying," Rodriguez said. "It's hard for me to imagine Trump breaking through and doing better than Mitt Romney," who mustered only 27 percent of the Latino vote in 2012.
At least a dozen Latinos addressed the diverse crowd that reinforced the Democrats' "stronger together" slogan in Philadelphia on just the first night of their convention. There were too many speeches delivered partly in Spanish throughout the confab to count, including Clinton running mate Tim Kaine's address and a tear-jerker by Karla Ortiz — the daughter of undocumented immigrants who settled in Las Vegas. Ortiz urged voters to back Clinton, because "she wants me to have the worries of an 11-year-old, not the weight of the world on my shoulders."
Clinton is now projected to beat Trump by as much as 69 points nationally among Hispanic voters, according to the latest New Latino Voice online tracking poll. But Democratic Senate candidates can't count on Trump to win the Latino vote for them. Not even former state attorney general Catherine Cortez Masto, a Latina Democrat vying for Nevada's open Senate seat, can do that.
Though recent polls put the race at a dead heat in Nevada, in early August the statistical whizzes at the FiveThirtyEight website heavily favored Clinton to beat Trump this fall. Yet Republican Rep. Joe Heck was polling ahead of Cortez Masto. What's more, early Latino Decisions polling didn't indicate the same overwhelming support for her among Hispanics that Reid commanded in 2010. "Republicans have thrown more at Cortez Masto than Democrats have thrown back," David Weigel observed in The Washington Post, before an arm of the Koch brothers' political operations announced a new ad buy supporting Heck's bid for the seat Harry Reid has occupied since 1987. That's exactly what Senate Majority Leader Mitch McConnell (R-KY), who is rooting for ticket-splitting, wants to see in the state's pivotal race.
"Latinos hating what Donald Trump says is not enough to mobilize them into an electoral force," Rocha said. "Demographics is not destiny. It's an opportunity."