This post first appeared at The Huffington Post.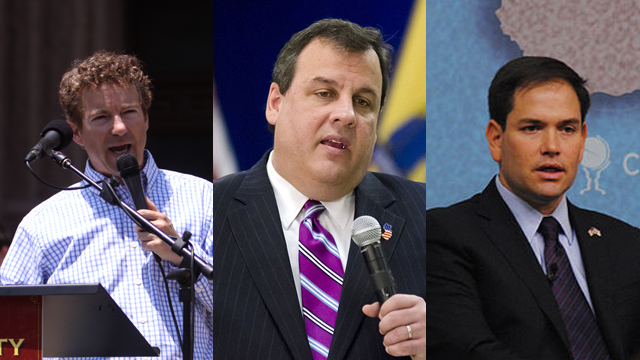 Last month's Iowa "Freedom Summit," where no less than nine would-be presidents tested their messages on a raucous crowd of 1,500 Iowa Republicans, looked for all the world like the start of a spirited contest for the 2016 GOP presidential nomination.
The Iowa event attracted serious prospects like Scott Walker and Chris Christie, longshots like Carly Fiorina and Ben Carson, recycled candidates like Rick Perry, Mike Huckabee and Rick Santorum, and even Donald Trump.
Iowans seem to enjoy their longtime status as kingmakers of presidential politics. But as the gathering in chilly Des Moines formally launched the quadrennial battle for their affection, a far different and almost certainly more important GOP gathering was unfolding at a resort hotel in sunny Palm Springs, California.
Call it the Plutocrat Primary. It's actually been underway for months.
The "Freedom Partners Chamber of Commerce" event in Palm Springs featured four potential candidates: Wisconsin Gov. Walker and Sens. Ted Cruz of Texas, Rand Paul of Kentucky and Marco Rubio of Florida.
Their audience was a collection of perhaps 400 millionaires and billionaires who've been drawn into a caucus organized by industrialists Charles and David Koch. Together, they and their companies plan to invest nearly $900 million in next year's campaigns, a staggering sum that's more than the national Democratic or Republican Party organizations have ever spent on a campaign, and more than the combined spending of 2004 presidential nominees George W. Bush and John Kerry.
The big money establishes beyond doubt the position of the Kochs and their friends as the preeminent power players of the Republican Party. Walker, Cruz, Paul and Rubio didn't go to Palm Springs work on their tans; they were there for the money. As the Kochs opened doors for each of them, their doors will remain open to the Kochs and the Koch agenda, including lower taxes on the wealthy, minimal environmental and worker-safety protections, and a continued freeze on the minimum wage.
We know from earlier reports that Gov. Christie also has been in touch with the Kochs and their networks. Other GOP hopefuls, their palms outstretched, are sure to come calling — if they haven't already.
Of course, the Democrats have a big-money caucus too, albeit one substantially smaller than the Kochs'. Environmental activist Tom Steyer, who put about $74 million into congressional races in 2014, and hedge-fund billionaire George Soros are the best known members of that group.
The New York Times reported last week that a super PAC tied to Hillary Rodham Clinton but legally independent from her still-undeclared campaign hopes to collect as much as $300 million from well-heeled donors in the next few months.
Money always has been important to success in politics, but this kind of money, welcomed into our elections by the Supreme Court's Citizens United decision, is like nothing seen since the robber-baron era of the late 19th century. It's somehow fitting that the Koch event in Palm Springs came at the end of a week that began with the nation's annual celebration of the life of Martin Luther King Jr., whose crusades for racial and economic justice were built on real grassroots support, and included the fifth anniversary of Citizens United.
Not long ago, a Democrat or Republican candidate with a lot of energy and a little money could come to Iowa and New Hampshire and hope that person-to-person, retail politicking would help him or her capture the party faithfuls' attention and jump-start a national campaign. That time is over. In both parties, the first prerequisite for success in next year's White House contest will be a strong performance in the Plutocrat Primary. The candidates who do well there will go into the other primaries and caucuses — the ones where the rest of us have a vote — with resources sufficient to drown out their opponents and with big-time obligations to their wealthy donors.
That's bad for Iowa and New Hampshire but even worse for our democracy.
The views expressed in this post are the author's alone, and presented here to offer a variety of perspectives to our readers.