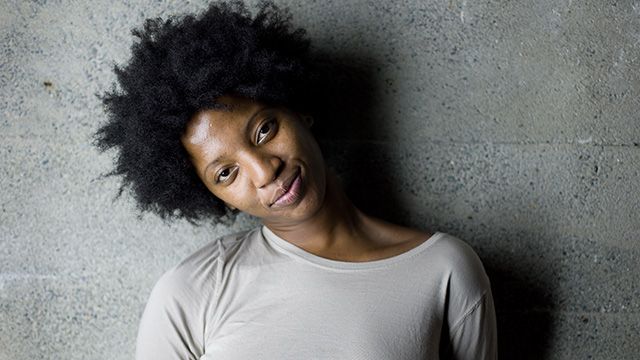 This piece was produced in collaboration with Echoing Ida and first appeared at RH Reality Check.
Rarely, if ever, are black women interviewed in the neighborhoods where they live and asked about a policy's impact on their lives. As such, on the days leading up to Women's Equality Day, which is held each year on August 26, I felt it was high time for me to begin asking black women in my community about their lived experiences with, and connection to, the laws that secured their right to vote.
When I think about Women's Equality Day, I reflect on the power and significance of black women exercising their right to vote. And I am reminded of the ways in which the fight for women's equality was a "crooked room" for black suffragettes. As they stood on the front lines of organizing for women's voting rights, they were also fighting to end the lynching of black men and women across the South. Today, black feminist activists continue this intersectional work, of having to protect our bodies, lives and families by voting against legislation that aims to take away our human rights at the same time that we're fighting to end sexist and gender-motivated violence as well as racist, state-sanctioned violence in our communities.
Most people, including women, don't know or care much about Women's Equality Day, except those of us who live and breathe women's rights work. The cause of this can be largely attributed to sexism, plain and simple. For Women's Equality Day, there isn't the same level of attention paid to it that is given to federally recognized holidays, and we don't get a day off work to reflect on its significance in American history, or our position in society as women voters.
So, I took to the streets of my neighborhood in West Philadelphia, interviewing two friends and eight other black women. In this area, 75 percent of the residents are African-American. It comes as little surprise that politicians and law enforcement have a challenging history with the black community here.
Being new to Philadelphia, and this community, I was relieved to find that the black women I spoke with understood the complicated history with the Women's Equality Day and that it took a combination of the 19th Amendment and the Voting Rights Act of 1965 for black women to have full access to the vote. These facts illustrate the black feminist adage about how all the women are white, all the blacks are men and black women, indeed, are brave.
I found during my interviews that I was not alone in thinking that voting matters. As Briana, 25, shared, "It matters for me to have a voice, and now that we have it, we should make sure that we use it."
"It's important that black women have the right to vote," added Audrey, 55. "But, a lot of them don't take the opportunity to vote. They come up with a lot of excuses like, 'Why should I do this, it's not going to matter anyway?' I always tell people, it does matter."
Some black women, as Audrey explains, are traumatized to inaction at the fear of being made visible. "A lot of black women I talk to between the ages of 19 and 30 don't vote at all. They come up with excuses of why they shouldn't. I often talk to young women and tell them every vote counts, and their voice matters."
Who Doesn't Have Photo ID?
But, having the right to vote is one thing, having the opportunity to exercise that right is another matter entirely, as has been made clear with 
voter identification laws
 that disproportionately affect women in this country. "We live with this idea of a post-racial, post-sexist society," said Charmaine, 26. "There's still a lot of work left that we can do, especially in Pennsylvania, which is trying to change the 
voter laws
. The monster we are up against changes every year. We need to re-evaluate and adjust our tactics."
Currently, there is a coalition of organizational leaders pushing new pro-women legislation. Called the Pennsylvania Agenda for Women's Health, the coalition has put forth a series of bills that will provide low-income women, women of color and women veterans with access to a range of health-care options, economic protections and safety accommodations at work and in their communities. While this is good news for women's rights, at this point the leadership of this agenda is not reflective of the demographic population in Philadelphia, of which 44 percent are African-American. However, there is a women of color-led reproductive justice organization, based in Pittsburgh, leading in the policy discussions about the agenda.
"If tomorrow I had the power to set priorities for all women in the state of Pennsylvania, rather than choose just one issue to start with, I would highlight the intersections between all of them. As Audre Lorde said, 'We don't live single-issue lives.' I think it's rare for any one thing to be the deciding thing in a person's life; it's usually multiple things at once." –Reagen, 32
The diversity of women's health-care needs, addressed in the 
Pennsylvania Agenda for Women's Health,
 is promising because it provides protection for whether a woman's rights will be respected, and whether or not her health insurance covers the range of her reproductive health needs. Charmaine provided some insight on health-care coverage and women's reproductive health options when she said, "Even with Obamacare, you barely have [coverage of] birth control, based on who you work for, or an abortion if you can't afford it because Medicaid doesn't cover it [in most cases, as part of the Hyde Amendment]. I thought this was something that just happened in Texas, but now that I know that there isn't [reliable] coverage [of reproductive health care services] in Pennsylvania, this just proves my point. People not only need health care, but they should get to choose what that health care is."
When asked about the agenda she would set to improve the lives of communities of color in the state, Reagen, 32, responded: "If tomorrow I had the power to set priorities for all women in the state of Pennsylvania, rather than choose just one issue [such as education, health care and equal pay] to start with, I would highlight the intersections between all of them. As Audre Lorde said, 'We don't live single-issue lives.' I think it's rare for any one thing to be the deciding thing in a person's life; it's usually multiple things at once."
However, Jillian, 30, believes that equal pay for equal work is an issue to lead this discussion: "First and foremost, equal pay for equal work is the most important to me. It's almost like, why are we having the discussion about that, because it just seems like it's common sense?"
The women I spoke with also made some interesting observations about their experiences in the workplace. Charmaine explained: "So, I'm a teacher. And the equal pay piece is the least important issue for me because I feel like our struggle at my job is larger than pay, though it is connected to that. For example, there are only six men that work in our school, and four of them are administrators."
Glory, 29, added: "Having worked in [the field of] medicine for some time, I have seen that it's just not equal in the workforce. I see the competition. And especially as a black woman, I have found out that people who have the same exact experience, or even less experience, were getting compensated a higher amount just because of who they were."
On parenting and workplace discrimination, Samantha Jo, 32, had this to say: "One of my personal struggles right now is: Would I be supported being a trans woman of color while parenting? What would time off look like? What would bonding look like in order for me to stay home with my baby? These are concerns that are really present and of interest to me."
It's unrealistic to think that black women could celebrate a day like Women's Equality Day blindly and not reflect on the opportunities to build equality that meets all women where they are. Reagen, for example, provided some insight on how black and undocumented women can connect through their shared experiences: "As much as I think the police won't show up when I need them, I still can call them without fear of being deported. As a black woman, I think there's an opportunity for a stronger movement and a stronger ask with brown women who are unafraid and probably need some of that support. I might be in a small minority here, but I actually don't think it dilutes anyone's agenda. In fact, it actually strengthens both undocumented immigrant women and black women's agendas if we were to come together."
Jillian added that Women's Equality Day "is an important day for people to take the time to reflect that women are a commodity in the workforce right now — especially given the fact that you have a lot of black women who are the sole providers for their families — it's very important that we give light to that fact."
"The majority of black women are holding it down and holding their families down, not just with income but also working in what are considered male-dominated fields because of the limited options for work in our communities." She went on to explain, "We are taking the initiative to have our voices heard, and taking steps to better ourselves."
The experience of being a black woman and having the right and opportunity to vote is indeed something to celebrate. However, I think we can all agree with Samantha Jo when she said, "Women's Equality is a celebration of liberation, but it can be bittersweet sometimes."
The views expressed in this post are the authors' alone, and presented here to offer a variety of perspectives to our readers.