This post originally appeared at the Brennan Center for Justice blog. For more Brennan Center voting updates, sign up for their newsletter.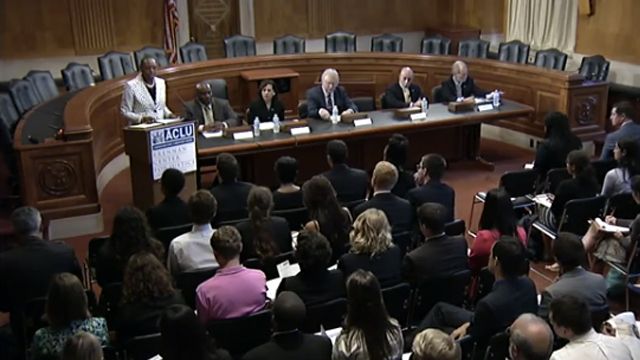 A news conference in Los Angeles on Thursday, July 10, 2014, to propose full voting rights and access for the disabled. (AP Photo/Nick Ut)
Millions of Americans have lost the right to vote and their political voice, because of a criminal conviction in their past. Bipartisan momentum is forming on Capitol Hill to change that.
On Tuesday, Senators Ben Cardin (D-MD) and Rand Paul (R-KY) joined a panel of experts from the faith, law enforcement and civil rights communities, as well as affected individuals, to explore ways to bring more citizens back into our democracy.
One in 40 American adults cannot vote because of a past conviction, half of whom are no longer in prison, noted Cardin, who in April introduced the Democracy Restoration Act to restore rights to those citizens. His bill is based on a Brennan Center proposal.
"The biggest impediment to both voting and getting a job is having a criminal record," added Paul, who introduced his own bill, the Civil Rights Voting Restoration Act of 2014, in June. And this burden falls most heavily on minorities.
"Restoring voting rights will expand our democracy, increase public safety and streamline our nation's election system," said the Brennan Center's Nicole Austin-Hillery, who moderated the discussion. "Senator Cardin and Senator Paul's leadership can help change the national conversation on this issue."
The discussion was co-sponsored by the Brennan Center for Justice and the ACLU. Read more from The Baltimore Sun and The Daily Beast. Watch the video here.
State Updates
California – Thousands of people with intellectual or developmental disabilities have been denied the right to vote in Los Angeles County, according to a complaint filed by the Disability and Abuse Project.
Kansas – A county judge "cleared the way" for Kansas to use a two-tiered voter registration system for the August 5 primary, which could affect nearly 20,000 prospective voters. The issue stems from the state's new law requiring voters to provide documentary proof of citizenship when signing up. The ACLU had challenged the state's refusal to count all votes — including votes for state races — cast by citizens who registered using the federal registration form, which does not require documentary proof. The secretary of state had instructed election officials to count only those votes cast for federal office. The application of the rule to federal races is being challenged in federal court.
Mississippi – A federal judge heard arguments today in a suit filed by True the Vote, which claims it was denied access to voting records in nine counties. The group is looking for citizens who voted in both the June 3 Democratic primary and the June 24 Republican primary. Tea Party candidate Chris McDaniel has claimed he is the rightful winner of the GOP primary because incumbent Sen. Thad Cochran benefitted from illegal crossover votes.
North Carolina – A federal judge is expected to rule in the next few weeks on whether to temporarily block a series of voting restrictions, including cutbacks to early voting and limits on registration, before the November election. The ruling could "determine the future of the Voting Rights Act," wrote The Nation's Ari Berman. Read his 10 key takeaways from the trial.
North Dakota – The state's new voter ID law could make it harder for tribal and disabled voters to cast a ballot, two advocacy groups alleged. Tribal IDs are acceptable, but they must include a voter's home address. Three tribes, representing nearly one-third of the state's Native population, do not include this information on their IDs.
Ohio – "The Republican head of the Ohio House says he's open to considering legislation setting hours for early voting in state law, rather than leaving it to the secretary of state or court action to determine when Ohioans can cast ballots in person before Election Day," wrote the Nordonia Hills News Leader. Democrats said they were also open to the idea, "so long as evenings and weekends are included."
Texas – A federal court heard arguments last week on whether to use a remaining portion of the Voting Rights Act to prevent discrimination in a redistricting case. "What happens in Texas will have consequences around the nation," Michael Li told MSNBC. "That's why a lot of voting rights advocates are watching it closely." Listen to Li on Texas Public Radio and read more from The Texas Tribune, Houston Chronicle and Associated Press.
Virginia – Arlington County election officials are considering accepting expired IDs under the state's new photo ID law.
Click here for the Brennan Center's comprehensive list of 2014 state voting proposals.
Featured Research
How much does a "free" voter ID card actually cost? Between $75 and $175, according to a recent study from the Charles Hamilton Houston Institute for Race and Justice at Harvard Law School. "When legal fees are factored in, the cost can increase to over $1,000," the report noted.
Media Round-Up
"We are in a hailstorm of new attempts by states and localities to limit ballot access," said Vice President Joe Biden, speaking at the NAACP annual convention. Civil rights leaders said they are worried low African-American turnout could lead to another wave of voting restrictions after 2014.
The Brennan Center co-sponsored a briefing last week to discuss voter discrimination in the wake of last year's Supreme Court ruling gutting significant provisions of the Voting Rights Act. The panel featured remarks from Rep. Bobby Scott (D-VA), as well as experts from the American Civil Liberties Union, Lawyers' Committee for Civil Rights Under Law, National Association of Latino Elected and Appointed Officials and the Leadership Conference on Civil and Human Rights.
The Department of Justice plans to support suits challenging voting restrictions in Ohio and Wisconsin, Attorney General Eric Holder announced last week. It would be the first time the Justice Department "intervened against statewide voting laws outside the areas that the Supreme Court freed from federal oversight" last year, MSNBC reported.
President Obama announced two Republican nominees to serve on the US Election Assistance Commission, which was established in 2002 to provide guidance on federal election standards. Two Democratic nominees, including the Brennan Center's Myrna Pérez, have been awaiting Senate confirmation for years.
---
For more Brennan Center voting updates, sign up for their newsletter or connect with them on Facebook and Twitter.