Every week Moyers & Company producer Gail Ablow shares her must-read money and politics stories.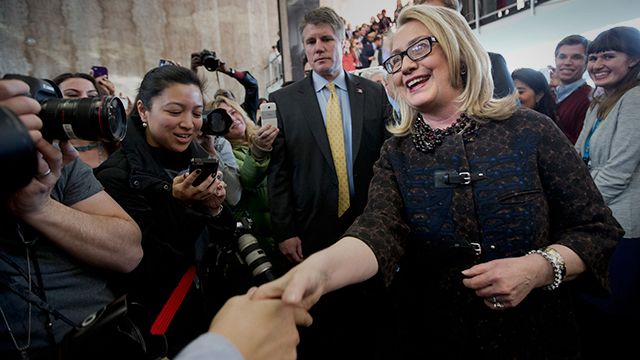 Hillary Rodham Clinton bids farewell to State Department employees in Washington, DC, on Friday, February 1, 2103, before departing as secretary of state. (AP Photo/Manuel Balce Ceneta)
Outside political groups' spending soars in 2014 elections –> Super PACs, trade associations, unions and other groups that are independent of candidates, have already spent four times more on the 2014 congressional races than they had by this point in the 2010 midterms, according to Wall Street Journal reporter Brody Mullins. In hard numbers, that's $60 million, compared with $15 million over the same period in 2010. "What makes those figures even more remarkable," writes Mullins, "is that they don't include the millions of dollars spent this election by the biggest outside group…" — the Koch brothers' Americans for Prosperity. AFP, he writes, doesn't have to disclose its spending on TV ads if they are, as it claims, about "issues," and not designed to influence elections.
How 2014 is shaping up to be the darkest money election to date –> In this week's senate committee hearing, Dollars and Sense: How Undisclosed Money and Post-McCutcheon Campaign Finance Will Affect 2014 and Beyond, Senator Angus King (I-ME) held up a chart reflecting the explosion of secret funding, or "dark money," spent in recent elections. To see that graph up close, read Robert Maguire's report on OpenSecrets.org. He writes that the 2014 midterms are on track to be the darkest election in modern history. As an example of what that means for individual races, he describes an ad campaign run by Freedom Partners targeting Democratic Rep. Bruce Braley, a contender in Iowa's US senate race. Freedom Partners (a funding hub for the Koch Brothers and their friends) is a 501(c)(6) trade association that isn't required to disclose its donors to the public. So when Freedom Partners produces ads falsely accused Braley of taking "tens of thousands from his friends in the health insurance industry" who "stand to make billions" from Obamacare, viewers have no way to know who is actually bankrolling the lies. In the senate hearing Sen. Chuck Schumer (D-NY) also announced that the Senate will vote on a constitutional amendment to roll back the Citizens United and McCutcheon rulings by giving Congress back the power to pass laws limiting campaign contributions and spending.
Help! I'm drowning in TV ads! –> More than $2.6 billion will be spent on political advertising this year according to an estimate from Moody's. Larry Sabato, director of the University of Virginia Center for Politics, is tuned in and trying to figure out how these ads will impact us. Will negative ads, earnest personal appeals or issue-oriented messaging push us to go to the polls or to stay at home in a cynical funk? Sabato, writing for Politico Magazine, points out that only two states have held primaries so far, but federal and gubernatorial candidates have already spent more than $100 million on TV ad buys in all but eight of the country's 50 biggest TV markets. Get ready, he warns, the flood of advertising has begun. For a preview of what's in store, scroll through his selection of the best and the worst. You'll laugh, you'll cry and, with the accompanying background, be better prepared for what lies ahead.
Wall Street Republicans' dark secret: Hillary Clinton 2016 –> Politico's Ben White and Maggie Haberman polled two dozen GOP donors, financial executives and their Washington lobbyists to determine who they would back for president in 2016. While few have lined up for a candidate on the record, White and Haberman found many are waiting to see whether Jeb Bush will save the Republican establishment from tea party populists. But if Bush doesn't throw his hat in the ring, the reporters learned that there is a "consistent – and unusual – consolation candidate" in Hillary Clinton. Her moderate track record on taxation and financial regulation as a New York senator make her an unthreatening alternative to the likes of Rand Paul or Ted Cruz.
Tea Party Patriots defends its spending –> Matea Gold reported in The Washington Post last week that the Tea Party Patriots Citizens Fund and other top tea party PACs have spent a meager amount of their money to directly help their candidates. At the same time, they've burned through millions of dollars on expenses like fundraising, polling and high-paid consultants. This week, Gold reports that the Tea Party Patriots issued a statement that concluded, "We're going to keep fighting for personal freedom, economic freedom and a debt free future, smears from the liberal media and GOP Establishment will not deter us. We wear them as badges of honor."
Hot races –> To follow the money in the hottest congressional races, visit OpenSecrets.org where they are tracking what's being raised by candidates in dozens of tight races.
Dig Deeper
Should Senate candidates be offering free scripts to super PACs? by David Weigel, Slate

Rahall picks up the pace in a new TV ad by Abby Livingston, Roll Call
Is oil money turning the NRA against hunters? by Hannah Levintova, Mother Jones
Defense budget cuts aren't shrinking Northrop Grumman's political giving by Sarah Harkins, Sunlight Foundation
Sources: FBI examines lobbying by Brownback loyalists by Tim Carpenter, Topeka Capital-Journal