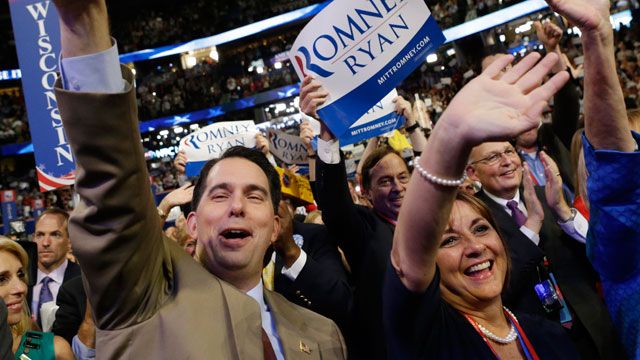 Wisconsin Gov. Scott Walker and his wife Tonette cheer as Republican vice presidential nominee, Rep. Paul Ryan addresses the Republican National Convention in Tampa, Fla., August 2012. The Koch brothers have made supporting the governorship of Scott Walker a personal priority. (AP Photo/David Goldman)
This post first appeared in The Nation.
The Koch Brothers don't actually run for office — at least not since David Koch's amusingly ambitious 1980 bid for the vice presidency on a Libertarian Party ticket that proposed the gutting of corporate taxes, the minimum wage, occupational health and safety oversight, environmental protections and Social Security.
That project, while exceptionally well-funded for a third-party campaign, secured just 1.06 percent of the vote. The Kochs determined it would be easier to fund conservative campaigns than to pitch the program openly. Initially, the project was hampered by what passed for campaign-finance rules and regulations, to the frustration of David Koch, who once told The New Yorker, "We'd like to abolish the Federal Elections Commission and all the limits on campaign spending anyway."
Who's Buying our Midterm Elections?
The FEC still exists. But the Supreme Court's decision in Citizens United v FEC and the general diminution of campaign finance rules and regulations has cleared the way for David Koch and his brother Charles to play politics as they choose. And they are playing hard — especially in Wisconsin, a state where they have made supporting and sustaining the governorship of Scott Walker a personal priority.
Two years ago, David Koch said of Walker: "We're helping him, as we should. We've gotten pretty good at this over the years. We've spent a lot of money in Wisconsin. We're going to spend more." The Palm Beach Post interview in which that quote appeared explained, "By 'we' he says he means Americans for Prosperity (AFP)," the group the Kochs have used as one of their prime vehicles for political engagement in the states.
AFP and its affiliates are expanding their reach this year, entering into fights at the local level where their big money can go far — and where the Koch Brothers can influence the process from the ground up.
As Walker prepares to seek a second term, AFP is clearing the way in supposedly nonpartisan county board and school board races that will occur Tuesday.
Consider the case of Iron County. Elections in the northern Wisconsin county have always been down-home affairs: an ad in the Iron County Miner newspaper, some leaflets dropped at the door, maybe a hand-painted yard sign.
This year, however, that's changed. Determined to promote a controversial mining project — and, presumably, to advance Walker's agenda — AFP has waded into Tuesday's competition for control of the Iron County Board.
With dubious "facts" and over-the-top charges, the Wisconsin chapter of the Koch Brothers-backed group is pouring money into the county — where voter turnout in spring elections rarely tops 1,500 — for one of the nastiest campaigns the region has ever seen. Small-business owners, farmers and retirees who have asked sensible questions about the impact of major developments on pristine lakes, rivers, waterfalls and tourism are being attacked as "anti-mining radicals" who "just want to shut the mines down, no matter what."
Iron County is debating whether to allow new mining, not whether to shut mines down. And many of the candidates that AFP is ripping into have simply said they want to hear from all sides.
But those details don't matter in the new world of big money politics ushered in by US Supreme Court rulings that have cleared the way for billionaires and corporations to buy elections.
Most of the attention to money in politics focuses on national and state races. But the best bargains for billionaires are found at the local level — where expenditures in the thousands can overwhelm the pocket-change campaigns of citizens who run for county boards, city councils and school boards out of a genuine desire to serve and protect their community.
That's why it is important to pay attention to Tuesday's voting in Iron County — and in communities such as Kenosha, where the group has waded into local school board races. The Kenosha contest goes to the core issues of recent struggles over collective-bargaining rights in Wisconsin, pitting candidates who are willing to work with teachers and their union in a historically pro-labor town versus contenders who are being aided by the Koch Brothers contingent in Wisconsin.
But it is equally important to pay attention to the efforts by citizens, working at the local level, to upend the big money and to restore politics of, by and for the people.
The month of March started with a grassroots rebellion in New Hampshire, where dozens of towns called on their elected representatives to work to enact a constitutional amendment to overturn the high court's Citizens United decision.
Clean-politics advisory referendums are on ballots across Wisconsin. Belleville, DeForest, Delavan, Edgerton, Elkhorn, Lake Mills, Shorewood, Waterloo, Waukesha, Waunakee, Wauwatosa, Whitefish Bay and Windsor will have an opportunity to urge their elected representatives to support an amendment to restore the authority of local, state and national officials to establish campaign finance rules ensuring that votes matter more than dollars. The initiative is backed by groups like Move to Amend and United Wisconsin. "The unlimited election spending by special-interest groups, allowed by the Supreme Court's Citizens United ruling, has drowned out the voices of ordinary people," says United Wisconsin Executive Director Lisa Subeck. "Urgent action is needed to restore our democracy to the hands of the people."
That urgency is especially real in rural communities — places like Iron County. That's why the Wisconsin Farmers Union is calling for a "yes" vote. "Citizens of all political stripes — Republicans, Democrats and independents — agree that we need to curb the corrupting influence of money in politics," says WFU Executive Director Tom Quinn. "Voting yes…will send a clear message that we the people are ready to take back our democracy."