Some of you may remember the 2008 interview Bill did with author and food activist Michael Pollan on Bill Moyers Journal. It's still one of the most popular videos on the website. Pollan's movie, Food, Inc., had premiered at the Toronto Film Festival a few months earlier, and he had just published an open letter to the newly elected president in The New York Times magazine – "Farmer in Chief" – asking that food be made a priority. The problems plaguing America's food system were beginning to gain national attention.
Oran Hesterman was watching that Journal broadcast with great interest. Hesterman is the director of the Fair Food Network, a nonprofit headquartered in Southeast Michigan whose mission is to make healthy, fresh and sustainably-grown food accessible to everyone.
Riley: You write in your book, Fair Food, that you found Pollan's response to Bill's question about what people can do to make a difference — Pollan said "plant a garden" — a missed opportunity. The food movement has made some progress since then. What you would say now in answer to the question: "What can non-farmers do to help reform the nation's food system?"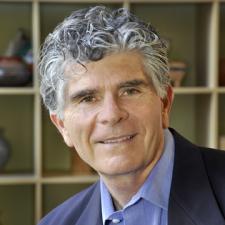 Hesterman: I wrote the book because I'm convinced it's time for us to elevate the conversation about the food system to solutions; we understand that the food system is broken in ways that are creating food deserts and diet-related illness and environmental problems, and farm workers and food workers who are living in deplorable conditions. We don't need to spend a lot more time detailing all the problems.
So if I was asked by Bill Moyers today what's the one thing that people can do to make a difference, I would say the most important action is to make the shift from conscious consumer to engaged citizen. And what I mean by that is for us to stop thinking that by simply eating local and organic and focusing on our own diet that we're going to change the system, but instead to expand that and realize that no matter where we live, work, play or worship, we have opportunities to shift the system on a larger scale.
Riley: How can people do that? What are some ways that you can make an impact outside of your own refrigerator?
Hesterman: Start where you are. If you're a parent with children in schools, public or private schools, start learning more about what are they eating and where it comes from and get together with other parents who care about this to make school food good food for your kids.
If you're a student at a college or university, or you're a parent or grandparent of a student, talk with them about getting involved in the Real Food Challenge, which is working to shift 20 percent of all university and college dining hall purchases to local and sustainable sources. Or if you're in the healthcare world, take a look at Health Care Without Harm and the Healthy Food in Healthcare movement that is shifting purchases of food to local and sustainable sources for hospital and healthcare situations.
And for people who have an interest in engaging in public policy, the farm bill is going to be reauthorized this year. It's a perfect time to connect with issues and organizations to let your voice be heard about how we can shift food and farm policy at the federal level that will make a big difference at the local level.
Riley: The Farm Bill is renewed every five years and is up for renewal later this year. What changes would you like to see?
Hesterman: I'm going to tune into one specific program that I think could really make a difference. We have this project called Double Up Food Bucks that enables people on federal food assistance — or SNAP, the Supplemental Nutrition Assistance Program — to double the value of a portion of their food assistance money if they spend it on fruits and vegetables at farmers markets.
This summer it'll be in over 75 farmers markets in the state of Michigan, and we will also be piloting it in a few independently owned grocery stores in Detroit. Basically, if a family on SNAP spends $20 on fresh fruits and vegetables, they get an additional $20 worth of buying power, and that additional $20 can be used on any Michigan-grown fruits and vegetables. So we're encouraging low-income families to spend their food assistance money on healthier food for their kids, while also using that same dollar to support local farmers, local agriculture and a local food economy. Instead of looking at SNAP as simply a safety net for hungry people, we can view it as that and a program that can also help drive local economic development creating growth and jobs in the local food system.
Riley: What has been the effect in Michigan? Have you found that the program has driven job growth?
Watch a video produced by the Fair Food Network about the 'Double Up Bucks' Program
Hesterman: Last year over 40,000 customers across this state used it, and of the 40,000, over a quarter of them were first-time shoppers at a farmers market. We were able to put over $1.3 million of sales revenue into the pocket of Michigan farmers that would not have otherwise been there. Seventy-five percent of the farmers involved doing this say they're making more money, and 80 percent of the customers say they're eating more fruits and vegetables because of the program.
The Congressional Budget Office has told us that, in their projections over the next 10 years, about 80 cents of every federal dollar that we spend on food and agriculture is going to go to SNAP. We should be thinking about how to use those dollars more effectively, and we are demonstrating how to do it with our program in Michigan: Here's how you use federal dollars in a way that serves the purpose both of helping to improve people's diets and get them the food they need, at the same time supporting local farmers and our local food economy.
Riley: Who's currently paying for the Double Up Bucks program?
Hesterman: It's coming from 30 different foundations. Bit by bit people are understanding this as an approach. These kinds of incentive programs are happening in different areas around the country. There have been a limited amount of federal dollars going into this kind of a program, and we see the re-authorization of the Farm Bill as a great opportunity to bring more federal resources in to match the philanthropic dollars, and to scale up this kind of approach to nutrition spending that also supports local food economy, and so much more.
We're encouraging people to spend their food assistance money on healthier food, but we're also helping to decrease healthcare costs down the road, because people are eating healthier. You put that money in the pocket of local farmers, who are diversifying their production to meet the demand. And, at the same time, we are creating the opportunity for many new farmers to get involved, because producing fruits and vegetables for local markets is exactly the kind of production that's allowing young people to get into the farming business — you can do it on smaller acreages, you can get into direct marketing and more of the retail value of the food comes right back to the farmer.
The beautiful thing about this is it's not just a concept. It is actually happening, and it's happening successfully.
Take Action
If you're interested in getting involved in improving America's food system, visit the Fair Food Network's Fair Food List to connect with leaders, innovators and grassroots organizations working on building a more just and sustainable food system.