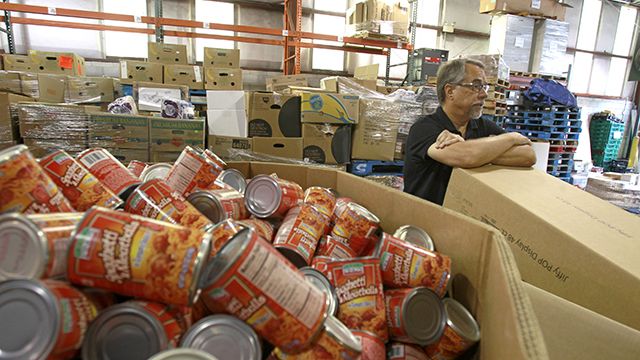 Dave Krepcho, director of the Second Harvest Food Bank, looks over a supply of goods that have arrived at the food bank warehouse in Orlando, Fla. Since the start of the recession, food distribution to 500 pantries, shelters, and other relief agencies in the area has jumped about 60 percent. Krepcho estimates about 30 percent of those seeking help are first-timers. (AP Photo/John Raoux)
Millions of American families say they have trouble putting food on the table and the economic recovery has done little to provide them with relief. Despite our relative prosperity as a nation, the percentage of Americans who, at some point in a given year, cannot afford to eat sets us apart from other wealthy countries.
Last month, the Pew Research Center used International Monetary Fund data to analyze the "levels of deprivation" across various countries, including our own. When the data is compiled in a chart (as it is below), it's clear that the U.S. is an outlier: We are by far the richest country included in Pew's study, but nearly a quarter of our population – over 78 million people — live in what's called a "food insecure" household. In Canada, the second richest country Pew looked at, only nine percent of people had difficulty; in China, it was eight percent.
(Roll over the countries to see the percentages.)