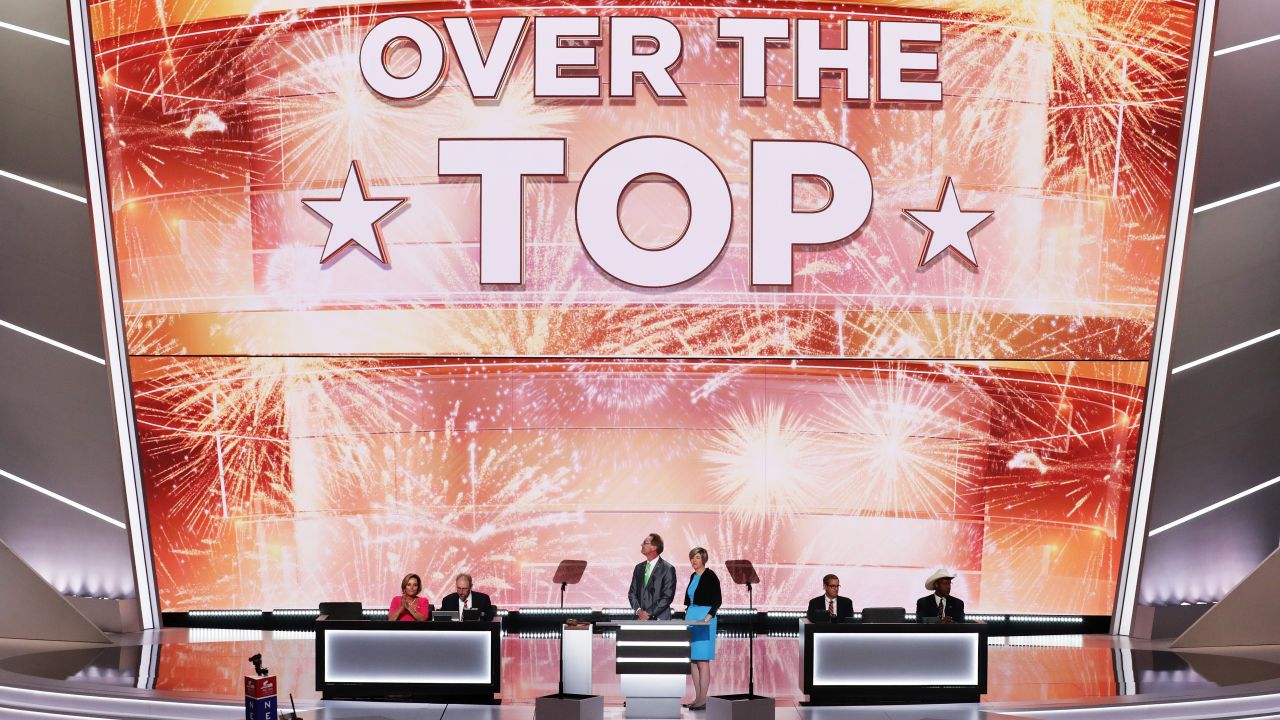 We'll be posting this roundup each week leading up to Election Day. Share your thoughts about these must-read stories and always feel free to suggest your own in the comments section.
BIG STORY OF THE WEEK
Political conventions have become increasingly expensive, increasingly over the top — and increasingly dependent on corporate funders and private, wealthy interests for money. This, however, poses a problem. The amount any individual can give to a party convention committee is capped at around $100,000, and corporations are barred from giving to conventions, period.
So the parties found creative workarounds. Read on »


QUOTE OF THE WEEK
"I'd like to have him bail out — write a check for the Trump campaign for that amount of money, if he could."
—Paul Manafort, Trump campaign advisor, on the RNC's request that Sheldon Adelson contribute $6 million to the convention.


CAMPAIGN CASH SNAPSHOT
Figures for presidential and congressional races from the Center for Responsive Politics; figures for state races from the National Institute of Money in State Politics.


CHART OF THE WEEK
Bernie Sanders' campaign talked a lot about revolution — and the funds he raised, many coming in small increments, showcased his unexpected strength against Hillary Clinton. But what about what Sanders did with those funds? Was there anything revolutionary there? The folks at the OpenSecrets blog find: No. In fact, Sanders' campaign spending in many ways mirrored that of Hillary Clinton.


STAT OF THE WEEK
That's the total amount that three Koch brothers-related groups will have to pay after the FEC took the rare step of fining dark money actors that break political guidelines. The groups — the American Future Fund, 60 Plus Association and Americans for Job Security — were all "social welfare groups" organized under section 501(c)4 of the tax code, which means the majority of their activities are not supposed to be political. Groups flout that rule all the time, but these groups got the FEC's attention when they accepted money from the Koch-funded group Center to Protect Patient Rights (CPPR) and didn't disclose it. The FEC figured these funds were given for explicitly political purposes, and thus violated the law.
By Koch standards, however, the fine is pocket change. As ProPublica reported, CPPR gave out $137 million to groups, including these three, in 2012 alone.


RACE OF THE WEEK
Wisconsin's Senate rematch between incumbent Republican Sen. Ron Johnson and Russ Feingold, the Democrat Johnson unseated six years ago, is shaping up to be one of the nation's most expensive. As of the last FEC filing deadline, Johnson had $11 million on hand while Feingold had $10 million. But that's not the full story: According to reports on file with the Federal Election Commission, outside groups are providing substantial help to Johnson. "Independent expenditures" on Johnson's behalf include $750,000 from the US Chamber of Commerce, $408,000 from the pro-Johnson super PAC Let America Work, $719,000 from Club for Growth and over $2 million from the Koch brothers' umbrella group Freedom Partners.


DONOR OF THE WEEK
Mark Epstein, a telecommunications executive, has so far paid out $2.4 million to a super PAC supporting former Reagan administration official Amie Hoeber's bid to win a Maryland congressional seat currently held by Mike Delaney. The bid's a long shot, especially in a presidential year when Democrats typically turn out to vote in greater numbers, but Delaney may be planning a run for governor of Maryland in 2018; if Hoeber is able to run a close race this year, it could mar Delaney's gubernatorial ambitions. Epstein's money will help with that. There's also another way to explain Epstein's Hoeber fandom: He's her husband.


SOCIAL ENGAGEMENT OF THE WEEK
We won't know who paid for the Republican convention until 60 days after it's over — same goes for the Democratic convention — but the donors all got to meet each other at a "Sponsors Welcome Reception" Sunday evening held at the home of Jim and Natalie Haslam, according to a list of convention-related parties obtained by BillMoyers.com. Jim Haslam, the founder of the Pilot truck stop chain, is the patriarch of a family of billionaires, and has been a force in Republican politics for more than 50 years. His son Jimmy, the CEO of his father's company, owns the Cleveland Browns. The younger Haslam also served as a financial manager for Tennessee Sen. Bob Corker, his former college roommate. Jim's other son, Bill, is Tennessee's Republican governor. There's a daughter, too, but she keeps a low profile.


MUST-READS FROM HERE AND ELSEWHERE