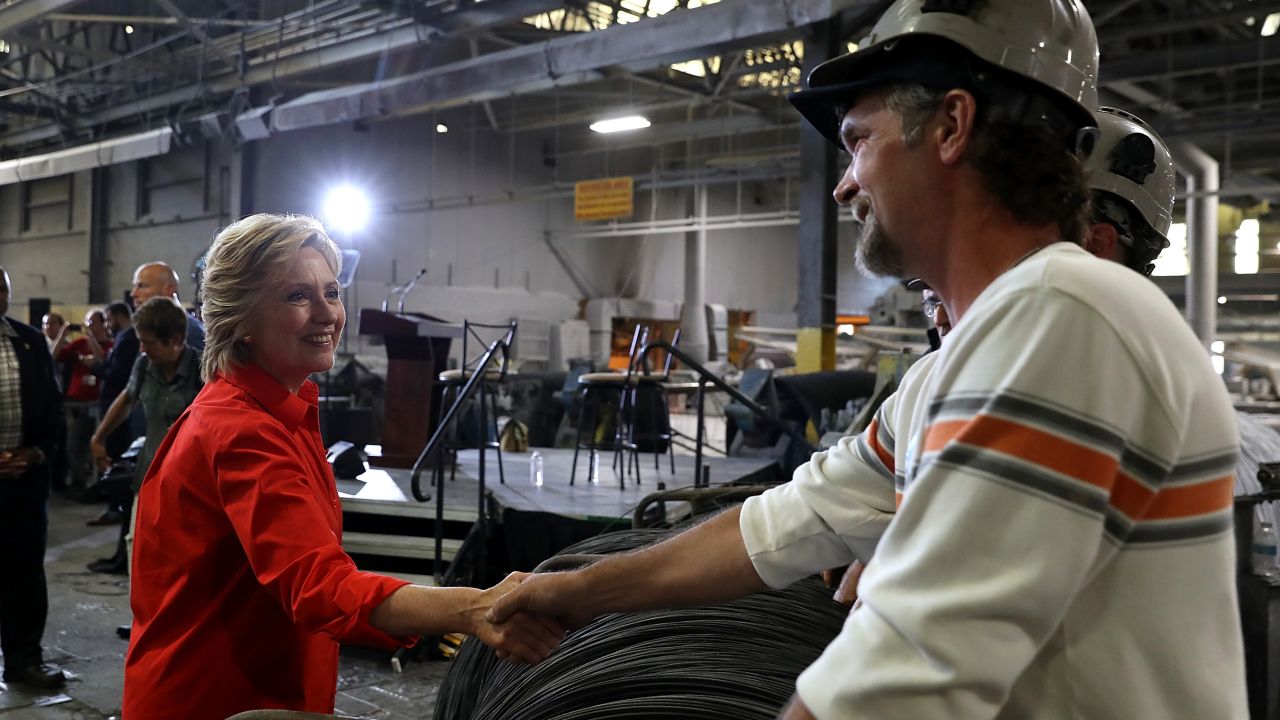 EDITOR'S NOTE: As many experts have observed, this year's presidential election could come down to a battle for votes Democrats used to take for granted.
Donald Trump is making an overt play for the so-called "Reagan Democrats," blue collar voters whose defection three decades ago shook up the national political landscape and stoked the Reagan revolution. It's no accident that Hillary Clinton's first post-convention foray was into once reliably Democratic steel and coal country. Now, as then, the issues facing these voters are job and income security in a changing world. Only now, those concerns are being felt by far more than the steelworkers and their families whom Ronald Reagan wooed in 1980.
America's deindustrialized heartland embodies one of the challenges reshaping the nation's politics: The disappearance of the middle class and the growing gap between the haves and have-nots. That's why BillMoyers.com is paying particular attention to these communities this year, focusing on their issues and giving voice to the people who live there. You can read more of our collection here.)


During a half-hour speech in Youngstown, Ohio, Saturday evening, Hillary Clinton didn't just make her pitch to voters — she encouraged those who already support her to talk to their neighbors who plan to vote for Trump.
We're coming to the door and we're siding with you as a voter and saying, 'yeah, I'm sick of that TV crap too, but let's have a real conversation.'
— Matt Morrison, deputy political director of Working America
"Try having a conversation with them," she said, according to The (Youngstown) Vindicator.
Working America, an AFL-CIO affiliated outside spending group, is already on the case.
In a sign of labor concern for traditionally Democratic areas like Youngstown, a quintessential Rust Belt town whose economy has been decimated by globalization, Working America has been hard at work for months already with the kind of tactics most campaigns reserve till fall.
Since May, the group has spent half a million dollars on this year's political races, according to records on file with the Federal Elections Commission. The sum itself is not unusual; influential groups regularly spend millions advocating for or against a candidate. But instead of paying for big TV ad buys, Working America is doling out its money in smaller increments, for canvassers to go door-to-door and talk to working-class voters about their options in November.
"If you live in a battleground state, you cannot turn your television on for a year. It's just obnoxious," says Matt Morrison, the group's deputy director, referring to the attack ads that blanket the airwaves to questionable effect. "And so we're coming to the door and we're siding with you as a voter and saying, 'yeah, I'm sick of that TV crap too, but let's have a real conversation.' And people are so grateful to have something that's actually real instead of a bunch of negative attack ads."
The key, Morrison said, was to start early. "We know from testing that even when you have saturation-level communication in an election environment, if you talk to someone four or five months ahead of the election that shows up as a measurable effect on and even after Election Day. So that's shaping opinion early on."
As of January, Morrison says, Working America's canvassers knew something that pundits would not come to accept for several weeks or more: Donald Trump had consolidated working-class support in a way previous candidates had not. He would be the Republican nominee, and stood a good chance of winning the majority of white working-class votes in November. This unique knowledge grew out of 1,689 conversations between Working America's canvassers and likely voters outside of Cleveland and Pittsburgh — the results of which the group released in a report called Front Porch Focus Group. The report found that, of those Pittsburgh and Cleveland-area working-class voters who had decided on a candidate, more than a third — 38 percent — were on board with Trump. The other Republican candidates combined attracted only 27 percent of the vote. Clinton had 22 percent, Sanders 12 percent.
Furthermore, the report found that there was a set segment of Trump voters, roughly 58 percent, who would support the reality television star no matter what — even if he abandoned or was ousted from the Republican Party and ran as an independent. But the rest of Trump's voters were open to conversation and to new information. The report concluded:
Thoughtful conversations with trusted messengers can move voters away from right-wing populism to a different take on the issues. Providing them with an independent source to help them sort through the deluge of information through a unique communications channel — face-to-face engagement — is critical to that evolution.
The lion's share of Working America's efforts so far have been in Ohio and Pennsylvania but the group also plans to focus on other swing states, such as Florida and North Carolina, Morrison said. And the group's canvassers aren't just having conversations about Trump; they're also talking about the Republicans Trump will share the ticket with in November, such as Ohio Sen. Rob Portman. While many Rust Belt voters appreciate Trump's opposition to the trade deals that likely hastened the Upper Midwest's economic decline, Portman, who served as US trade representative under former President George W. Bush, had a hand in negotiating them. Working America's canvassers take advantage of this apparent contradiction.
"A dirty little secret of strategy is the best way to win is to go after your opponent's base, because you're not only winning a vote for yourself, you're depriving them of the vote that they need," says Morrison. "What we're trying to do here, and what we're seeing a lot of success with, is to go up to the people who are most disposed to vote for our opponents and even if we're taking, 10, 15 percent of their vote from them, after that there's not a path for them. So it drives up our possibilities of a successful outcome pretty substantially."
Not coincidentally, Ohio and Pennsylvania featured prominently in the Democratic ticket's first campaign swing of the general election, with Clinton and running mate Tim Kaine giving speeches in Harrisburg, Pittsburgh, Youngstown, Cleveland and Columbus. Ohioans remember Bill Clinton, and his 1992 promises of help for them. The state's median income, adjusted for inflation, is, however, lower now than it was then and the population of its cities continues to decline. Hillary Clinton leads Trump by less than 1 percent in Ohio, according to the RealClearPolitics polling average, and special-interest groups have already spent more than $40 million seeking to influence voter opinion in the state.
So, in a tight race between two figures America thinks it knows well — who have been on television for years — Clinton and her allies are betting that if there's anything that can tip the balance, it may not have to do with the campaigns' carefully staged and televised moments. Instead, for these jaded voters, it may come down to conversation with a neighbor on a doorstep.