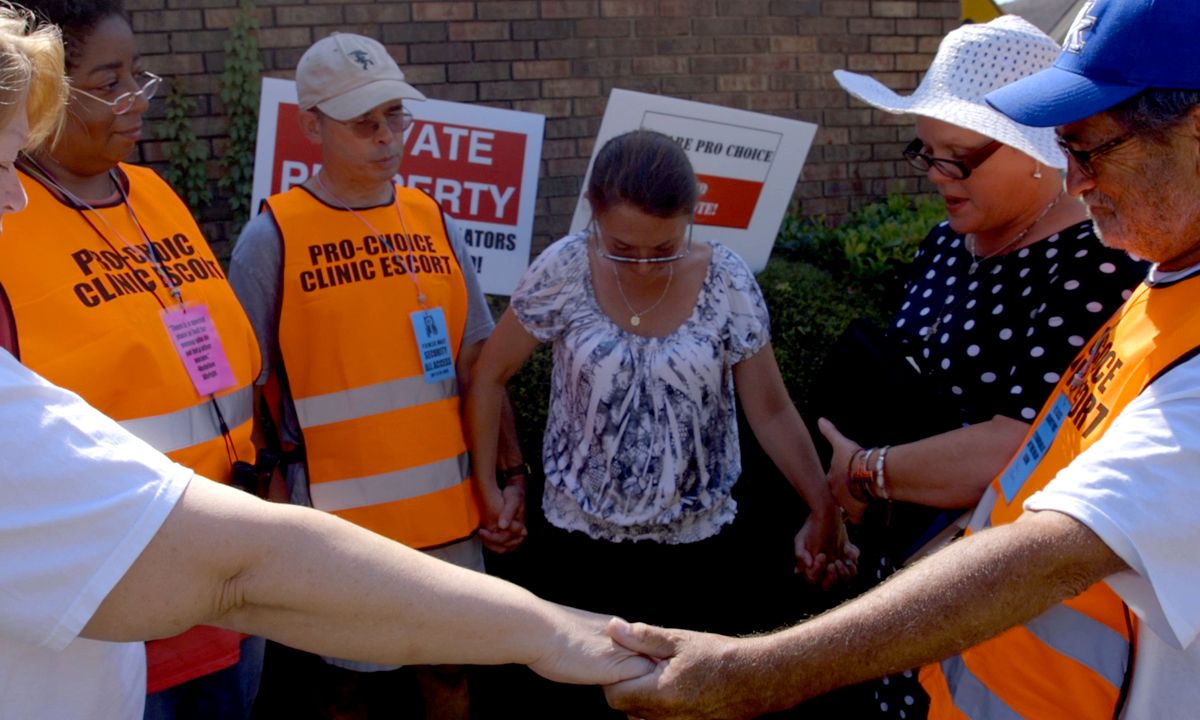 For one documentary filmmaker, last week's Supreme Court decision striking down laws restricting access to abortion was particularly significant.
"I am elated," Dawn Porter told us in an email.
Porter traveled the South, documenting the impact of the so-called TRAP (Targeted Regulation of Abortion Providers) laws instituted in several states, including Texas, Alabama and Mississippi. When her movie Trapped premiered earlier this year at the Sundance Film Festival, it received the Special Jury Award for Social Impact Filmmaking. It later aired on the PBS Independent Lens series.
This historic decision signifies a deeply significant change in the landscape of reproductive rights.
"Dawn Porter's sobering, gracefully constructed documentary about the tide of laws restricting abortion that have swept the country, couldn't arrive at a more timely moment," wrote Ann Hornaday in The Washington Post in March, just one day after lawyers for the state of Texas and abortion providers presented arguments on that state's TRAP law to a sharply divided Supreme Court.
Ben Kenigsberg of Variety said Porter's film is "aimed squarely at an enduring national conversation."
Hoping to continue that conversation, we reached out to Porter to ask what she thought of the Supreme Court ruling.
"It seems to me that this historic decision signifies a deeply significant change in the landscape of reproductive rights. It is not lost on me or the other women of this country, that three women sit on the Supreme Court. These women, together with two men, have now assured that all women, regardless of income or race, can keep control over their own bodies, and therefore their own lives."
Earlier in June, in advance of the Supreme Court's decision in Whole Woman's Health v. Hellerstedt, Porter sat down with Craig Phillips of the Indie Lens blog to talk about her decision to make the film, the challenges she faced in making it and whether she worried about safety while filming it. Here's part of the exchange:
Porter: I found it so shocking that across the country, clinics were closing at an alarming rate, and that in America, where Roe v. Wade gave women the legal right to abortion more than 40 years ago, that right was being stripped away by the passing of statewide laws aimed not at protecting women's health, but at eliminating access to abortion. And this is happening particularly in Southern states. I also was so struck by the dedication of these clinic providers and doctors and the impact on low-income women and women of color in abortion clinics — and I felt like it was a story that hadn't been explored in depth.

Once I met people like June Ayers, like Dr. Parker, I couldn't step away from this story. I feel like it's actually one of the most important civil-rights conversations that we should be having. And I hope that everyone who is sitting on the sidelines actually exercises their political opinion.

What were some of the biggest challenges you faced in making Trapped?

Porter: Everything was a challenge. Convincing many people to appear on camera was hard — it is dangerous to be an abortion provider, and providers are very careful, as they should be. Following active litigation is hard — lawyers don't always like pesky filmmakers! And then there were many moving parts to the story, so figuring out the narrative thread to a story that is unfolding around you is challenging.
Porter summed up the message of her film in this way:
"In the end this is not a film about the morality of a woman's decision to have an abortion. It is a film about politics and power."
Since the decision, Porter has spoken with several clinic owners and physicians from the film. She says they are "ecstatic."
In the end this is not a film about the morality of a woman's decision to have an abortion. It is a film about politics and power.
"This [ruling] could have very real implications for all of them — particularly since the court struck down the admitting privileges requirement. This means that more doctors may be able to work in these clinics, and the few doctors now working may get some long needed relief. It will be hard for clinics to reopen, many have surrendered their licenses when they were unable to meet the sham regulations. So its more important than ever that those that were able to hang on build up their rosters so that more women have access, and so the workload is shared."
When asked what she hopes people who watch the film now come away with, she notes that "there is still a lot of work to do, and I hope that the conversation around reproductive rights continues and grows in the coming months and years. We've now seen just how fragile this access can be."
"The anti-choice movement is not going to end its quest to outlaw abortion," she writes. "The difference now is that more people are aware of the need to be vigilant in protecting these rights. I hope that people who see Trapped are as moved as I was by the deeply compassionate care provided by physicians like Willie Parker. For too long, abortion providers have been faceless and today I feel like they are really finding their voices."
You can watch the entire film at the PBS website through July 21, 2016.