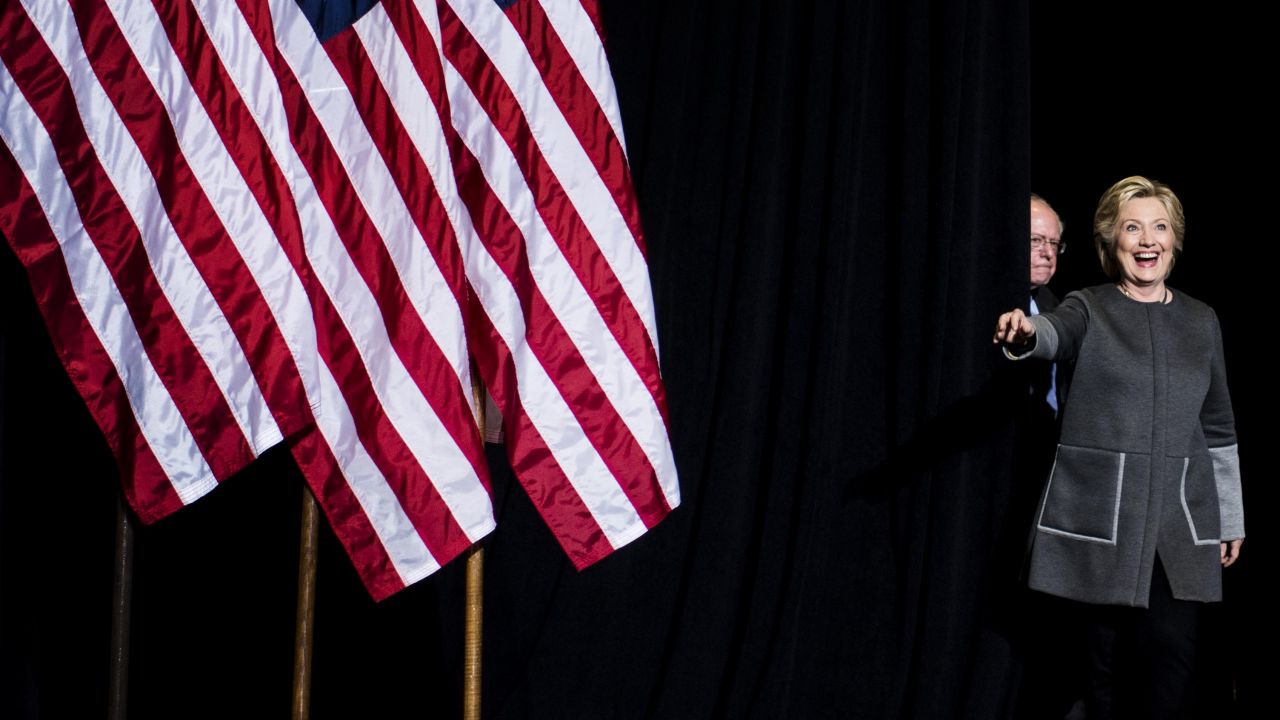 We produce this news digest every weekday. You can sign up to receive these updates as an email newsletter each morning.
---
Preparing to push –> In an interview with The Washington Post, Bernie Sanders says that he and his progressive Senate colleagues — all of whom have been campaigning for Clinton — plan to push for liberal legislation if the Democratic nominee is elected president. The party platform, drafted with substantial input from Sanders, is the most progressive ever, but platforms often go ignored by candidates once in office. Sanders told The Post that along with Sens. Elizabeth Warren (D-MA), Sherrod Brown (D-OH) and Jeff Merkley (D-OR), he plans to hold the party's heels to the flame.
Politico has a story this morning that will raise liberal concern about one top progressive priority: Wall Street regulation. "A senior Democrat on Capitol Hill has been assuring bank lobbyists that former Commodity Futures Trading Commission Chair (and ex-Goldman Sachs exec and current Hillary Clinton campaign aide) Gary Gensler will probably not be getting a top spot in a potential Clinton administration," Ben White and Andrew Hanna report. Though a fan of financial deregulation under Bill Clinton's administration, Gensler proved to be an aggressive regulator in the wake of the 2008 financial crisis, reining in the Wild West derivatives market that helped fuel the crisis. Assurances that Gensler won't be in the administration is one of the mixed signals coming from the Clinton campaign that has progressives worried.
Private insurers raising Obamacare costs –> "Insurers are raising the 2017 premiums for a popular and significant group of health plans sold through HealthCare.gov by an average of 25 percent, more than triple the percentage increase of this year's plans, according to new government figures," Amy Goldstein reports for The Washington Post. The companies are blaming these rising rates on an influx of sick Obamacare insurance exchange customers, making it more expensive than expected to do business. In a press conference on the ailing health insurance program last week, Obama encouraged states "to create a government-run health insurance option to help US states where there is little or no competition among private insurers," Reuters reports. In effect, that would be the public option that Democrats rejected while creating Obamacare.
Trump TV is here –> Politico's Kelsey Sutton, writes: "Donald Trump campaign advisers Boris Epshteyn and Cliff Sims will co-host a live nightly show on the Republican presidential nominee's Facebook page every night through Election Day. The show, which will begin at 6:30 p.m. ET Monday, will lead into 7 p.m. campaign rallies that Trump plans to hold almost every weeknight between Monday and Nov. 8. According to a Trump adviser, Epshteyn and Sims will host the nightly half-hour show from the Trump campaign's 'war room' in Trump Tower. The half-hour program will also include 'Final Thoughts,' an opinion segment from conservative pundit and The Blaze show host Tomi Lahren."
Endangered because of climate change –> Federal agencies can list species as endangered if climate change will threaten their habitat, a federal court ruled. The AP reports: "At issue was whether the fisheries service can protect species as threatened under the Endangered Species Act when it determines that a currently non-endangered species will lose habitat due to climate change in coming decades… The service's listing decision was challenged by the Alaska Oil and Gas Association and others, who argued, among other things, that the seal population appeared to be healthy and the service's use of climate projections beyond 2050 were speculative."
Dakota Access Pipeline opposition expands –> The dispute over the pipeline grew over the weekend as Native Americans and environmental activists opposing it built tents and teepees along the pipeline route. The protesters said in a statement that the area belonged to Native Americans and had been illegally sold during the 19th century, according to AP. "The local sheriff's office called it trespassing, but said it wouldn't immediately remove the more than 100 people because it didn't have the manpower. 'We can't right now,' Morton County sheriff's spokeswoman Donnell Preskey told The Associated Press."
Catch 22 –> The American Bar Association commissioned a report to denounce Trump's many threats to sue the media, calling him a "libel bully." But they can't release it, because they're afraid he'll sue.
Morning Reads was compiled by John Light and edited by Karin Kamp. See a story that you think should be included in Morning Reads? Tell us in the comments!
---
We produce this news digest every weekday. You can sign up to receive these updates as an email newsletter each morning.