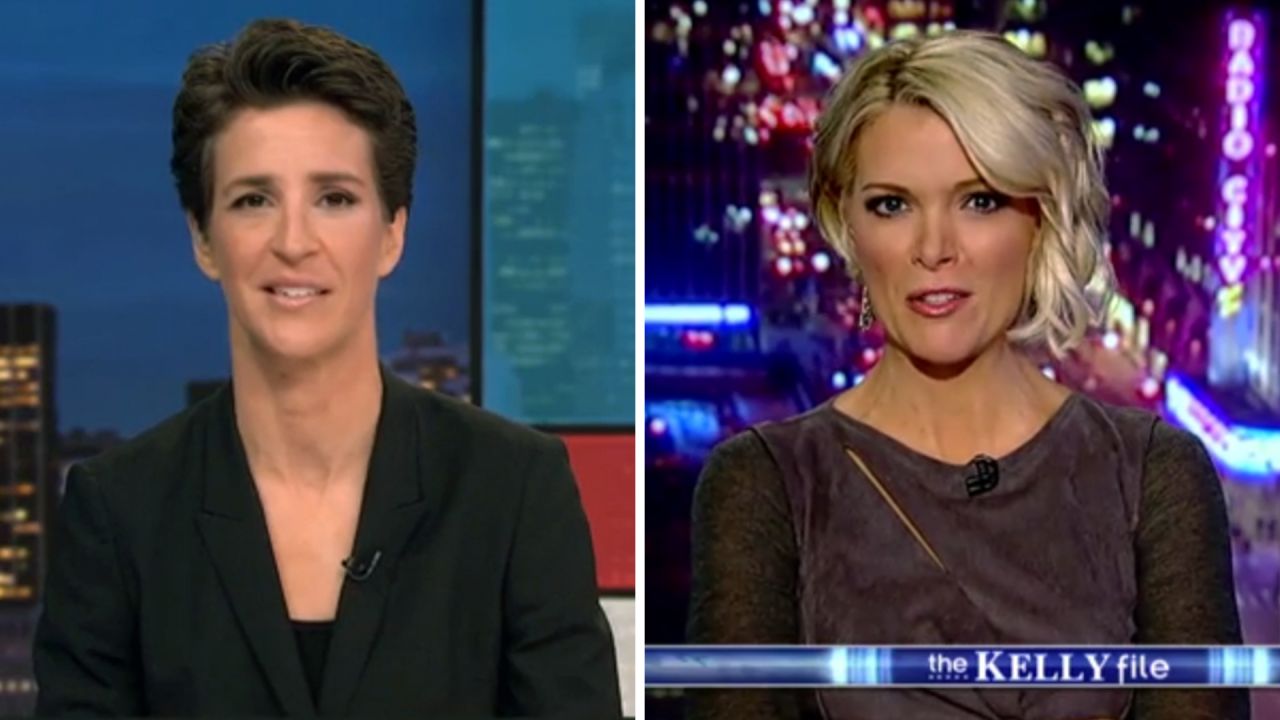 As a number of pundits are beginning to note, the split this presidential election has exposed isn't likely to magically disappear on Election Day.
So just how badly divided is America?
As a longtime media-watcher, I decided to test it out by watching the post-game coverage of last week's third presidential debate on the two networks that define the Alpha and the Omega of this nation's political discussion: Fox and MSNBC.
I found a lot of what you might expect. But also some surprises.
On Fox, you heard that Republican nominee Donald Trump cogently made his points, repeatedly scored on his opponent and "really hit hard on a number of issues."
But if you tuned to MSNBC, you heard that it was a slam-dunk for Democratic nominee Hillary Clinton. Her opponent delivered "outright falsehoods," was incoherent, bizarre and behaved "like an old man in the park feeding squirrels arguing with himself." But interestingly, this last observation came from Republican analyst Steve Schmidt.
Steve Schmidt on Donald Trump's debate
Video: Internet Archive
While the two networks operate on different ends of the political spectrum, there was one thing they unanimously agreed on: Trump started strong but undermined his success when he equivocated on accepting the Nov. 8 election results.
"Many things were out of the ordinary but none more unusual and shocking than what we heard tonight from Donald Trump," said Fox News anchor Shepard Smith. "The nominee refused to say he would accept the results of this election. Secretary Clinton called that horrifying."
Over at MSNBC, anchor Brian Williams, called it a historic moment, noting this was the first time a candidate had ever done something like this.
Both news teams expressed equal mystification as to why Trump would say that. Both spent the first 15 minutes of their broadcasts exploring his refusal to accept the integrity of the election process. Fox's conservative commentator Charles Krauthammer called it "political suicide." Krauthammer said Americans don't want a "radical who will challenge the foundations of the republic."
On MSNBC, Republican strategist Nicolle Wallace agreed. "He basically laid in his coffin with a hammer and a nail and pounded in the lid," she said.
While Trump "had nice moments and for him, this performance represented real growth from his first debate," she concluded, "That single comment will define the rest of the election. It's a disqualifying moment."
There was also consensus among the left and right cable late-nighters that Trump outclassed Clinton for the first 30 minutes of the debate. MSNBC political commentator Chris Matthews described the Democratic nominee as "in airplane mode."
But after that, viewers entered alternate political realities depending on where they wound up in TV land.  To wit:
MSNBC commentator Lawrence O'Donnell: "There wasn't a moment in this debate when Donald Trump had an advantage over Hillary Clinton. It was nothing but a romp by Hillary all the way through."
Fox commentator Monica Crowley on Trump: "He needed to show voters he was a safe choice if you are uncomfortable with Mrs. Clinton. He also needed to reassure them he's competent on leadership. I think he accomplished that tonight."
The Fox team focused on the former secretary of state's blatant refusal to answer moderator Chris Wallace's question about the possibility that donors to the Clinton Foundation got special treatment from the State Department (she instead went on and on about the foundation's good works). In addition, anchor Bret Baier said Clinton was not telling the truth when she said she wouldn't add to the national debt.
And Fox anchor Megyn Kelly accused Clinton of failing address Wallace's question on the so-called "women issue."
The Trump campaign has paraded, as debate audience props, three women who have accused Bill Clinton of sexual assault to rattle his wife and accuse her of smearing them. Kelly told of a fourth accuser, Leslie Millwee, who went public on the day of the last debate, telling Breitbart News that Bill Clinton sexually assaulted her in 1980 when she was a local TV reporter and he was governor of Arkansas.
Though Wallace never directly asked Clinton about the allegations against her husband, Kelly contended that the debate moderator, in asking Trump about the allegations against him "set it up for … Hillary to speak to the new accuser who came forward about Bill Clinton today and the other accusers of Bill Clinton," said Kelly. "She didn't touch it."
On MSNBC, Millwee's name was never mentioned.
Fox gave Trump senior communications advisor Jason Miller a platform for a lengthy attack on the former secretary of state. He was certain Democrats' heads were "exploding" because Clinton had done such a poor job.
Trump "really took Hillary to task on her failed 30-year record," said Miller. "She had no answers for her role in destroying the Middle East. She had no answers for the Clinton Foundation. She had no answers for her campaign's role in inciting violence in our rallies and events. And Mr. Trump laid out his plan for how he's going to make America great again."
Another big difference between the two networks was the handling of a story that broke a few days prior to the debate, when conservative activist James O'Keefe of Project Veritas dropped an edited undercover video of two Democratic operatives talking about disrupting Republican rallies. The two operatives since have left their jobs.
Kelly grilled Democratic National Committee chairwoman Donna Brazile for nine minutes on the rally disruptions. Brazile's tactic was to avoid the question by attacking O'Keefe, who is known for dishonestly editing videos to bolster the point he wants to make.
Fox brought up the O'Keefe video several times while MSNBC's post-debate chatter barely mentioned it.
MSNBC's Brian Williams suggested that Trump may be a "full employment act for Alex Baldwin," who plays Trump on Saturday Night Live, a program aired, not so coincidentally, on NBC.
Mostly, MSNBC's talking heads piled on Trump.
NBC Meet the Press host Chuck Todd: "For the first 30 minutes, if you were a Republican on the ballot with Donald Trump, you were relieved. But then we had the next hour. Just like the last two debates. Trump can do well for about two seconds and then he talks in circles. He never figures out when to put the period on."
Matthews decreed it the "best performance by Trump so far" but added "Hillary won" because of her appeals to moderate suburban women who "tend to vote Republican because of their tax bracket largely" but who also tend to agree with the positions Clinton took on gun control and abortion rights.
Megyn Kelly Grills Trump Aide
Video: Internet Archive
When it comes to core political beliefs, bias is everywhere. If you want to broaden your political world, don't stick with the folks you know and love and who echo your beliefs. Move about, switch channels. The other guy might surprise you.
Take, for instance, Megyn Kelly's aggressive questioning of Trump adviser Miller on why his candidate said during the debate that he didn't know any of the women who have accused him of sexual harassment and assault — when he obviously did.
"Megyn, these accusations are completely false," protested Miller.
Kelly didn't let up. "Why did he deny that he disparaged their looks?" she asked Miller. Then Fox played three clips of Trump doing what he denied — suggesting his accusers weren't attractive enough to grope.
Rachel Maddow would have been proud.