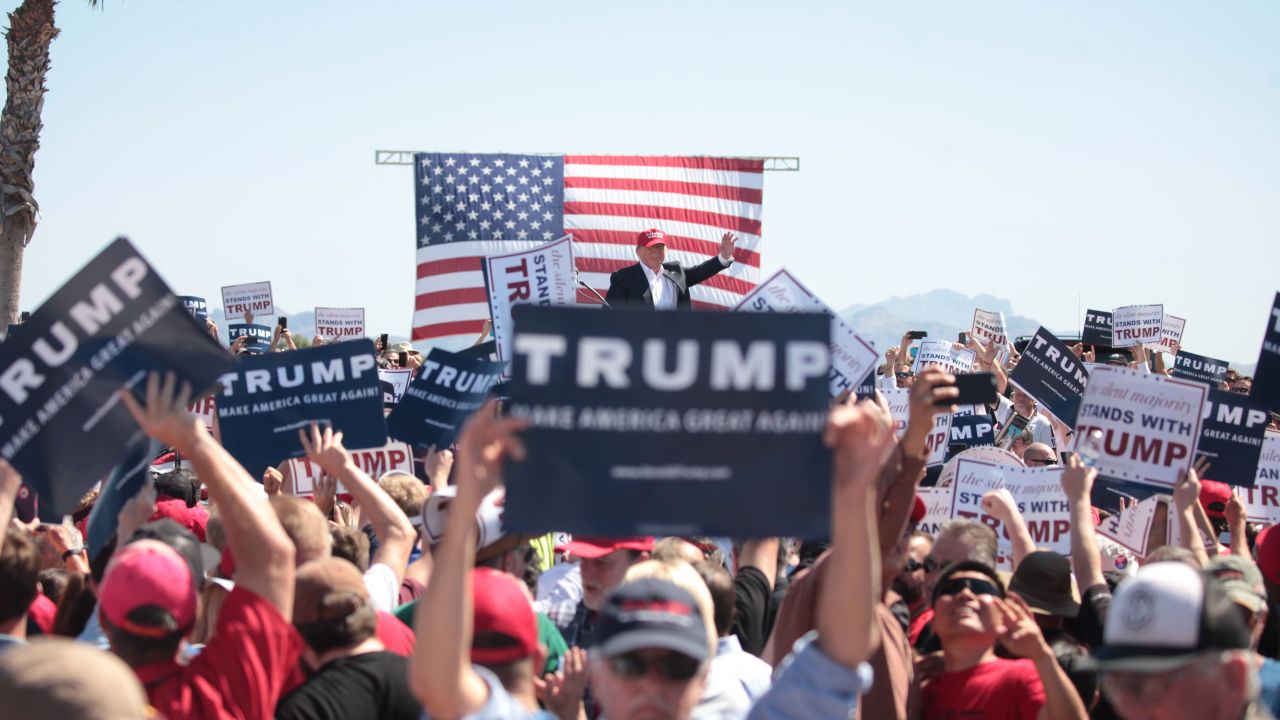 We produce this news digest every weekday. You can sign up to receive these updates as an email newsletter each morning.
---
Trump TV –> The Financial Times, via CNBC: "Donald Trump's son-in-law, Jared Kushner, has informally approached one of the media industry's top dealmakers about the prospect of setting up a Trump television network after the presidential election in November."
Rigged –> The BBC: "US Republican presidential nominee Donald Trump has said the election is 'absolutely rigged' by the 'dishonest media' and 'at many polling places.' His comments appear to contradict his running mate Mike Pence, who told NBC earlier Mr. Trump would 'absolutely' accept the election result, despite media 'bias.' Mr. Trump's adviser Rudy Giuliani has also accused Democrats of 'cheating.'"
Some context from The New York Times: "American elections are, unlike those in many democracies, largely decentralized, rendering the possibility of large-scale fraud extraordinarily unlikely. Further, the balloting in many of the hardest-fought states will be overseen by Republican officials, individuals who would be highly unlikely to consent to helping Mrs. Clinton rig the vote."
But this rhetoric may be having an impact. A new Politico/Morning Consult poll shows that 80 percent of Americans are "confident their vote will be accurately counted in the election" but "Americans are less certain that others votes will count, and Trump supporters are even more dubious. Sixty-eight percent say other people's votes will count. Just 50 percent of Trump voters are confident that other's votes will be registered, compared to 85 percent of Clinton supporters."
Journalists under arrest –> Journalist Amy Goodman, the host of the radio and television program Democracy Now!, will appear in court today to face charges of trespassing and participating in a riot leveled against her by the state of North Dakota. Goodman was filming a protest by Native American groups and activists against the Dakota Access Pipeline. Her reporting, which showed security guards attacking protestors with pepper spray and dogs that bit them, drawing blood, went viral and drew attention to the protests.
Meanwhile, a documentary producer who was filming a protest against a different pipeline, the Keystone XL, also in North Dakota, was arrested last Tuesday and charged with three felony conspiracy charges. Deia Schlosberg, who was working on the film How to Let Go of the World and Love All Things Climate Can't Change, directed by Josh Fox of Gasland fame, could face decades in prison if convicted.
Latest WikiLeak –> Hillary Clinton's speeches to Wall Street have leaked. Reporters are paying attention to this quote in one speech to New York bankers, explaining the reasoning behind the Dodd-Frank financial reform law following the 2008 crisis: "There was a lot of complaining about Dodd-Frank, but there was also a need to do something because for political reasons, if you were an elected member of Congress and people in your constituency were losing jobs and shutting businesses and everybody in the press is saying it's all the fault of Wall Street, you can't sit idly by and do nothing."
And some of the passages in the speeches pushing back on bankers' interests were carefully calculated, Zaid Jilani writes for The Intercept: "A top aide inserted a passage critical of the financial industry into one of Hillary Clinton's many highly paid speeches to big banks, 'precisely for the purpose of having something we could show people if ever asked what she was saying behind closed doors for two years to all those fat cats,' he wrote in an email posted by Wikileaks."
The latest climate deal –> As developing countries have started implementing air conditioning en masse, the number of hydrofluorocarbons (HFCs) in the atmosphere has soared. HFCs are a potent greenhouse gas, contributing to climate change. Over the weekend, a deal was cut to limit them. The Guardian reports: "The agreement, announced on Saturday morning after all-night negotiations in Kigali, Rwanda, caps and reduces the use of HFCs – a key contributor to greenhouse gases – in a gradual process beginning in 2019, with action by developed countries including the US, the world's second worst polluter." But: "More than 100 developing countries, including China, the world's top carbon dioxide emitter, will start taking action in 2024, sparking concern from some groups that the action would be implemented too slowly to make a difference."
The long-awaited assault on Iraq's second city begins –> Reuters: "Iraqi government forces launched a US-backed offensive on Monday to drive Islamic State from the northern city of Mosul, a high-stakes battle to retake the militants' last major stronghold in the country. Two years after the jihadists seized the city of 1.5 million people and declared a caliphate from there encompassing tracts of Iraq and Syria, a force of some 30,000 Iraqi and Kurdish Peshmerga forces and Sunni tribal fighters began to advance."
Now we're part of Yemen's civil war –> After an attack on Houthi rebel radar facilities Thursday to protect US ships in the area, President Obama said on Friday that similar, future actions might be necessary "to address further threats." Although the US had been providing supplies to Saudi Arabia since the beginning of the conflict, this was the first direct US intervention in the civil war. Yesterday, British foreign secretary Boris Johnson and US secretary of State John Kerry called for a cease-fire in the conflict.
An obituary for the Great Barrier Reef –> "The Great Barrier Reef of Australia passed away in 2016 after a long illness. It was 25 million years old."
Morning Reads was compiled by John Light and edited by Theresa Riley. See a story that you think should be included in Morning Reads? Tell us in the comments!
---
We produce this news digest every weekday. You can sign up to receive these updates as an email newsletter each morning.