The devastation in the Philippines following Typhoon Haiyan is a terrifying reminder that developing nations are hit hardest by severe weather brought on by climate change, which leads to even greater global inequality and suffering.
Typhoon Haiyan tore through the eastern half of the island nation this weekend, killing 2,500 or more, turning cities into wastelands.
On Monday, during UN climate talks in Warsaw, a climate negotiator from the Philippines, Naderev "Yeb" Saño, took the floor to implore his colleagues to use the climate conference to achieve something substantive. He urged them to spare nations like his from a future in which devastation on the scale of what Haiyan wrought becomes common.
"Initial assessments show that Haiyan left a wake of massive destruction that is unprecedented, unthinkable and horrific," Saño said. His voice broke, he paused, looking down as he teared up, then continued.
"I struggle to find words for the images that we see in the news coverage and I struggle to find words to describe how I feel about the losses. Up to this hour, I agonize waiting for word for the fate of my very own relatives. What gives me renewed strength and great relief is that my own brother has communicated with us, and he survived the onslaught."
Saño continued, "I speak for my delegation, but I speak for the countless people who will no longer be able to speak for themselves after perishing from the storm. I speak also for those who have been orphaned by the storm. I speak for the people now racing against time to save survivors and alleviate the suffering of the people affected. We can take drastic action now to ensure that we prevent a future where super typhoons become a way of life."
Before Doha, last year's UN climate conference, Saño made a similar appeal that The International Herald Tribune highlighted as one of the talks' "most poignant moments." At the time, his island nation was also reeling from a devastating typhoon, Bopha, which had claimed hundreds of lives. Like Hurricane Sandy, which hit the New York City area a month before Doha, climatologists saw Bopha as an uncharacteristically extreme weather event, exacerbated by climate change.
"Please let Doha be remembered as the place where we found the political will to turn things around," Saño said. Despite his plea, many environmentalists were disappointed with the lack of progress at the conference.
Saño said that this year, in solidarity with suffering Filipinos, including his brother, who, he said, had not eaten in three days, he will fast during the conference. He noted that UN climate summits have been called "useless" and "a farce" and said his hunger strike will continue "until a meaningful outcome is in sight."
"We can fix this. We can stop this madness," Saño concluded, wiping tears from his face with a bandanna as the room rose to a standing ovation.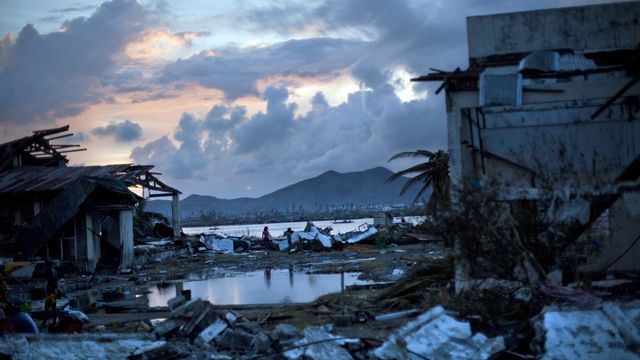 Typhoon Haiyan survivors walk through the ruins of their neighborhood on the outskirts of Tacloban, central Philippines on Wednesday, Nov. 13, 2013. Typhoon Haiyan, one of the most powerful storms on record, hit the country's eastern seaboard on Friday, destroying tens of thousands of buildings and displacing hundreds of thousands of people. (AP Photo/David Guttenfelder)
Typhoon Haiyan showcased the devastation that results when one of the strongest storms on record — a storm surge two stories high and winds of at least 140 miles per hour — slams into an impoverished nation with infrastructure weakened by decades of neglect and political corruption and with rapid population growth concentrated in vulnerable coastal areas.
As storms like Haiyan become increasingly common and the climate changes in other ways — through increased desertification, for example — residents of poor nations will, the World Bank found, not only feel the worst effects, but will face greater challenge to escape poverty.
"Regular food shortages in sub-Saharan Africa… shifting rain patterns in South Asia leaving some parts under water and others without enough water for power generation, irrigation or drinking… degradation and loss of reefs in South East Asia resulting in reduced fish stocks and coastal communities and cities more vulnerable to increasingly violent storms… these are but a few of the likely impacts of a possible global temperature rise of 2° Celsius in the next few decades that threatens to trap millions of people in poverty," the World Bank said in June, summarizing the findings of a scientific report it released.
In July, World Bank President Jim Yong Kim wrote: "We have powerful new evidence that even if climate change falls short of the much-discussed 4°C warmer world, we could witness the rolling back of decades of development gains and force tens of millions more to live in poverty."
The Associated Press reports that no major changes in climate policy are expected to emerge from the Warsaw summit and some negotiators are looking to talks in Paris in 2015 for change.
Video excerpts of Saño's speech have been posted on The New York Times and YouTube, and he's posting updates on his hunger strike to Twitter.