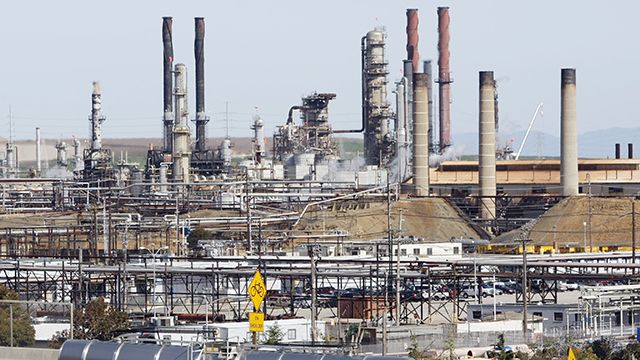 A Chevron oil refinery in Richmond, Calif. (AP Photo/Paul Sakuma, File)
It's a distressing milestone that you likely read about: On Friday, the average daily level of carbon dioxide in Earth's atmosphere passed 400 parts per million — about 50 ppm over what scientists said was the "safe upper limit." The gas, of course, is a byproduct of our fossil fuel economy, and is the key driver of climate change.
The amount of CO2 in the atmosphere has increased dramatically since 1958, when the Mauna Loa Observatory in Hawaii — the gold standard for measuring the gas — first began tracking levels. That year, the daily average was 316 ppm — since then, the level has increased by 26.5 percent.
And yet, Washington is doing very little to rein in CO2 emissions and slow the climate change that's already underway.
The Sunlight Foundation provides a glimpse into one possible reason for D.C.'s inaction. In a new chart, Sunlight graphed CO2 levels alongside campaign donations from the oil and gas industry, and the mining industry, both of which make money on fossil fuels. As the amount of carbon dioxide in our atmosphere has increased, so too has the flow of cash from these industries to politicians.
The donations reached an all-time high in 2010, the same year that senators came close but ultimately failed to pass a bipartisan climate bill that would have cut emissions. Their successors in the 112th Congress were much less ambitious. For the first time since 2003, when Senators McCain and Lieberman proposed the greenhouse gas cap-and-trade bill, not a single piece of cap-and-trade legislation was introduced. In fact, there were nearly as many bills seeking to bar legislators from regulating carbon dioxide as there were seeking to regulate it.