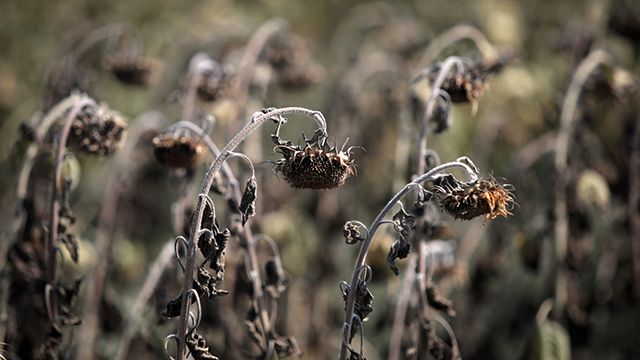 Dried sunflowers are seen in a field near the Bulgarian capital Sofia in August 2012. After the harshest winter in decades, the Balkans were facing the hottest summer and the worst drought in nearly 40 years. The record-setting average temperatures -- steadily rising over the past years as the result of the global warming -- have ravaged crops, vegetable, fruit and power production in the region which is already badly hit by the global economic crisis. (AP Photo/Valentina Petrova)
A new study published in the journal Science provides context for just how dramatic our planet's recent warming trend is. In the last century, during which humans have been burning fossil fuels on a widespread scale, the planet's temperatures have changed more dramatically than they had during all of recorded human history — more dramatically than they had since the last ice age ended.
"We already knew that on a global scale, Earth is warmer today than it was over much of the past 2,000 years," said Shaun Marcott of Oregon State University, the paper's lead author. "Now we know that it is warmer than most of the past 11,300 years."
The planet's gradual warming and cooling phases are largely caused by the Earth's tilt as it orbits around the sun. During the period the OSU and Harvard University research team reconstructed, temperatures increased gradually until about 7,000 years ago, then began decreasing again. If not for human influence, Earth would be in a very cold period today. But soon after the industrial revolution happened, the planet began to warm.
"This research shows that we've experienced almost the same range of temperature change since the beginning of the industrial revolution as over the previous 11,000 years of Earth history — but this change happened a lot more quickly," said Candace Major, program director in the National Science Foundation, which helped fund the study.
Researchers said that if this trend continues, the planet will be warmer in 2100 than at any point during the last 11,300 years for which they have data.
What will that mean for America?
A draft of a report released by a government advisory committee in January gives us some idea. The analysis, by the National Climate Assessment and Development Advisory Committee (NCADAC), details how climate change will devastate different regions of the U.S. and specific sectors of the American economy. Some examples: Areas where agriculture takes place will shift, and by 2050, most of climate change's impacts on American agriculture will be negative. Summer droughts will intensify because of changes in precipitation and rising temperatures. In the long run, many southern American states and Hawaii could experience water shortages because of rising temperatures and falling levels of rainfall. America's transportation infrastructure will be incapacitated. Current health crises will be amplified and new ones will emerge. Plant and wildlife in some regions will change so much as to make the given region "almost unrecognizable." The list of what America has to prepare for is long, and communities around the country will experience their own spectra of different, devastating effects.
In a letter to the American people, the NCADAC report's authors write:
Corn producers in Iowa, oyster growers in Washington State, and maple syrup producers in Vermont have observed changes in their local climate that are outside of their experience. So, too, have coastal planners from Florida to Maine, water managers in the arid Southwest and parts of the Southeast, and Native Americans on tribal lands across the nation.

Americans are noticing changes all around them. Summers are longer and hotter, and periods of extreme heat last longer than any living American has ever experienced. Winters are generally shorter and warmer. Rain comes in heavier downpours, though in many regions there are longer dry spells in between.
Speaking with CNN, Marcott — the OSU/Harvard report's lead author — said, "as civilization has grown, we're kind of set up for things not to change too much." He expressed concern about how humans would adapt to a new climate. "I certainly hope we can pull ourselves out of it," he said.