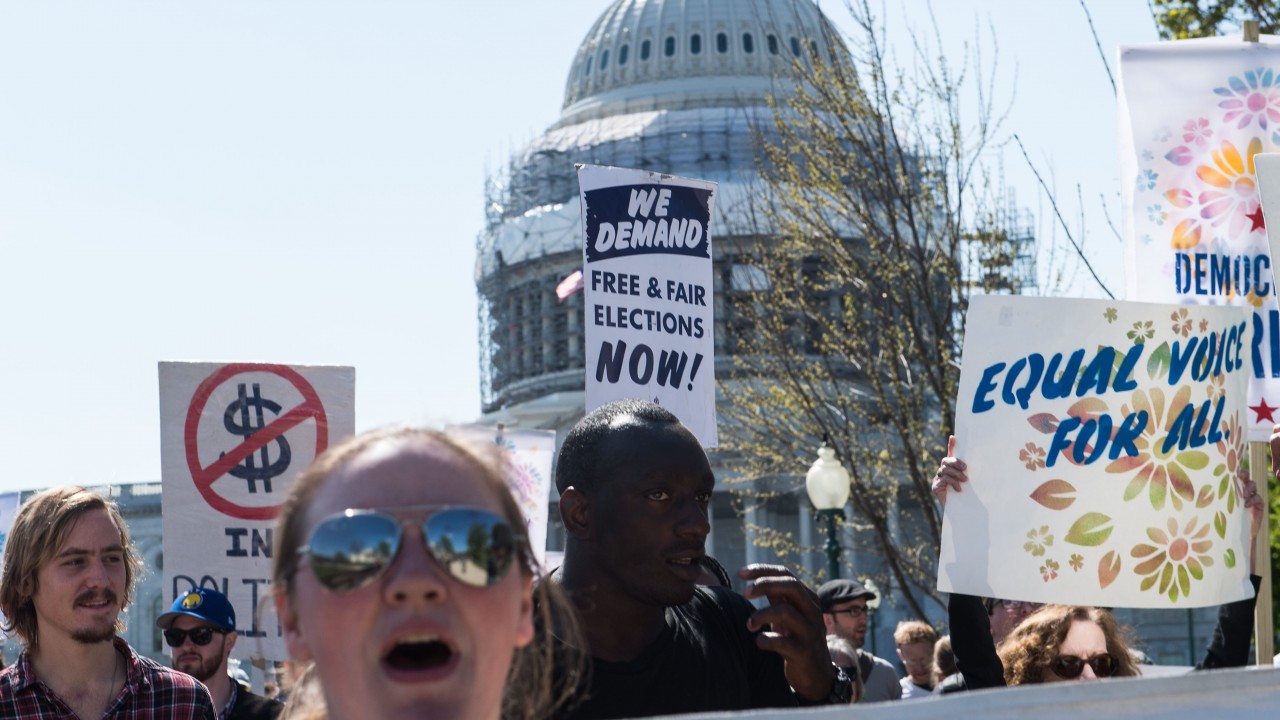 In this week's protest marches demanding reform of the nation's broken campaign finance system, they are red dots conspicuous in a sea of blue. But, yes, there are conservatives joining the movement to get big money out of politics.
That may seem counterintuitive. After all, the big Supreme Court ruling campaign finance reformers want to repeal, Citizens United, is named for a conservative group. And the organizations backing Democracy Spring and Democracy Awakening represent a who's who of the left: civil liberties organizations, environmental organizations and civil rights groups.
But earlier this week, as marchers from Black Lives Matter joined Democracy Spring sit-ins on the steps of the US Capitol, one of the volunteers making sure they had plenty of water and back-up was Rob Schaaf, the son of a veteran Republican state legislator from Missouri. Schaaf wore a bright red T-shirt from "Take Back Our Republic," a Republican campaign finance reform group, and a white armband showing that he'd already been arrested for the cause of getting big money out of politics. He said he was considering a second arrest.
We have to have a left-right coalition
— Rob Schaaf
"Seeing my dad's experience with the political system," Schaaf said, when asked why he'd taken a week off work to hang out with protesters from the left. The elder Schaaf has introduced a campaign finance transparency bill in the Missouri Senate that has won praise from the Brennan Center for Justice. His son said the senator also working to end the revolving door that allows lawmakers to head straight into lobbying after they leave office. The influx of money in politics "affects issues both the right and left care about," said Schaaf. "We have to have a left-right coalition."
It was to advance that proposition that John Pudner left his career as a political consultant to found Take Back Our Republic, Pudner, who made national news when he helped an upstart tea partier named Dave Brat knock off Eric Cantor, then the House majority leader, in a Republican primary, said he intends to work full time for the foreseeable future to enact legislation that will to reduce the influence of the wealthy on politics. On Friday, he planned to join leaders of Represent.Us, a bipartsan money-out-of-politics group, to stage a tea party-like dump of "campaign contributions" into Boston Harbor.
"It's fake money," Pudner hastens to say. He jokes that he doesn't want "some politicians jumping in after it."
Pudner also joined Democracy Spring marchers last week, walking a full day along the route from Philadelphia to Washington. He shared video on Take Back Our Republic's YouTube channel.
This comes close to heresy in a party whose Senate majority leader, Mitch McConnell, has made campaign finance reform one of his bête noires. Only two Republicans, Sen. Lisa Murkowski of Alaska and Rep. Walter Jones of North Carolina, have cosponsored any of the four pieces of legislation that Democracy Spring and Democracy Awakening marchers have made their top priorities: two are campaign finance reform bills and two are bills to expand voting rights.
Pudner is undaunted. His long-term goal is to reinstate tax breaks for small political donors, which he thinks would encourage voter participation. Short-term, however, he's pushing a more modest proposal that would ban foreign campaign donations (already against the law) from sneaking their way into campaigns via credit card transactions. More than 40 Republicans, including Pudner's former client, Dave Brat, have signed on as co-sponsors, along with a handful of Democrats.
"That's a nice beachhead," said Pudner, who sees it as a way to get a bigger conversation started about money in politics. "Almost all of them talk about the other issues too," he said, referring to Republican lawmakers' concerns about the continually escalating chase for cash.
Meanwhile Pudner is walking a walk that other Republicans hesitate to tread. "There had been discussions about whether this was an anti-Trump rally," he said of the Democracy Spring and Awakening events. But he said he told his conservative allies that the organizers were "legit." He expressed delight with the "good conversations" he had during his march with Democracy Spring.
"There were extremely happy to see some conservatives coming out," Pudner said. "I think the biggest hurdle I've had is to explain to these liberals is that the tea party is not their enemy.
"They're as upset with the Chamber [of Commerce] as you are."
Whatever the party leaders feel, the Republican rank-and-file appear to be with Pudner and the Schaafs. A Bloomberg Poll last year showed super-majorities of voters in both parties favoring a repeal of the Supreme Court's Citizens United, the decision that opened the door to the latest influx of big money. Among Republicans, 80 percent favored repeal.