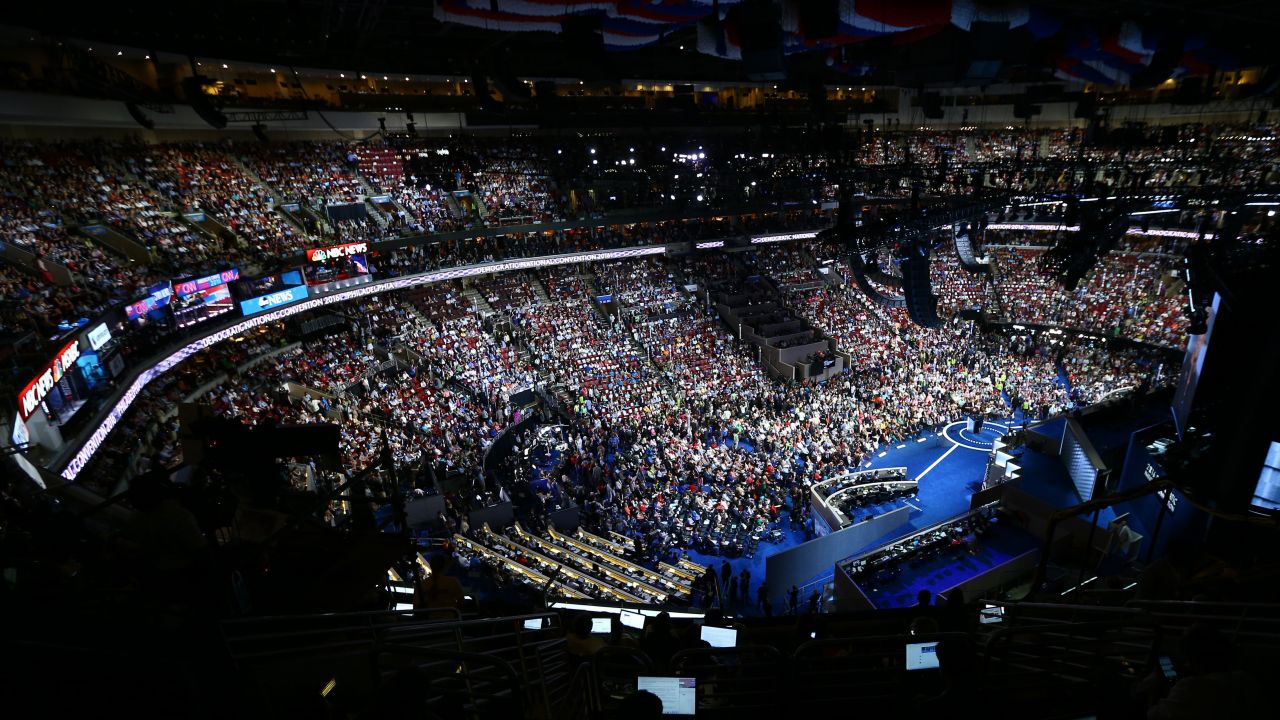 We'll be posting this roundup each week leading up to Election Day. Share your thoughts about these must-read stories and always feel free to suggest your own in the comments section.
THIS WEEK'S TOP STORY
There's a lot going on at the conventions besides the televised extravaganza we see on our screens every evening. Behind the cameras, these political blowouts are an excellent opportunity for lobbyists to cozy up to lawmakers. As David Dayen notes at The New Republic, it's difficult to tell just who is seeking to schmooze with whom at the Democratic Convention because no official schedule exists.
Invitations are doled out individually, and people whisper about this or that event. But enter any official hotel where a delegation is staying, or any Philadelphia landmark, and you're likely to have a complimentary drink thrust into your hand.
Our friends at the Sunlight Foundation and The Center for Public Integrity have been crashing some of the parties, and making the sponsors known. We did a little digging to find out just what those sponsors hope to get for their money. Read more »


QUOTE OF THE WEEK
"And there goes my plan to make more money. Come on!"
—Jordan Kaplan, National Finance Director of the Democratic National Committee, in an email (PDF) after being informed by a lawyer that his plan for the DNC to raise money for the convention host committee (a group intended to promote the city of Philadelphia) was likely illegal.


CAMPAIGN CASH SNAPSHOT
Figures for presidential and congressional races from the Center for Responsive Politics; figures for state races from the National Institute of Money in State Politics.


CHART OF THE WEEK
We won't know the price tags for this years' conventions for two more months — the convention host committees, a key mechanism the parties use to finance their election-year spectacles, are not required to report spending to the FEC until 60 days after the event. But the price tag is likely to be quite high — well over $100 million for each party. This chart shows our estimates of what past conventions have cost, based on our analysis of FEC data. The numbers below include what was spent by each party's convention-planning committee and the city's host committee, a hefty sum for public financing (which was done away with in 2014) and a $50 million allocation from Congress each party has been receiving for convention security since the 9/11 terror attacks.
See our data here; thanks to Center for Responsive Politics' Bob Biersack for his help on this.


STAT OF THE WEEK
89.6 percent
Under a joint-fundraising arrangement, the Clinton campaign raised $7.7 million for state Democratic parties. But of that $7.7 million, $6.9 million — 89.6 percent — was transferred right back to the DNC, a fact revealed in last week's WikiLeaks email dump. If the DNC was spending that money on behalf of the Clinton campaign, it would be a violation of federal law, according to this analysis by the law firm Gober Group.


RACE OF THE WEEK
Florida is one of only a handful of swing states that has yet to hold its Senate primary. After losing his bid for the Republican presidential nomination, Marco Rubio reversed his plan to retire and is running for re-election; on the Democratic side two congressmen — Patrick Murphy and Alan Grayson — are vying to challenge him. In recent weeks, Murphy has seen more than $4 million in negative advertising rolled out against him, according to a Washington Post tally. Some in the state wonder whether this is in part an effort by Republicans to sideline Murphy so that Rubio can run against Grayson, a candidate many see as more problematic — just this week, his ex-wife accused him of decades of domestic abuse — and easier to beat. The fact that one of the groups tied to the anti-Murphy advertising has links to the Koch brothers would seem to at least partially confirm that theory, writes The Post's Mike DeBonis.


DONOR OF THE WEEK
The formerly "self-funding" candidate Donald Trump gave the nod during his convention to a super PAC, Rebuilding America Now, saying he would be willing to appear at the group's events. As of the last FEC filing deadline, the PAC's largest funder, with a gift of $2 million, is Geoff Palmer, a controversial California developer that the real estate blog Curbed LA dubbed "The Man Destroying Downtown."


SOCIAL ENGAGEMENT OF THE WEEK
The DNC email leak last week gave reporters an insight into how the Democratic party raises money. Reporter Andrew Perez explores one story contained in the emails for the money-in-politics website MapLight. The Obama administration has a rule that the president and vice president do not attend fundraisers with lobbyists. But, Perez finds, White House staffers acting as "surrogates" for the president can. Last month, the administration cleared David Simas, an Obama political advisor, to appear at a party hosted at the offices of multinational lobbying firm Hogan Lovells, at which hosts were expected to contribute $5,000 each to the DNC.


MUST-READS FROM HERE AND ELSEWHERE