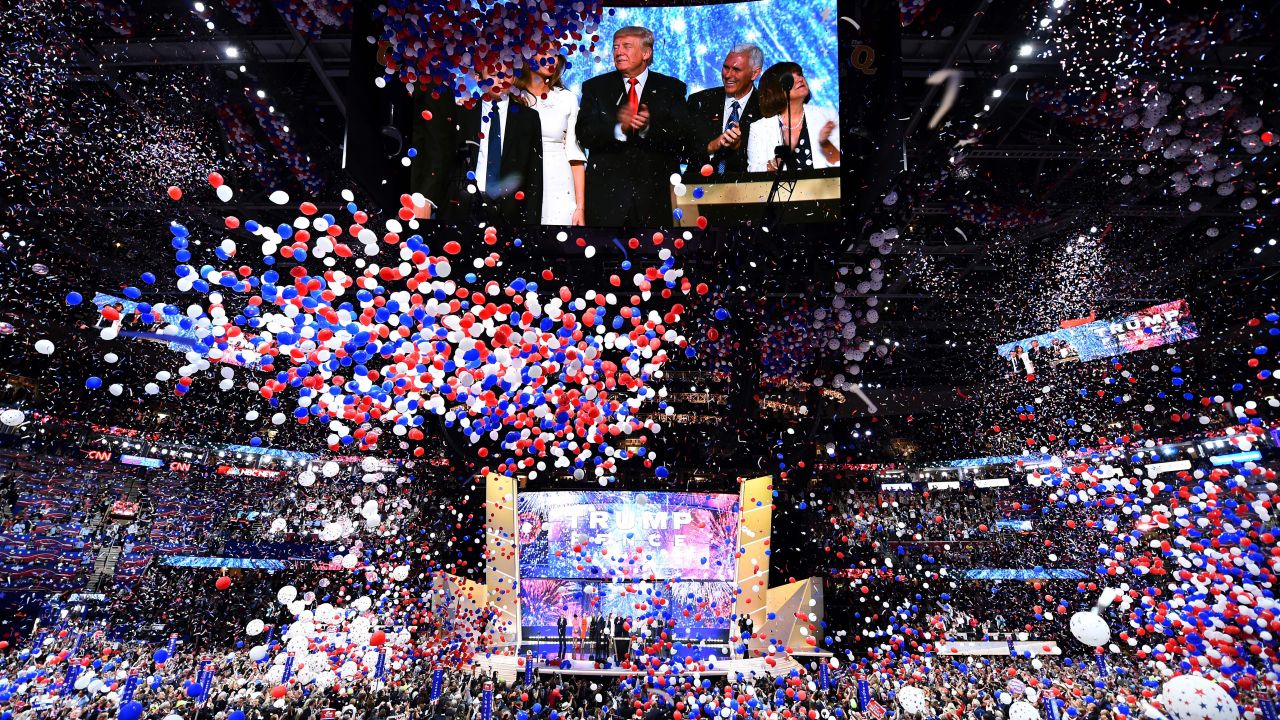 Thousands of people wrote on our Facebook page this week about the "political theater" that was the 2016 Republican National Convention.
The tone overall was a mixture of shame, despair and outright fear for what would become of America if the newly crowned GOP nominee, Donald Trump, wins the highest office in the land. Besides a sprinkling of praise for the oratory skills of Trump's children, few people had anything positive to say.
As Luis Rodriguez puts it: "This seems to be one of the worst, if not the ugliest, Republican conventions in history. It is filled with political theater, mud-throwing, hateful tones and extremely poisonous rhetoric" that is "out of step with American reality." Sean Evans writes: "This is not the party I joined as a new voter in the 1970s. It isn't even the party I left after 1980. It is now a party marked by delusional, fact-free hatred."
Trump's darkly toned, aggressive speech last night, filled with "empty promises and fear," had "no details and no plan," writes DeDe Shelton. "There was nothing in that speech that inspired me or made me want to change my vote," she writes. But Trump's repeated attacks on Hillary Clinton, blaming her for most of the country's problems, hit home with others, like Mervin Chess, who wrote that he is newly convinced that the businessman turned politician is the right man for the job. "I am an independent who now supports Trump," he says. "Hillary should be in jail."
Susan Samuel said some of the themes covered by Trump and his daughter Ivanka, including affordable child care and reducing college debt, left her believing that "Trump made the pivot" adding that she "hoped for the best and saw it last night. He is transitioning both sides toward the middle."
Some expressed sympathy for what Lee Chapin described as the "thankless, pointless" job of fact-checking at the 2016 RNC, surely a challenge during a 75-minute Trump speech. While Trump promised to "present the facts plainly and honestly" last night, a Vox fact-check reported that "fewer than half" of the dozens of "facts" Trump presented "scored as true or almost true." There "were also plenty of falsehoods, misleading or disputed claims or baseless accusations."
Our audience homed in on everything from Rudy Giuliani's "outlandish," "barn-burner" speech, in which he misrepresented Clinton's views on immigration by saying "she is for open borders," (rated false by Politifact), to Ben Carson's "weird" off-script comments linking Clinton to Satan via a long-dead community organizer.
Attacks on Hillary Clinton
People were particularly concerned about New Jersey Gov. Chris Christie's mock trial of Hillary Clinton, where he laid out one indictment after another, encouraging the audience in Cleveland to deem her "guilty or not guilty?" — and they complied.
I was waiting for them to grab their torches and start screaming 'burn the witch!'
— Beth Weisberger
"I was waiting for them to grab their torches and start screaming 'burn the witch!'," writes Beth Weisberger. Daniyel Ben Gavriel thought Christie's speech was against the very American principle of "innocent until proven guilty," noting that Clinton has not been charged with any crimes. After hearing the audience chant "Lock her up, lock her up," Jo Miciotto Johnson says she's now concerned that "some of them might feel motivated to violence against Hillary Clinton."
That one of Trump's advisers said the Democratic nominee should be shot for treason probably didn't help. Many, like Casey Roberts, noted that the convention seemed to be "all about Hillary," as some speakers mentioned Clinton more often than Trump.
On Patricia Smith's emotional speech, Linda Miner Bryan writes that the Trump campaign "should be ashamed for exploiting her uncontrollable grief," a sentiment shared by many others. Smith, whose son was killed in Benghazi, called Clinton a liar and blamed her for his death. "While my heart breaks for Patricia Smith, she was out of line with her accusations," Bryan adds. Gina Gulisano Duda writes "that the DNC will be using grieving mothers" at their convention in Philadelphia next week. "But I suppose that is different?," she says referring to the mothers of Eric Garner, Trayvon Martin and others who were killed in encounters with law enforcement slated to speak at the Democratic National Convention.
Michael Hinsley writes that the party's convention hall was filled with a "monochrome audience" listening to "nonsense speeches full of dog whistles." Instead of the "Make America Great Again" campaign slogan, Roger J. Gibson said that "'Make America White Again'" seems more accurate.
The New York Times reported that this convention "has fewer black delegates and speakers than any in two decades, according to several African-American Republicans who are regulars at party gatherings."
Things I'd Rather Do
Many people wrote in with ways they were avoiding watching the spectacle. David J. Speer has a "boil to lance" and "some blackboard to scrape with all 10 of my fingernails." Rick Johnson "would rather have a colonoscopy and a root canal…at the same time," to which Debra Waites helpfully offered "Without anesthesia!" There were life insurance policies to be reviewed, dogs to be checked for fleas, grass to watch grow and paint to watch dry.
As for the Democratic National Convention starting in Philadelphia on Monday, Steve Williams writes that Democrats should hold "the most positive convention in the history of US politics."
He adds: "What a startling contrast that would make to the Republican convention. Republicans are the party that tears down America; Democrats are the party that builds up America. Republicans are the party of no, devoid of ideas; Democrats are the party of yes, filled with hope of a better life for all Americans."
Continue to share your thoughts on the RNC here and on our Facebook page. If you plan to watch the DNC next week, we would love to hear your thoughts each day on our website or on Facebook.