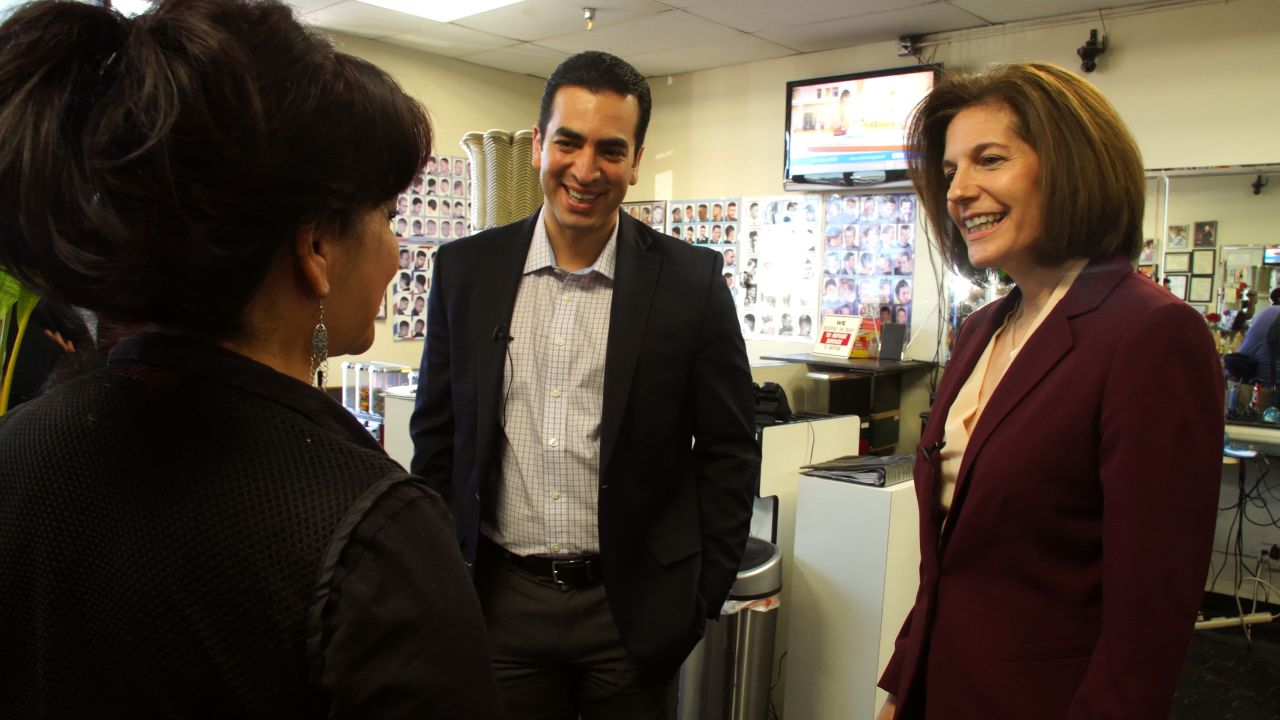 We'll be posting this roundup each week leading up to Election Day. Share your thoughts about these must-read stories and always feel free to suggest your own in the comments section.

THIS WEEK'S TOP STORY
Nevada has only four seats in Congress, and the races to fill two of them are attracting some of the largest quantities of "outside money" seen anywhere in the country.
Since the beginning of June, the month when the state selected its congressional candidates, the Federal Elections Commission has logged $1.7 million from "outside groups," such as super PACs and dark money nonprofits, in Nevada's 4th district, which stretches north from Las Vegas. Nonpartisan political handicappers Charlie Cook and Stu Rothenberg both think Democrat Ruben Kihuen has a better-than-even chance of ousting incumbent Cresent Hardy.
To the south of Las Vegas, Republican Danny Tarkanian and Democrat Jacky Rosen are vying for a seat that Republican Rep. Joe Heck is vacating to run for US Senate, as longtime Democratic incumbent Harry Reid prepares to retire. It's a battle of titans by proxy: Rosen, a local synagogue president, is Reid's hand-picked candidate; Tarkanian is the son of legendary University of Nevada basketball coach Jerry Tarkanian. But the younger Tarkanian has a spotty financial record that has hurt his efforts to win elective office in the past. Both parties see the possibility that Democrats may pick up these seats, putting three of the state's four congressional districts in Democratic hands. Since June 1, the FEC has logged a whopping $3.7 million in spending from outside groups in the race.
The primaries in these districts were also expensive and saw millions pour in from, among other players, the Ending Spending Action Fund, financed by billionaire Joe Ricketts. More recently, outside money is coming almost exclusively from party-affiliated groups. The National Republican Congressional Committee has spent nearly $2 million across the two districts, and its Democratic counterpart, the Democratic Congressional Campaign Committee, has spent nearly $1.3 million. The advertising purchased by these two groups has largely been negative. The Las Vegas Sun has some examples.

QUOTE OF THE WEEK
I feel bad for the people who wrote the checks… You can only spend so much effectively at the last minute.
— Vintner and Republican donor John Jordan on the political donors' frantic efforts to push dollars into candidates' pockets with less than 50 days left until Election Day via CNN's Theodore Schleifer.

CAMPAIGN CASH SNAPSHOT
Figures for presidential and congressional races from the Center for Responsive Politics; figures for state races from the National Institute of Money in State Politics. All figures as of Sept. 22.

CHART OF THE WEEK
Donald Trump may be raising less than Hillary Clinton each month, but in August he raised more from small donations than she did. Roughly 29 percent of his fundraising haul came from people who gave $200 or less. The proportion of Clinton's haul from small donors was roughly half that — 14 percent. Thus the blunt New York Times headline: "Liberals See Hillary Clinton's Focus on Big Donors as Bafflingly Dated."

STAT OF THE WEEK
$8.2 million
The amount Donald Trump's campaign for the presidency has paid to Donald Trump's businesses, according to Politico.

DONOR(S) OF THE WEEK
Sheldon Adelson
With the Kochs keeping a lower profile, the Las Vegas billionaire has become perhaps the most reliable Republican financier this year. An associate of his recently told CNN he is spending $45 billion in 2016 on Trump's campaign and to help the GOP hold on to Congress. He also bailed out the committee that paid for the Republican convention with a $1.5 million donation a month after the Cleveland spectacle concluded to cover outstanding bills.

SOCIAL ENGAGEMENT OF THE WEEK
Sen. Bob Corker of Tennessee, who is not up for re-election this year, is lending a hand to his Senate colleagues who are. By helping his party hold on to both houses of Congress in November, he's also helping himself to hold on to his position as chair of the influential Senate Foreign Relations Committee. He's hosting two fundraisers for Sen. Kelly Ayotte, who's in a toss-up re-election race in New Hampshire. One will be at Corker's home in Chattanooga, and another, co-hosted by Tennessee Gov. Bill Haslam, will be at the Governors' Mansion in Nashville. Ayotte has said she will vote for Trump but "won't endorse" him and will "stand up" to him. Corker, on the other hand, has campaigned with Trump and was considered a possible VP pick until he took himself out of the running.

MUST-READS FROM HERE AND ELSEWHERE