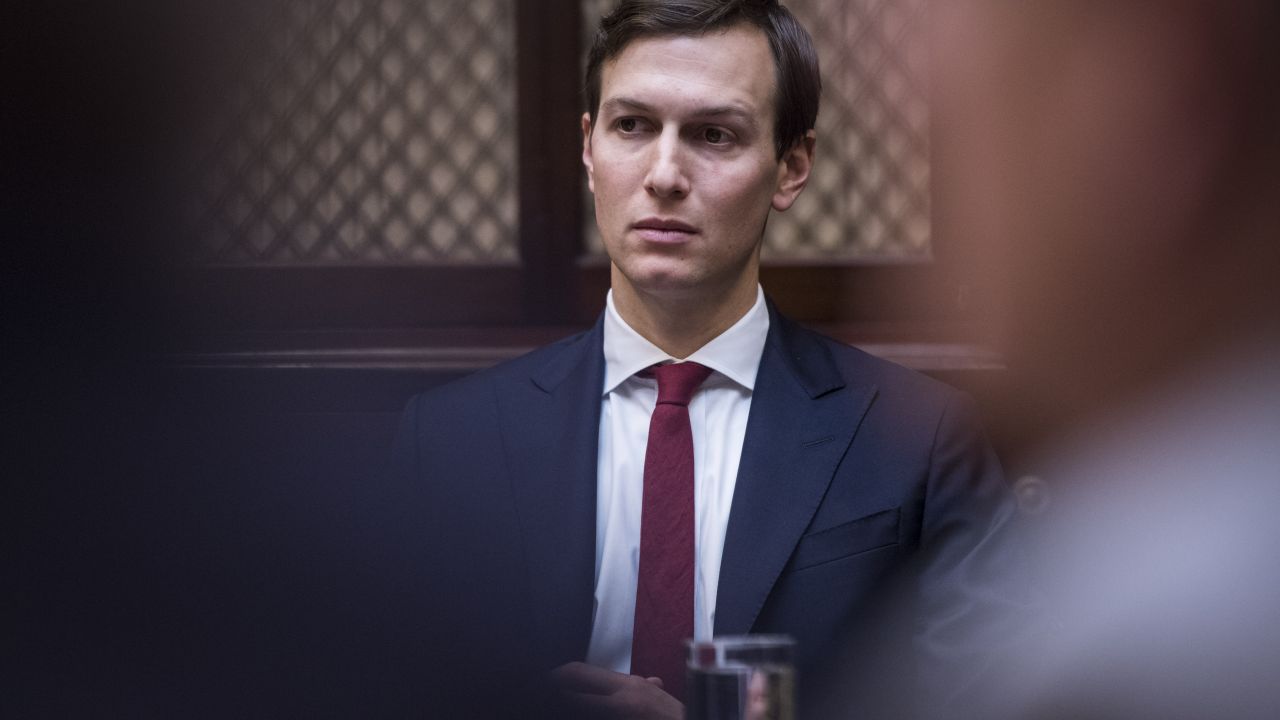 Jared Kushner (JD/MBA, NYU, '07) has a law degree from one of the finest universities in the country. He understands the threat that Trump's words and deeds pose to democracy and the rule of law, but he has been in close proximity to Trump scandals that threaten both. He is a man of few public words, but his policy portfolio for Trump is enormous. He is uniquely positioned to keep Trump from running amok, but he has joined the ranks of Trump's enablers.
NOTE: This timeline is no longer updated here as of April 2018. For the latest developments, go to our main Trump-Russia Timeline, which now appears at the Committee to Investigate Russia website and click on Jared Kushner's name.
Our Kushner timeline taps entries from our overall Trump-Russia timeline and adds others that are unique to him. As the facts unfold, this timeline will be updated. Eventually, the public will learn the full story of Jared Kushner's role in the controversies enveloping the Trump White House — and to what extent he shares responsibility for them. Like many of the lawyers surrounding and enabling Trump, Kushner has retained a personal attorney to help him navigate the troubled waters engulfing the White House.
---

Kushner and Conflicts
June 16, 2015: Trump announces that he is running for president. His 34-year-old son-in-law, Jared Kushner, runs a real estate empire that his father created and ran until New Jersey's then-federal prosecutor Chris Christie put Charles Kushner in prison. The Kushner Companies' flagship building is a Manhattan skyscraper (666 Fifth Avenue) that it bought at the height of the real estate market in 2007 and that promptly plummeted in value. To stave off default, the company sold off pieces, but it's still in trouble. The building has a 70 percent occupancy rate, revenue covers only two-thirds of its debt obligations and a $1.2 billion mortgage comes due in 2019. Kushner Companies is reportedly trying to assemble a $7 billion financing package to convert the building into condos.
Around June 2016: As Trump secures the Republican nomination for president, a Chinese financial giant, Anbang Insurance Group, begins talks with Kushner Companies about investing in the redevelopment of 666 Fifth Avenue.
October 2016: Jared Kushner's real estate company finalizes a $285 million loan with Deutsche Bank as part of a refinancing package for its property near Times Square. In total, the refinancing deal reportedly results in Kushner's company receiving $74 million more than it had paid for the property in 2015, when Kushner had negotiated the purchase with Lev Leviev. According to a 2007 New York Times report, Leviev — a Uzbek-born Israeli citizen who is one of the world's wealthiest men — kept a framed photo of Vladimir Putin on his office shelf and described Putin as a "true friend," who has helped him in his work with an influential Jewish organization in Russia. At the time of the October 2016 refinancing with Kushner's company, Deutsche Bank was negotiating to settle New York state regulators' charges that it had aided a possible Russian money-laundering scheme. Eventually, the state cases were settled in December and January.

[Added June 26, 2017]

Nov. 8, 2016: Election Day.
Nov. 16, 2016: Jared Kushner and a group of executives dine at the Waldorf Astoria with the chairman of China's Anbang Insurance Group.
Nov. 28, 2016: As speculation grows that Kushner will become a top Trump White House adviser, reports surface that business conflicts of interest could pose problems for him. Among them is a Kushner project in New Jersey that attracted tens of millions of dollars from Chinese investors by marketing a controversial US immigration program (EB-5), which opens a speedy path to citizenship for investors who put more than $500,000 in projects located in economically disadvantaged "targeted employment areas." The program has become controversial because gerrymandering of census tracts has allowed otherwise ineligible real estate developments to benefit from tenuous geographic connections to poor neighborhoods.
Dec. 2, 2016: Trump accepts a call from Taiwan's president, thereby offending China's president by violating America's longstanding "one China" policy.
Jan. 31, 2017: A Kushner Companies spokesperson announces that Jared Kushner has sold his interest in 666 Fifth Avenue to a family trust of which he, Ivanka and their children are not beneficiaries.
Feb. 9, 2017: Jared Kushner reportedly orchestrates a fence-mending phone call between Trump and China's president, during which Trump reaffirms the US "one China" policy that his earlier conduct had placed in doubt.
March 10, 2017: Senior Democratic members of the House Committee on Financial Services write to the committee's chairman requesting "a formal assessment of the [Justice] Department's investigation into Deutsche Bank's Russian money-laundering scheme, including a review of Attorney General Session's role in conducting the investigation." The letter cites the bank's recent payment of more than $600 million to settle claims that its inadequate controls failed to prevent "a group of corrupt traders from improperly and secretly transferring more than $10 billion out of Russia." The letter also expresses concern that Deutsche Bank "is one of Trump's top creditors with an estimated $360 million in outstanding loans to his companies." 

[Added June 26, 2017]

March 13, 2017: Bloomberg reports that the Kushner family may receive as much as $400 million from Chinese investor Anbang Insurance Group's investment in 666 Fifth Avenue. On March 29, Anbang backs out of the deal.
March 31, 2017: Jared Kushner submits his financial disclosure form to the Office of Government Ethics. It reports that he holds jointly with his mother a $25 million personal line of credit from Deutsche Bank.

[Added June 26, 2017]

May 5, 2017: Trump signs a bill extending the controversial EB-5 immigrant program. Concerns about "gerrymandering" that facilitates abuses of the program persist.
May 6, 2017: Jared Kushner's sister, Nicole Meyer, touts his proximity to Trump, as well as the EB-5 citizenship program, as selling points to potential Chinese investors in Kushner Companies' One Journal Square development in New Jersey. The project appears to benefit from the type of gerrymandering that generates criticism of the EB-5 program.
May 23, 2017: Senior Democrats on the House Financial Services Committee ask Deutsche Bank to provide information about the bank's internal reviews relating to: 1) alleged Russian money laundering, and 2) the personal accounts of Trump and his family. Citing US privacy laws, the bank refuses.

[Added June 26, 2017]

Kushner, Russia and the Comey Cover-Up
Nov. 8-11, 2013: At the Miss Universe pageant in Moscow, Russian oligarch Aras Agalarov — a real estate developer sometimes referred to as the "Trump of Russia" — and his son, Emin, arrange an extravagant party entrance for their guest, Donald Trump: an armored Mercedes stretch limo driving off a freight elevator right into a ballroom with 3,000 wealthy Russian guests. The Agalarovs had facilitated Trump's $20 million deal to host the Miss Universe contest in Moscow.


While in Moscow for the pageant, Trump discusses plans for a new Trump project in Russia with the Agalarovs and Alex Sapir (whose family's company was one of the co-developers of Trump SoHo with Trump and Bayrock/Felix Sater). Publicly, Trump says only, "I have plans for the establishment of business in Russia. Now, I am in talks with several Russian companies to establish this skyscraper."

"The Russian market is attracted to me,"

Trump tells Real Estate Weekly

. "I have a great relationship with many Russians, and almost all of the oligarchs were in the room."

Also

while in Russia, Trump says

: "I do have a relationship [with Putin] and I can tell you that he's very interested in what we're doing here today… I do have a relationship with him… He's done a very brilliant job in terms of what he represents and who he's represented."

[Revised July 24, 2017]

April through November 2016: Mike Flynn and other advisers to the Trump campaign have at least 18 phone calls and emails with Russian officials, including six contacts involving Russian ambassador Sergey Kislyak. According to a later report by Reuters, Jared Kushner has at least two phone calls with Kislyak.
April 27, 2016: At the Mayflower Hotel in Washington, DC, Trump delivers his first major foreign policy address. Prior to Trump's speech, then-Sen. Jeff Sessions (R-AL) and Russian Ambassador Sergey Kislyak attend a small VIP reception at which the two men are photographed together. According to a July 21, 2017 report in The Washington Post, Kislyak tells his superiors in Moscow that he and Sessions discuss campaign-related matters, including policy issues important to Moscow.

[Added July 24, 2017]

June 2016: Jared Kushner assumes control of all data-driven Trump campaign efforts, turning a nondescript building outside San Antonio, Texas into a 100-person data hub. Among the firms he retains is Cambridge Analytica, which reportedly has created "profiles" consisting of several thousand data points for 220 million Americans. Cambridge Analytica's financial backers include hedge fund tycoon Robert Mercer, who also has a $10 million investment in Breitbart News, which, at the time, is run by Steve Bannon.
June 3, 2016: Rob Goldstone, a music publicist, sends Donald Trump Jr. an email stating that one of his clients, Russian pop star Emin Agalarov, had "something very interesting" he wanted to pass along to Donald Jr.: "The Crown prosecutor of Russia met with his father Aras this morning and in their meeting offered to provide the Trump campaign with some official documents and information that would incriminate Hillary and her dealings with Russia and would be very useful to your father. This is obviously very high level and sensitive information but is part of Russia and its government's support for Mr. Trump — helped along by Aras and Emin." (Aras Agalarov — a Putin ally and wealthy real estate developer sometimes referred to as the "Trump of Russia" — had helped sponsor the Trump-owned 2013 Miss Universe pageant in Moscow. In a later interview with Forbes in March 2017, Emin Agalarov says that he and his father had previously signed a letter of intent with their Trump counterparts to build a Trump Tower in Moscow. "He ran for president, so we dropped the idea," Agalarov said of Trump and the project. "But if he hadn't run we would probably be in the construction phase today.")

[Added July 11, 2017]

Also on June 3, 3016: Responding to Goldstone's email, Donald Jr. says, "[I]f it's what you say I love it especially later in the summer." Donald Jr. suggests they talk early during the week of June 6, when he's back from the road.

[Added July 11, 2017]

June 7, 2016: Rob Goldstone sends Donald Jr. a follow-up email: "Emin asked that I schedule a meeting with you and the Russian government attorney who is flying over from Moscow this Thursday. I believe you are aware of the meeting — and so wondered if 3pm or later on Thursday works for you? I assume it would be at your office." Confirming the date and time, Donald Jr. says that then-campaign chairman Paul Manafort and Jared Kushner will also attend. The following day, they move the meeting to 4pm because the "Russian attorney is in court until 3…."

[Added July 11, 2017]

Also on June 7, 2016: After winning the New Jersey primary as the Republican Party's presumptive nominee for president, Trump includes these lines in his victory speech: "I am going to give a major speech on probably Monday of next week [June 13] and we're going to be discussing all of the things that have taken place with the Clintons…. Hillary Clinton turned the State Department into her private hedge fund — the Russians, the Saudis, the Chinese — all gave money to Bill and Hillary and got favorable treatment in return. It's a sad day in America when foreign governments with deep pockets have more influence in our own country than our great citizens."

[Revised Aug. 21, 2017]

June 9, 2016: Natalia Veselnitskaya, the "Russian government attorney" referenced in Goldstone's earlier emails to Donald Trump Jr., meets at Trump Tower with Don Jr., Paul Manafort and Jared Kushner. Veselnitskaya was formerly married to a former deputy transportation minister of the Moscow region. Her clients include state-owned businesses and a senior government official's son, whose company is under investigation in the United States at the time. According to Reuters, from 2005 to 2013, Veselnitskaya represented successfully the Russian FSB's interests in a legal dispute over ownership of an upscale property in northwest Moscow. The FSB is the successor to the Soviet-era KGB that Vladimir Putin headed before he became Russian president. Veselnitskaya is also one of the principal players in Russia's ongoing efforts to eliminate US sanctions that the Magnitsky Act imposes.


A third attendee is a Russian associate of real estate developer Aras Agalarov,

Ike Kaveladze

— a vice president for Agalarov's company focusing on real estate and finance. Born in the Soviet Republic of Georgia,

he came to the United States

in 1991. In 2000, a congressional inquiry led to a Government Accounting Office report that Kaveladze had set up more than 2,000 corporations in Delaware for Russian brokers and then opened bank accounts for them, without knowing who owned the corporations. According to

contemporaneous reporting in The New York Times

, "The GAO report said nothing about the sources of the money. In view of past investigations into laundering, this wave was highly likely to have arisen from Russian executives who were seeking to avoid taxes, although some money could be from organized crime… In an interview, Mr. Kaveladze said he had engaged in no wrongdoing. He described the GAO investigation as a 'witch hunt.'"

[Revised Aug. 14, 2017]

Also on June 9, 2016: Trump tweets:


How long did it take your staff of 823 people to think that up–and where are your 33,000 emails that you deleted? https://t.co/gECLNtQizQ

— Donald J. Trump (@realDonaldTrump) June 9, 2016


[Added July 11, 2017]

Dec. 13 2016: At Kislyak's request, Kushner meets secretly with Sergey Gorkov, chief of Russia's state-owned bank VEB. US intelligence reportedly views Gorkov as a "Putin crony" and a graduate of a "finishing school" for spies. In 2010, VEB had been involved in a financial transaction that assisted the struggling Trump International Hotel and Tower project in Toronto. Since 2014, VEB has been subject to US sanctions over Russia's annexation of Crimea and meddling in Ukraine. In December 2016, Kushner is still looking for more than $1 billion from investors to refinance Kushner Companies' debt on its troubled 666 Fifth Avenue building. The public remains unaware of the Kushner/Gorkov meeting until March 2017, when The New York Times breaks the story. The White House characterizes it as a routine diplomatic encounter that went nowhere, but VEB says it was part of the bank's ongoing business strategy. For months thereafter, the White House refuses to disclose the date of the meeting. On June 1, 2017, The Washington Post reports the results of its independent investigation: On Dec. 13, 2016, a private plane associated with VEB (and on which its executives travel) flew from Moscow to Newark airport outside New York City. The following day, the plane then flew to Japan, where Putin met with Japan's Prime Minister Shinzo Abe on Dec. 15.
Late December 2016: Steve Bannon joins Flynn and Kushner for a secret meeting with the crown prince of Abu Dhabi, Sheikh Mohamed bin Zayed al-Nahyan, who made an undisclosed visit to New York later in December.
Dec. 29, 2016: On the same day President Obama announces sanctions against Russia in retaliation for its interference in the 2016 election, national security adviser-designate Lt. Gen. Flynn places five phone calls to the Russian ambassador.
Dec. 30, 2016: After Putin makes a surprise announcement that Russia would not retaliate for the new sanctions, Trump tweets,

Great move on delay (by V. Putin) – I always knew he was very smart!

— Donald J. Trump (@realDonaldTrump) Dec. 30, 2016

On or around Jan. 11, 2017: Erik Prince — the founder of the Blackwater private security firm, $250,000 donor to the Trump campaign and brother of Trump's nomination for secretary of education Betsy DeVos — meets secretly in the Seychelles Islands with a Russian close to Putin. Russia's goal is to establish a back-channel line of communication with the Trump administration. The meeting had been arranged by the United Arab Emirates, and came soon after a meeting between the crown prince of Abu Dhabi, Sheikh Mohamed bin Zayed al-Nahyan, Mike Flynn and Jared Kushner in December.
Also on Jan. 15, 2017: Appearing on CBS' Face the Nation, Vice President Pence says Flynn's call to the Russian ambassador on the same day President Obama announced new sanctions was "strictly coincidental," explaining: "They did not discuss anything having to do with the United States' decision to expel diplomats or impose censure on Russia…. What I can confirm, having to spoken with [Flynn] about it, is that those conversations that happened to occur around the time that the United States took action to expel diplomats had nothing whatsoever to do with those sanctions." Host John Dickerson asks Pence, "Just to button up one question, did any adviser or anybody in the Trump campaign have any contact with the Russians who were trying to meddle in the election?" Pence replies, "Of course not. And I think to suggest that is to give credence to some of these bizarre rumors that have swirled around the candidacy."
Jan. 18, 2017: On his application for national security clearance, Jared Kushner omits his December meetings with Russian Ambassador Kislyak and the chief of the Russian bank VEB.
During the week following the Jan. 20, 2017 inauguration: Trump administration officials are considering an executive order to lift unilaterally the US sanctions against Russia. Removing the sanctions would have expanded greatly the Russian bank VEB's ability to do business in the US, and allowed Americans to borrow from and provide financing to the bank. Five months later, Yahoo News' Michael Isikoff breaks the rest of the story: "Unknown to the public at the time, top Trump administration officials, almost as soon as they took office, tasked State Department staffers with developing proposals for the lifting of economic sanctions, the return of diplomatic compounds and other steps to relieve tensions with Moscow." State Department officials are so alarmed that they urge congressional leaders to pass legislation that would lock the sanctions in place. Sens. Ben Cardin (D-MD) and Lindsey Graham (R-SC) become involved.
Jan. 23, 2017: At Sean Spicer's first press briefing, Spicer says none of Flynn's conversations with the Russian ambassador touched on the Dec. 29 sanctions. That got the attention of FBI Director James Comey. According to The Wall Street Journal, Comey convinced acting Attorney General Sally Yates to delay informing the White House immediately about the discrepancy between Spicer's characterization of Flynn's calls and US intelligence intercepts showing that the two had, in fact, discussed sanctions. Comey reportedly asked Yates to wait a bit longer so that the FBI could develop more information and speak with Flynn himself. The FBI interviews Flynn shortly thereafter.
Jan. 24, 2017: According to a subsequent article in The Washington Post, Flynn reportedly denies to FBI agents that he had discussed US sanctions against Russia in his December 2016 calls with the Russian ambassador.
Jan. 26, 2017: Acting Attorney General Sally Yates informs White House Counsel Don McGahn that, based on recent public statements of White House officials including Vice President Mike Pence, Flynn had lied to Pence and others about his late-December conversations with Russian Ambassador Kislyak. According to Sean Spicer, Trump and a small group of White House advisers were "immediately informed of the situation."
Jan. 27, 2017: McGahn asks Yates to return to the White House for another discussion about Flynn. He asks Yates, "Why does it matter to the Department of Justice if one White House official lies to another?" Yates explains that Flynn's lies make him vulnerable to Russian blackmail because the Russians know that Flynn lied and could probably prove it.
Also on Jan. 27, 2017: At lunchtime, Trump calls FBI Director Comey and invites him to dinner that evening. In a one-on-one White House dinner in the Green Room, Trump asks Comey if he would like to stay on as director, which strikes Comey as odd because Trump had told him in two earlier conversations that he wanted Comey to remain. Comey says that he intends to serve out his full 10-year term. He also says that he's not "reliable" in the way politicians use that word, but that Trump could always count on him to tell the truth. A few moments later, Trump says, "I need loyalty; I expect loyalty." An awkward silence follows. The conversation moves to other subjects, including Comey's explanation of why the FBI must remain independent of the White House. At the end of the dinner, Trump repeats, "I need loyalty." Comey responds, "You will always get honesty from me." Trump replies, "That's what I want, honest loyalty." To end the awkward conversation, Comey says, "You will get that from me." Afterward, Comey writes a detailed memo about the dinner and describes it to the FBI's senior leadership team on the condition that they not disclose it while he remains director.

[Added June 12, 2017]

Jan. 29, 2017: TIME photographs Trump at his desk in the Oval Office. Sitting across from him are Kushner and Flynn, about whom Acting Attorney General Sally Yates warned the White House earlier that week. The caption indicates that Trump is speaking on the phone with King Salman of Saudi Arabia.
Feb. 7, 2017: Sens. Cardin and Graham introduce bipartisan legislation that would bar Trump from granting sanctions relief to Russia without congressional involvement.
Feb. 8, 2017: Flynn tells reporters at The Washington Post he did not discuss US sanctions in his December conversation with the Russian ambassador.
Feb. 9, 2017: Through a spokesman, Flynn changes his position: "While [Flynn] had no recollection of discussing sanctions, he couldn't be certain that the topic never came up."
Feb. 10, 2017: Trump tells reporters he was unaware of reports surrounding Flynn's December conversations with the Russian ambassador.
Feb. 13, 2017: The Washington Post breaks another story: Then-acting Attorney General Sally Yates had warned the White House in late January that Flynn had mischaracterized his December conversation with the Russian ambassador, and that it made him vulnerable to Russian blackmail. Later that evening, Flynn resigns.
Feb. 14, 2017: In a private Oval Office meeting, Trump asks FBI Director Comey to halt the investigation of former national security adviser Mike Flynn. According to Comey's contemporaneous memorandum, Trump says, "I hope you can see your way clear to letting this go, to letting Flynn go. He is a good guy. I hope you can let this go." According to the memo, Trump tells Comey that Flynn had done nothing wrong. Comey does not say anything to Trump about halting the investigation, replying only: "I agree he is a good guy."
Also on Feb. 14, 2017: At the conclusion of an Oval Office meeting that includes Vice President Pence, Attorney General Sessions and FBI Director Comey, Trump asks everyone except Comey to leave. The last person to leave is Jared Kushner. When Comey and Trump are alone, Trump says, "I want to talk about Mike Flynn." In a June 8 statement to the Senate Intelligence Committee, Comey recalls that Trump "began by saying Flynn hadn't done anything wrong in speaking with the Russians, but he had to let him go because he had misled the vice president. He added that he had other concerns about Flynn, which he did not then specify." After discussing the subject of classified information leaks, Trump returns to the topic of Flynn, saying, "He is a good guy and has been through a lot." He repeats that Flynn hadn't done anything wrong on his calls with the Russians, but had misled Pence. He then says, "I hope you can see your way clear to letting this go, to letting Flynn go. He is a good guy. I hope you can let this go." Comey replies only that "he is a good guy." Comey later testifies that he understood Trump to be requesting that the FBI drop any investigation of Flynn in connection with false statements about his conversations with the Russian ambassador in December. He writes up a memorandum of his conversation and discusses the matter with the FBI's senior leadership.

[Added June 12, 2017]

March 2, 2017: The New York Times reports, and the White House confirms, a previously undisclosed meeting involving Mike Flynn, Jared Kushner and Russian Ambassador Kislyak. According to The Times, "Michael T. Flynn, then Donald J. Trump's incoming national security adviser, had a previously undisclosed meeting with the Russian ambassador in December to 'establish a line of communication' between the new administration and the Russian government, the White House said on Thursday. Jared Kushner, Mr. Trump's son-in-law and now a senior adviser, also participated in the meeting at Trump Tower with Mr. Flynn and Sergey I. Kislyak, the Russian ambassador."
March 27, 2017: The New York Times reports the previously undisclosed December meeting between Kushner and Sergey Gorkov, head of the Russian bank VEB. On May 29, 2017, the White House says that Kushner met the banker "in his capacity as a transition official." The Senate Intelligence Committee wants to question Kushner about both of Kushner's December meetings with Kislyak and Gorkov.
April 6, 2017: The New York Times reports that Jared Kushner's application for national security clearance had failed to disclose his December meetings at Trump Tower with Russian Ambassador Kislyak and the CEO of the Russian bank, VEB. In a statement, Kushner's attorney says that after learning of the error, Mr. Kushner told the FBI: "During the presidential campaign and transition period, I served as a point-of-contact for foreign officials trying to reach the president-elect. I had numerous contacts with foreign officials in this capacity. … I would be happy to provide additional information about these contacts."
May 8, 2017: Trump informs a small group of his closest advisers, including Vice President Mike Pence, Jared Kushner and White House counsel Don McGahn, that he plans to fire FBI Director James Comey. According to The New York Times, McGahn counsels Trump to delay dismissing Comey; Kushner urges him to proceed.

[Added July 24, 2017]

Also on May 8, 2017: Trump follows Kushner's advice and, according to ABC News, Kushner, White House counsel Don McGahn, Vice President Pence and chief of staff Reince Priebus begin to prepare talking points about Comey's planned firing. Meanwhile, Trump summons Attorney General Sessions and Deputy Attorney General Rosenstein to the White House, where he instructs them provide a written justification for removing Comey. Before Rosenstein prepares the requested memo, he knows Trump intends to fire Comey.
May 12, 2017: Three days before the scheduled start of a major Russian money laundering criminal trial in New York federal court, the Justice Department approves settlement of the case for less than $6 million. Allegedly, the action involved a more than $230 million fraud scheme.


Natalia Veselnitskaya — the Russian lawyer who had met with Donald Trump Jr., Jared Kushner and Paul Manafort on June 9, 2016 —

had helped fight the case

and reportedly described the settlement as "almost an apology from the government."

When he announced the filing of the complaint in 2013,

then-US Attorney Preet Bharara said

, "As alleged, a Russian criminal enterprise sought to launder some of its billions in ill-gotten rubles through the purchase of pricey Manhattan real estate."

May 15, 2017: Trump meets in the Oval Office with the crown prince of Abu Dhabi, Sheikh Mohamed bin Zayed al-Nahyan, who had arranged the January 2017 meeting in the Seychelles Islands between Erik Prince and a Russian close to Putin.
May 18, 2017: TIME reports that congressional investigators are reviewing whether Cambridge Analytica or Breitbart News played any role in working with Russian efforts to help Trump win the election.
May 19, 2017: The Washington Post reports that federal investigators in the Trump/Russia matter have identified a current White House official as a significant person of interest. On May 25, news reports identify the official as Jared Kushner.
May 26, 2017: The Washington Post reports on Kushner's Dec. 1 or 2 meeting with Russian Ambassador Kislyak at which, according to Kislyak, Kushner requested a secret and secure communication channel between the Trump campaign and the Kremlin. In mid-December, an anonymous letter had tipped off The Post to what Kushner had supposedly said at the meeting. Former US intelligence officials described the idea of a back channel using a hostile foreign power's facilities as "disturbing" and "dangerous."
Also on May 26, 2017: The Washington Post reports that the Senate Intelligence Committee has demanded that the Trump campaign produce all Russia-related documents, emails and phone records dating to June 2015, when the campaign was launched.
May 27, 2017: Reuters reports that Jared Kushner had at least three previously undisclosed contacts with Russian Ambassador Kislyak during and after the presidential campaign. Two were phone calls between April and November. His attorney says that Kushner "has no recollection of the calls as described" and asks Reuters for the dates that they allegedly occurred.
May 28, 2017: In three Sunday morning talk show appearances, Homeland Security Secretary John Kelly says that if Kushner was trying to a create a back channel to communicate with the Russian government, it was a "good thing." Veteran diplomatic and intelligence experts remain unconvinced.
May 31, 2017: The Washington Post reports that the Trump administration is moving toward returning two suspected espionage compounds to Russia. When President Obama issued new sanctions on Dec. 29, he said that the compounds — located in New York and Maryland — were being "used by Russian personnel for intelligence-related purposes" and had given Russia 24 hours to vacate them.
Also on May 31, 2017: Sergey Gorkov, head of Russian bank VEB, refuses to comment in response to reporters' questions about his December 2016 meeting with Jared Kushner.
June 15, 2017: The Washington Post reports that, "according to US officials familiar with the matter," special counsel Mueller is investigating the finances and business dealings of Jared Kushner.

[Added June 19, 2017]

June 16, 2017: House investigators reportedly want to interview Brad Parscale, digital director of Trump's campaign. Investigators were digging into Jared Kushner's role overseeing data operations for the campaign.

[Added June 19, 2017]

June 18, 2017: In response to reports that Jared Kushner is seeking to supplement his legal team with experienced criminal defense lawyers, his lead attorney, Jamie Gorelick, says, "After the appointment of our former partner Robert Mueller as special counsel, we advised Mr. Kushner to obtain the independent advice of a lawyer with appropriate experience as to whether he should continue with us as his counsel."

[Added June 19, 2017]

During the week of June 19, 2017: According to a July 13, 2017 report by Michael Isikoff of Yahoo! News, Trump lawyers Marc Kasowitz and Alan Garten learn that Donald Trump Jr. had sent and received emails confirming a June 9, 2016 meeting among Don Jr., Paul Manafort, Jared Kushner and a Russian lawyer with ties to the Kremlin.

[Added July 17, 2017]

June 21, 2017: Jared Kushner submits another revision to his security clearance application, adding Russian lawyer Natalia Veselnitskaya — who met with Kushner, Don Jr. and Paul Manafort on June 9, 2016. Two days later, FBI agents question Kushner for the second time about his application. According to later reporting by The New York Times, Kushner has now supplemented his list of foreign contacts three times, adding more than 100 names.

[Added July 17, 2017]

June 26, 2017: Jared Kushner's lawyers confirm that he has added a prominent criminal defense trial lawyer, Abbe Lowell, to his legal team.

[Added July 3, 2017]

July 8, 2017: The New York Times first reports the story of the June 9, 2016 meeting that Donald Jr. had arranged with Jared Kushner, Paul Manafort, and a Kremlin-connected lawyer. In response, Donald Jr. issues this statement: "It was a short introductory meeting. I asked Jared and Paul to stop by. We primarily discussed a program about the adoption of Russian children that was active and popular with American families years ago and was since ended by the Russian government, but it was not a campaign issue at the time and there was no follow up. I was asked to attend the meeting by an acquaintance, but was not told the name of the person I would be meeting with beforehand."

[Added July 11, 2017]

Also on July 8, 2017: The New York Times prepares to report the story of the June 9, 2016 meeting that Donald Jr. had arranged with Jared Kushner, Paul Manafort and a Kremlin-connected lawyer. Returning from Europe aboard Air Force One, a small group of Trump's advisers huddle in a cabin helping to craft a response for Don Jr. to give The Times. Trump personally signs off on the following statement for his son: "It was a short introductory meeting. I asked Jared and Paul to stop by. We primarily discussed a program about the adoption of Russian children that was active and popular with American families years ago and was since ended by the Russian government, but it was not a campaign issue at the time and there was no follow up… I was asked to attend the meeting by an acquaintance, but was not told the name of the person I would be meeting with beforehand." According to subsequent reporting by The Washington Post, Trump actually does more than "sign off" on his son's false statement. He helps to write it.

[Revised Aug. 7, 2017]

July 9, 2017: On Fox News, chief of staff Reince Priebus dismisses Don Jr.'s June 9, 2016 meeting with Manafort, Kushner and a Russian lawyer as "a big nothing burger."

[Added July 17, 2017]

Also on July 9, 2017: As The New York Times prepares to report that the Russian lawyer with whom Donald Jr., Kushner, and Manafort met on June 9, 2016 was supposedly going to be offering them damaging information on Hillary Clinton, Donald Trump Jr. issues a new statement changing his story from 24 hours earlier: "I was asked to have a meeting by an acquaintance I knew from the 2013 Miss Universe pageant with an individual who I was told might have information helpful to the campaign. I was not told her name prior to the meeting. I asked Jared and Paul to attend, but told them nothing of the substance. We had a meeting in June 2016. After pleasantries were exchanged, the woman stated that she had information that individuals connected to Russia were funding the Democratic National Committee and supporting Ms. Clinton. Her statements were vague, ambiguous and made no sense. No details or supporting information was provided or even offered. It quickly became clear that she had no meaningful information. She then changed subjects and began discussing the adoption of Russian children and mentioned the Magnitsky Act. It became clear to me that this was the true agenda all along and that the claims of potentially helpful information were a pretext for the meeting. I interrupted and advised her that my father was not an elected official, but rather a private citizen, and that her comments and concerns were better addressed if and when he held public office. The meeting lasted approximately 20 to 30 minutes. As it ended, my acquaintance apologized for taking up our time. That was the end of it and there was no further contact or follow-up of any kind. My father knew nothing of the meeting or these events."

[Added July 11, 2017]

July 10, 2017: Donald Trump Jr. tweets:


Obviously I'm the first person on a campaign to ever take a meeting to hear info about an opponent… went nowhere but had to listen. https://t.co/ccUjL1KDEa

— Donald Trump Jr. (@DonaldJTrumpJr) July 10, 2017


[Added July 11, 2017]

Also on July 10, 2017: Donald Trump Jr. confirms that he has hired a criminal defense attorney to represent him in connection with the Trump/Russia probe.

[Added July 11, 2017]

Also on July 10, 2017: The New York Times reports on the email from Rob Goldstone to Donald Jr. preceding the June 9, 2016 meeting at Trump Tower among Donald Jr., Paul Manafort, Jared Kushner and a Russian lawyer with Kremlin ties.

[Added July 11, 2017]

July 11, 2017: Donald Jr. posts his June 3-8, 2016 email exchanges with Rob Goldstone that culminate in the June 9, 2016 Trump Tower meeting with the person Goldstone described as a "Russian government attorney." In his accompanying statement, Donald Jr. says that he knew Emin from the 2013 Miss Universe Pageant in Moscow. "Emin and his father have a very highly respected company in Moscow," he continues. "The information they suggested they had about Hillary Clinton I thought was Political Opposition Research…To put this in context, this was before the current Russian fever was in vogue."

[Added July 11, 2017]

Also on July 11, 2017: Yahoo! News' Michael Isikoff reports that earlier plans with the Agalarovs to build a Trump Tower in Moscow continued into 2014 and collapsed because the US imposed sanctions on Russia.

[Added July 17, 2017]

July 12, 2017: Trump tells Reuters that he had learned only recently about the June 9, 2016 meeting among Don Jr., Kushner, Manafort and a Russian lawyer. "No," he said, "that I didn't know until a couple of days ago when I heard about this." Trump repeats that assertion while speaking with reporters that night on Air Force One en route to Paris. "I only heard about it two or three days ago," he says. But then he adds, "In fact maybe it was mentioned at some point," but when asked if he had been told that the meeting was about Hillary Clinton and dirt against her, he says no.

[Added July 17, 2017]

July 13, 2017: Yahoo! News' Michael Isikoff reports that President Trump's legal team had been informed more than three weeks earlier about the email chain arranging a June 2016 meeting between his son Donald Jr. and a Kremlin-connected lawyer.

[Added July 17, 2017]

July 14, 2017: NBC News reports, "The Russian lawyer who met with Donald Trump Jr. and others on the Trump team after a promise of compromising material on Hillary Clinton was accompanied by a Russian-American lobbyist — a former Soviet counterintelligence officer who is suspected by some US officials of having ongoing ties to Russian intelligence." The lobbyist, Rinat Akhmetshin, confirms to the Associated Press that he attended the meeting. He tells AP he served in the Soviet military in a unit that was part of counterintelligence, but was never formally trained as a spy. Akhmetshin also says that the Russian lawyer at the meeting, Natalia Veselnitskaya, presented the Trump associates with details of what she believed were illicit funds that had been funneled to the Democratic National Committee. And she suggested that making the information public could help the Trump campaign. "This could be a good issue to expose how the DNC is accepting bad money," Akhmetshin recalls her saying. He says she attorney brought with her a plastic folder with printed-out documents, but was unaware of the content of the documents or whether they were provided by the Russian government, and it was unclear whether she left the materials with the Trump associates.

[Added July 17, 2017]

Also on July 14, 2017: CNN reports that the June 9, 2016 meeting included more than just the six previously reported participants: Kushner, Manafort, Don Jr., Russian lawyer Natalia Veselnitskaya, former Soviet counterintelligence officer Rinat Akhmetshin and a translator. According to CNN, at least two others — including a representative of the Agalarov family — also attended.

[Added July 17, 2017]

Also on July 14, 2017: Jared Kushner's attorney, Jamie Gorelick, announces she is no longer representing Kushner on Russia-related inquiries.

[Added July 17, 2017]

July 17, 2017: Trump tweets:

Most politicians would have gone to a meeting like the one Don jr attended in order to get info on an opponent. That's politics!

— Donald J. Trump (@realDonaldTrump) July 17, 2017

[Added July 24, 2017]

Also on July 17, 2017: In his daily press briefing, Sean Spicer repeats the debunked claim that at their June 9, 2017 meeting, Jared Kushner, Donald Trump Jr., Paul Manafort and the Russians discussed only the adoption of Russian children and the Magnitsky Act. (The 2012 US law froze the assets of particular Russians suspected of human rights abuses and barred them from entering the US. It also prompted Putin to ban such adoptions by Americans.) "There was nothing, as far as we know, that would lead anyone to believe that there was anything except for a discussion about adoption and the Magnitsky Act," Spicer says.

[Added July 24, 2017]

July 18, 2017: CNN and The Washington Post reveal the identity of the eighth person at a secret June 9, 2016 meeting among Trump's top campaign advisers and several Russians. In addition to the previously reported attendees — Donald Trump Jr., Jared Kushner, Paul Manafort, Emin Agalarov's publicist Rob Goldstone, Russian attorney Natalia Veselnitskaya, former Soviet counterintelligence officer Rinat Akhmetshin and translator Anatoli Samochornov — Aras Agalarov sent one of his associates, Ike Kaveladze, to the meeting. According to Agalarov's lawyer, Kaveladze is a vice president focusing on real estate and finance for Agalarov's company, the Crocus Group.


[Revised Aug. 7, 2017]

July 19, 2017: In an interview with The New York Times, Trump talks about the Rosenstein memo used to cover-up the reasons he fired Comey: "Then Rosenstein becomes extremely angry because of Comey's Wednesday press conference, where he said that he would do the same thing he did a year ago with Hillary Clinton, and Rosenstein became extremely angry at that because, as a prosecutor, he knows that Comey did the wrong thing. Totally wrong thing. And he gives me a letter, OK, he gives me a letter about Comey. And by the way, that was a tough letter, OK. Now, perhaps I would have fired Comey anyway, and it certainly didn't hurt to have the letter, OK. But he gives me a very strong letter, and now he's involved in the case. Well, that's a conflict of interest."

[Added July 24, 2017]

Also on July 19, 2017: In the Times interview, Trump discusses special counsel Mueller, whom Trump had interviewed for the FBI director job. "The day before! Of course, he was up here, and he wanted the job," Trump says, "So, now what happens is, he leaves the office. [Deputy Attorney General Rod] Rosenstein leaves the office. The next day, he is appointed special counsel. I said, what the hell is this all about? Talk about conflicts? But he was interviewing for the job. There were many other conflicts that I haven't said, but I will at some point."


Asked if Mueller's investigation into his and his family's finances unrelated to Russia would be a breach of Mueller's charge, Trump answers, "I would say yeah. I would say yes. By the way, I would say, I don't — I don't — I mean, it's possible there's a condo or something, so, you know, I sell a lot of condo units, and somebody from Russia buys a condo, who knows? I don't make money from Russia. In fact, I put out a letter saying that I don't make — from one of the most highly respected law firms, accounting firms. I don't have buildings in Russia. They said I own buildings in Russia. I don't. They said I made money from Russia. I don't. It's not my thing. I don't, I don't do that. Over the years, I've looked at maybe doing a deal in Russia, but I never did one. Other than I held the Miss Universe pageant there eight, nine years…" Asked what would happen if Mueller went "outside of certain parameters" of his charge, Trump says, "I can't answer that question because I don't think it's going to happen."

[Added July 24, 2017]

Also on July 20, 2017: The Senate Judiciary Committee reveals that it has pre-approved subpoenas for Donald Trump Jr. and Paul Manafort. According to chairman Charles Grassley (R-IA), if Don Jr. and Manafort do not accept the committee's invitation to appear the following week, the subpoenas will issue "almost immediately." Meanwhile, Jared Kushner is also scheduled to appear for a staff interview with the Senate Intelligence Committee the following week.

[Added July 24, 2017]

Also on July 20, 2017: The New York Times and The Washington Post report that Trump's lawyers are investigating possible ways to limit or block Mueller's investigation, including possible conflicts of interest involving members of Mueller's legal team, as well as the president's power to pardon associates, family members and himself. One of Trump's attorneys responds that the story is "nonsense."

[Added July 24, 2017]

July 21, 2017: Reuters reports that from 2005 to 2013, Natalia Veselnitskaya — the Russian lawyer in attendance at the June 9, 2016 meeting that included Kushner, Manafort and Donald Trump Jr. — represented successfully the Russian FSB's interests in a legal dispute over ownership of an upscale property in northwest Moscow. The FSB is the successor to the Soviet-era KGB that Vladimir Putin headed before he became Russian president.

[Added July 24, 2017]

July 23, 2017: Making the Sunday morning talk show rounds, one of Trump's lawyers, Jay Sekulow, and communications director Anthony Scaramucci deny that Trump is considering a pardon for anyone. Scaramucci also says that he spoke with Trump about whether Russia had hacked the election and Trump had told him, "Maybe they did it. Maybe they didn't do it."

[Added July 24, 2017]

July 24, 2017: Testifying before the Senate Intelligence Committee in closed session, Kushner describes his three previously disclosed contacts with Russian officials prior to the inauguration, as well as a fourth previously undisclosed meeting with Russian Ambassador Kislyak on April 27, 2016 at the Mayflower Hotel. Kushner says that he doesn't recall either of the two calls with Kislyak between April and November 2016 that Reuters had previously reported, and he is "highly skeptical those calls took place." He says he attended the June 9, 2016 meeting with Don Jr., Manafort and several Russians only for "ten or so minutes," and when he got there, they were "talking about the issue of a ban on US adoptions of Russian children." Kushner acknowledges his post-election meeting with Mike Flynn and Ambassador Kislyak at Trump Tower at which Kushner says he asked if Kislyak had "an existing communications channel at his embassy we could use where they would be comfortable transmitting the information they wanted to relay to General Flynn." But Kushner denies that he was suggesting a "secret back channel." Finally, Kushner acknowledges a Dec. 13, 2016 meeting with Russian banker Sergey Gorkov who, Kushner believed at the time, had "a direct line to the Russian President who could give insight into how Putin was viewing the new administration and best ways to work together." Kushner says that his ongoing revisions to his security clearance form SF-86 were the result of a "prematurely submitted" original application.


Kushner's prepared remarks conclude: "I did not collude, nor know of anyone else in the campaign who colluded, with any foreign government. I had no improper contacts. I have not relied on Russian funds to finance my business activities in the private sector. I have tried to be fully transparent with regard to the filing of my SF-86 form, above and beyond what is required. Hopefully, this puts these matters to rest."

[Added July 24, 2017]

July 25, 2017: Paul Manafort meets with Senate Intelligence Committee investigators about his June 9, 2016 meeting at Trump Tower with Donald Trump Jr., Jared Kushner and three Russians. Reportedly, Manafort gives investigators notes he'd taken at the meeting. On the same day, the Senate Judiciary Committee issues and then rescinds a subpoena for Manafort's appearance on July 26.

[Added Aug. 14, 2017]

Also on July 25, 2017: Trump tweets:


Jared Kushner did very well yesterday in proving he did not collude with the Russians. Witch Hunt. Next up, 11 year old Barron Trump!

— Donald J. Trump (@realDonaldTrump) July 25, 2017


[Added July 31, 2017]

July 25-27, 2017: In prepared remarks released on July 25 — prior to his Senate Judiciary Committee appearance set for July 26 (later rescheduled for July 27) — American financier William Browder discusses the case that he believes cost his Russian lawyer Sergei Magnitsky his life in 2009. Browder explains that repealing the Magnitsky Act and preventing it from spreading to other countries are among Putin's top foreign-policy priorities. He says that two of the Russians attending the June 9, 2016, meeting with Trump's top campaign advisers were connected to Russian efforts seeking repeal of the Magnitsky Act: lawyer Natalia Veselnitskaya and former Soviet intelligence agent Rinat Akhmetshin.

[Revised Aug. 14, 2017]

July 30, 2017: On ABC News' This Week, host Martha Raddatz asks Russian Deputy Foreign Minister Sergei Ryabkov about his Nov. 10, 2016 comment that, during the campaign, the Kremlin had continuing communications with Trump's "immediate entourage." Ryabkov replies, "You have to go through all the hearings and all the material which is available by now for the Congress and for the general public. You have all the names… If Ambassador Kislyak was not contacting some people on the other side—so to say—he wouldn't perform his functions as he should. He was not spying and he was not recruiting. If he did so, I would be now a prima ballerina of the Bolshoi ballet, if you know what it means." Pressed specifically about the June 9, 2016 meeting in which Russians had led Trump's senior advisers to believe that they could help the Trump campaign with damaging information on Hillary Clinton, he says, "All the information which we provide to anyone can be easily found in open sources. We are not doing anything to the detriment of the domestic developments or internal affairs of any country, the US included."

[Added July 31, 2017]

Aug. 4, 2017: The New York Times reports that investigators working for special counsel Robert Mueller have asked the White House for documents relating to former national security adviser Mike Flynn and have questioned witnesses about whether he might have secretly received payments from Turkey during the final months of the campaign.


The Times

also reports that earlier in the week, Flynn had filed a third version of his required financial disclosure form. The most recent filing added his contract with SCL Group — the parent company of Cambridge Analytica, a data-mining firm that worked with the Trump campaign — and increased his reported income from $1.4 million to $1.8 million.

[Added Aug. 14, 2017]

Aug. 6, 2017: On ABC's This Week, counselor to the president Kellyanne Conway calls the June 9, 2016 meeting among Trump top advisers Donald Trump Jr., Jared Kushner, Paul Manafort and the Russians "nothing" and "ridiculous." She refuses to answer whether Trump will commit to not firing special counsel Robert Mueller. "There's nothing in this Russia investigation," she says.

[Added Aug. 14, 2017]

To be continued…