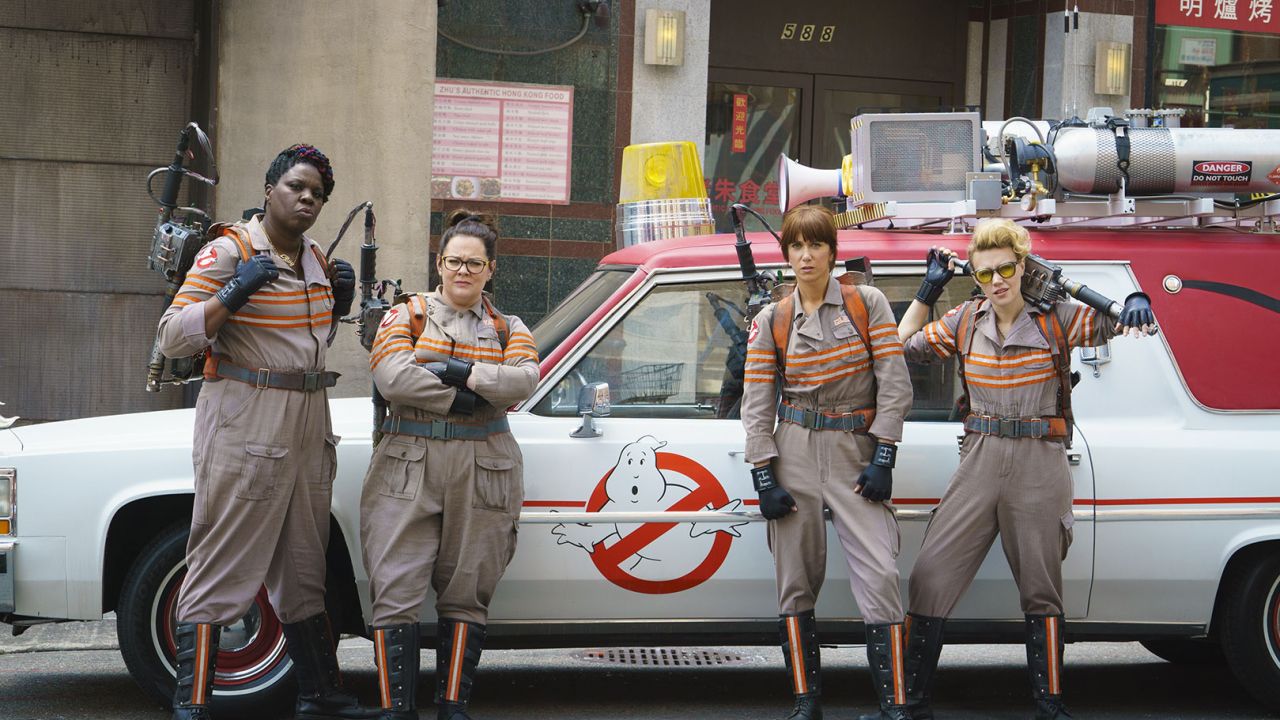 You might think the political movie of the moment would be one of the half-dozen or so superhero pictures where the world is engulfed by chaos and a strongman comes to its rescue. But I have my money on another film, another sort of microcosm of what we're seeing in this election that goes beyond the Hollywood magic of brute force. It's the new sly, slap-happy, all-female reboot of the classic 1984 comedy Ghostbusters.
This is not only because the new Ghostbusters — which, by the way, is pretty darn funny — shows a female crew of poltergeist hunters vaporizing an impending danger to the world after the ghosts are loosed by a deranged tech savant seeking revenge (which you might read as a displacement of the male anger now afoot in the land). More significantly, it's also because of the way the movie itself has been greeted by males. "How dare they feminize Ghostbusters?" snarl detractors. Substitute "the presidency" for Ghostbusters, and you may think that sounds familiar.
'How dare they feminize Ghostbusters?' snarl detractors. Substitute 'the presidency' for Ghostbusters, and you may think that sounds familiar.
The new Ghostbusters is the brainchild of, to my mind, Hollywood's reigning comic genius, Paul Feig, whose previous credits include Bridesmaids, The Heat and Spy. Feig, whom I profiled in July's Playboy, grew up an only child in suburban Detroit where he was a self-acknowledged nerd — a misfit lurching from one agonizing humiliation to another. He would immortalize that youthful alienation in the short-lived cult TV series Freaks and Geeks.
As I point out in my profile, Feig, a dandy, was anything but the cool, reptilian macho man so favored in Hollywood, but he ultimately found his footing by making movies for nerds, about nerds and, of course, by nerds.
Feig's great discovery was that there were a lot more powerless, bullied, isolated, mortified individuals than there were powerful, bullying, popular and preening ones, although Hollywood always chose to deify the latter. Feig's other grand discovery was that women, who were among the most disempowered folks in Hollywood, understood marginalization better than anyone, and could be the best conveyance for it. When Sony Pictures approached him to reboot Ghostbusters, it was Feig who came up with the idea to do it with women playing the original male roles — breaking, you could say, the celluloid ceiling.
But as soon as the movie was announced, the blogosphere — at least the male blogosphere — went bonkers. As they saw it, Ghostbusters, that is, the original Ghostbusters with Dan Aykroyd, Bill Murray, Harold Ramis and Ernie Hudson, was their franchise — a male franchise. The only place for a woman was Annie Potts as the secretary. (Feig reverses this role, too, casting 6-foot-3 Chris Hemsworth as the ditzy receptionist and eye candy.)
This wasn't just a bunch of dissatisfied movie nuts griping over a prospective film; that happens all the time. There was a viciousness to the criticism of the new Ghostbusters, a virulent sexism that crossed the line of civility and then some. Even Donald Trump weighed in.
The funny thing is that all this apoplexy was over the idea of the film. As the fury snowballed, the film hadn't even been released. The new Ghostbusters trailer was the most disliked on YouTube. One popular movie blogger posted a video attacking the film while swearing that he would never see it. The British newspaper The Independent examined Internet Movie Database (IMDB) ratings of the film and found that it landed at 4.3 on a 10-point scale, but when the paper broke it down into a male-female split, the result was 7.7 points from women, 3.8 from men. (According to the website fivethirtyeight.com, men drive down the ratings of female-oriented TV programs too.)
What is notable is that virtually no one had actually seen the film yet except critics, who, according to Rotten Tomatoes, were generally favorable: 74 percent. Still, when Manohla Dargis of The New York Times gave the film a positive review and specifically cited its feminist spirit, she took a lot of heat too.
Those IMDB numbers are aggregates that don't take into account the trolls for whom the movie became an occasion to spew their ugly sexism. About the kindest tweet that can be reprinted here, and one that summarizes the intense animosity, reads: "I guess I could write crap a thousand times."
Meanwhile, the trolls went after not only the movie, but its stars as well. Leslie Jones, a strong black actress and comedian from Saturday Night Live, complained to Twitter that she was being targeted by racist tweets that compared her to an ape and worse. It got so bad that Twitter finally rescinded the accounts of some of the trolls, including that of Milo Yiannopoulos, a writer for the extremist, right wing, Trump-supporting Breitbart site.
Of course, Yiannopoulos complained that he was a victim of political correctness and left-wing censorship. Finally, Jones herself had enough and quit Twitter, saying, "I feel like I'm in a personal hell." Leaping to her defense, original Ghostbusters star Dan Aykroyd called the trolls "losers" and "insignificant gnats," adding: "I would say that you're looking at obese white men between 50 and 60 who are active Klan members or members of the Aryan Nation, and there are millions of them."
Welcome to Hillary Clinton's world… and to Donald Trump's.
As reported from the Cleveland GOP convention by Ellie Kaufman in Vox, some Republicans have taken the same tack against Hillary Clinton that the trolls took against Leslie Jones. Kaufman wrote, "Someone holding a 'Trump vs. Tramp' sign stood on the streets of Cleveland on Monday; 'Life's a bitch, don't vote for one' featuring Clinton's face and 'KFC Hillary Special: 2 Fat Thighs, 2 Small Breasts … Left Wing"' pins are for sale; a T-shirt with an image of Trump riding toward the White House on a motorcycle as Clinton falls off proclaims, 'If you can read this, the bitch fell off.'"
Aykroyd may not have been far off in his characterization of the trolls. We all know what is going on here. As poll after poll seems to reveal, white men feel they are being disenfranchised by all sorts of forces, including threatening, powerful women, and they are fighting back the only way they know how — with hate: hate of Ghostbusters and hate of Hillary Clinton. But if Ghostbusters is any kind of harbinger of what is to come electorally, consider this: For all the venom poured on the film, it just crossed the $100 million mark, and women seem to be ecstatic about it. Indeed, the film is a marker of how the world is changing, just as Hillary is a marker, and it is not moving in the old white males' direction.    
These guys can fulminate all they want. Women ain't afraid of no ghosts — or, apparently, of white men who see their hegemony slipping away.