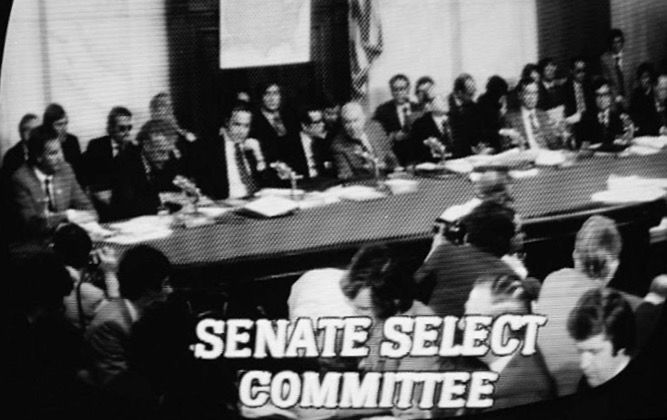 Okay, let's be clear. The ad we took in this past Friday's edition of The New York Times and an accompanying essay asked that PBS, the Public Broadcasting Service, do the right thing for the American people, the people PBS was created to serve.
Abandon your usual main schedule when the House impeachment hearings begin this coming Wednesday, we said, and rebroadcast them in prime time each evening for the millions of Americans who are unable to see them during the day.
There's a worthy precedent for this, we reminded our younger friends and colleagues at PBS, many of whom weren't around in 1973 when public television truly became public television. At a time when it was being assaulted and harassed by Richard Nixon and his henchmen, PBS threw away the regular schedule and bravely chose to air the Senate Watergate hearings live during the day and then again at night, when millions of Americans home from work could watch and judge for themselves the evidence for President Nixon's guilt or innocence.
Now, says PBS, if after working all day you want to sit down in front of your TV set to watch all the testimony for or against President Trump during the prime time hours, you'll have to go to a digital subchannel called WORLD, which is difficult to find if not impossible to receive in many communities where there is inadequate access to cable, satellite or the internet.
We wager most of you have never even heard of it. Or watched the many public affairs programs sent there to die.
Announcing the PBS plan for hearings coverage on Friday, a spokesperson took pains to remind us old fogies that, "We live in a vastly different media universe than we did 45+ years ago. In today's on demand world, we will ensure that Americans have access to the replay of the hearings when and how they want to view them."
Close but no cigar, PBS. We'll ignore the slight whiff of condescension in that statement. (The media universe is different than it was in 1973? Really? We hadn't heard.) and acknowledge that at first glance, the words seem responsive. But to those familiar with the history of the public system they're not. Sure, you can watch the hearings in prime time, they say. Try to find them.
This language legerdemain obscures the truth. PBS plans to do exactly what they intended all along: live broadcasts of the hearings side-by-side with commercial networks during the day and business as usual in the evening. Nature, Great Performances, Antiques Roadshow (sometimes seen twice in one night on some stations) and the rest blithely will roll along as if nothing momentous is happening, as if American politics aren't breaking down, as if the American experiment in democracy isn't paralyzed.
No, PBS is saying under its breath, we will not repeat the House hearings on a familiar, convenient, public channel available to all. By thus failing to offer an alternative to the profit-hungry commercial networks in prime time, we suspect most Americans will miss the hearings in the day and at night many will go to their respective partisan corners on MSNBC or FOX.
Look — our two professional careers primarily have revolved around public TV. We want the best for the organization that collectively has claimed our primary allegiance now for more than 80-plus years. We made our suggestion from a conviction that public television, should do what commercial television — so firmly fixed within the rules of the economic game — can't or won't do, and look upon Americans as citizens instead of consumers. That shouldn't change even in a "vastly different media universe."
We're sure that the PBS Newshour and other public affairs programs will do an admirable job of analysis during the day and in their regular time slots. But at its creation, public television was meant to rise to just such a moment as America faces now and show itself firmly on the side of democracy .This means going over and above the call of duty to enable the most Americans possible to see the hearings and judge for themselves if there is a clear and present danger to democracy. Sadly, but bluntly, the current plan is a dereliction of duty
Public TV touts itself as an independent voice – prove it. Take the big step. If you're serious, as you have said, about offering coverage on as many platforms as possible, then make one of those platforms the regular PBS broadcast stations that our nation knows and even loves.
Do not hesitate. Show the hearings in prime time on your local public station. Help make America proud again.
Again, if you agree, let them hear from you: contact your local public station or PBS directly.