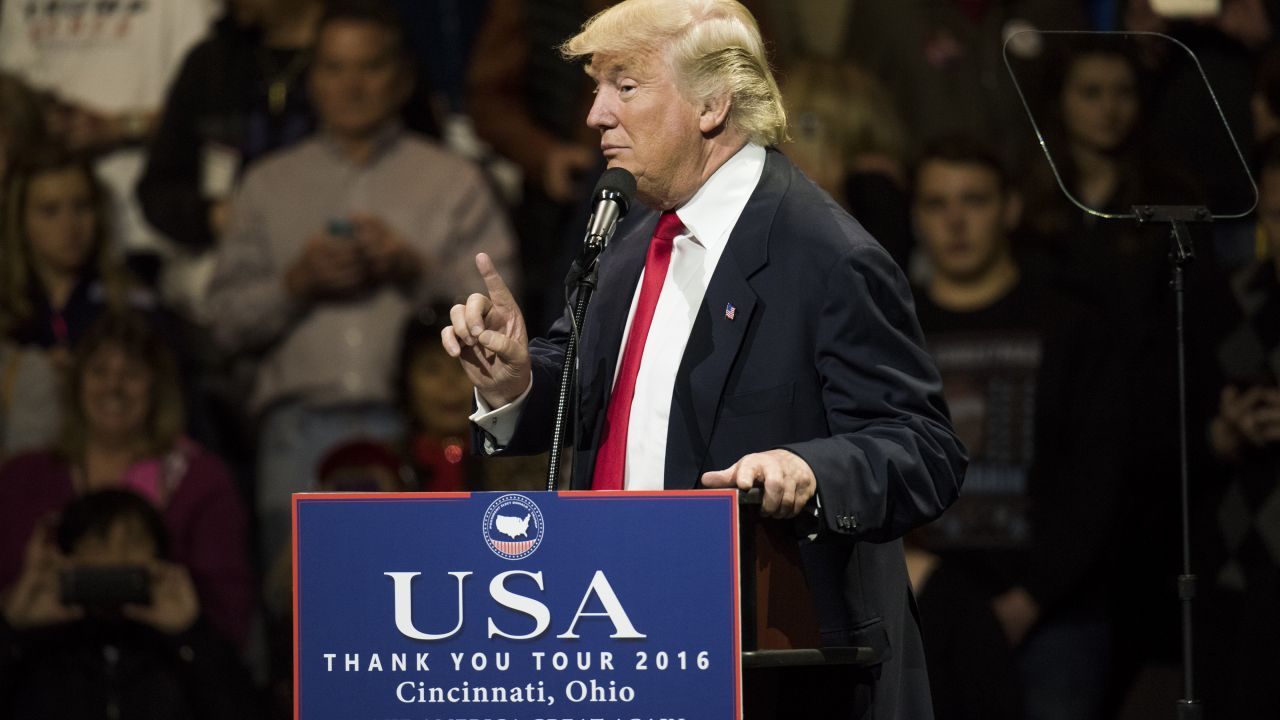 This year's election has led some to predict a realignment of the two-party system in the US. We can see early signs of this in Ohio, where both parties are facing internal divisions.

The Republicans
As we are beginning to see in Congress and at Trump Tower (think about the embarrassingly public debate over Mitt Romney), the divide is all about loyalty to Donald Trump on the GOP side. Ohio Republican Party Chair Matt Borges faces a challenge over lukewarm support of the president-elect. Jane Timken, vice chair of the Stark County Republican Party and wife of Tim Timken, a major Trump fundraiser and chief executive of TimkenSteel Corp., wants Borges' job. In a letter to the GOPs State Central Committee that in January will decide on the next state chairperson, Timken wrote:
Once the nomination was settled, Chairman Borges had the obligation to fully support the nominee and his campaign. He did not, and his actions have divided the state party leadership. This was his choice.
Borges' arm's-length relationship with the Trump campaign is just the beginning of the extraordinary situation in Ohio: The state's two top Republican elected officials publicly repudiated their nominee.
Ohio Sen. Rob Portman, who won his own re-election Nov. 8 with more than 200,000 more votes than Trump got in the Buckeye State, initially offered tepid support for the Republican presidential nominee; then, after the infamous Access Hollywood tape was released, he refused to vote for Trump. Portman said he would write in Mike Pence's name for president. Even more strident in his opposition: Republican Gov. John Kasich, who said he wrote in John McCain on his November ballot. Such resistance on the part of Ohio Republican leaders led Trump and his loyalists to cut ties with the state Republican Party.
Whether the challenge to Borges is the beginning of a civil war, as some have suggested, is uncertain. While both wings of the Ohio GOP have kept the fight largely under wraps, it could prove more an internal battle over positioning future candidates and political spoils of a successful presidential victory rather than a fight over the ideological direction of the party.

The Democrats
Even trickier to settle are the conflicts within the Ohio Democratic Party. Its leaders and regulars largely supported Clinton. Bernie Sanders supporters were clearly underrepresented in leadership ranks, though Sanders won 43 percent of the vote in the Democratic primary. Also absent in the post-election discussions: the many Democrats statewide who crossed party lines to register as Republicans this year. These two groups will not likely return to the party if the leadership remains the same.
Meanwhile, factions within the Ohio Democratic Party are blaming each other for Hillary Clinton's loss. The questions being raised in this debate mirror those the party must confront on a national level about whether the party was too quick to write off its once-loyal blue-collar base and questions about whether enough effort went into mobilizing voters in what the party views as its new strongholds: big cities and minority communities.
Harsh public criticism of both Ohio party leaders and Clinton's Ohio campaign came in the form of:
An open letter circulated by party activists that pointed to a series of humiliating defeats and questioned the party's commitment to its working class voters;
A report issued by Strategic Resources on anemic African-American turnout in 2016. Strategic Resources is an Ohio-based consulting firm that has worked for Rep. Marcia Fudge, an Ohio Democrat and former chair of the Congressional Black Caucus and that, according to Federal Election Commission records, did work for the Clinton campaign early in 2016.
After issuing a boastful public relations blast in the spring that mocked their Republican counterparts for disarray, Ohio Democrats suffered losses this year that were nothing short of catastrophic. In a state that was once a political battleground, not only did Trump trounce Clinton, but Ted Strickland — hand-picked to increase Democratic turnout — went down to a crushing 21-point defeat to Sen. Rob Portman, who was once seen as vulnerable.
It's the latest in a series of Democratic Party defeats over the past two decades, as Youngstown political reporter David Skolnick recently pointed out: Ohio Republicans have a 12 to 4 advantage in the US House of Representatives; Democrats hold only nine seats in the 33-seat Ohio Senate General Assembly and only 33 of 99 seats in the Ohio House; and except for 2006, Democrats have not held a single executive branch seat in Ohio since 1990. Skolnick also suggests that Ohio Democrats' failures have put Sen. Sherrod Brown (D-OH) in danger of losing his next re-election bid in 2018.
This is not unlike the situation facing the party nationally: Barack Obama's back-to-back election triumphs masked the fact that Democrats have been steadily losing ground in state legislative and congressional elections.
It also mirrors what's happening in the party nationally in other ways. As in the Democratic Congressional Campaign Committee, critics of the Ohio Democratic party leadership are now calling for changes — especially in the symbiotic relationship practices between state Democratic Party and campaign officials. But an Ohio Democratic Party executive committee meeting ended earlier this month with state Chairman David Peppers still at the helm.
One example of Democratic denial came in a post-election forum, in which Aaron Pickrell, the senior adviser for the Clinton and Strickland campaigns in Ohio, defended the campaign by saying that it had the infrastructure and funding to win, and noted that urban areas garnered large victory margins as expected. "I don't know what we would have done differently in Ohio," he said. "I don't know how we could have swung it, because of the national narrative."
But in the aforementioned open letter to state Democratic Party leaders, which was discussed at the executive committee meeting, critics provided overwhelming evidence that these claims had no foundation. While they agreed the Clinton campaign had sufficient resources, they said they weren't used properly. They argued that the campaign took African-American and urban voters for granted, a failure reflected in voting tallies: Clinton won fewer votes than Obama had in 2012 in 8 out of 10 urban counties, and her total vote count in those areas was 184,228 less than Obama won in 2012.
The suggestion that part of the blame lies with Rust Belt counties that usually bring out strong support for Democrats only raises questions about why Democrats did nothing about a crisis they had to know was brewing. Internal memos that appeared in The Washington Post, reveal county party leaders delivered early warnings to the state Democratic Party and Clinton campaign that Trump was gaining traction among core Democratic voters. Those local Democrats' pleas for action to counter Trump's appeal were never heeded. Now the party — and the — must live with the consequences.
(Correction: This story has been updated to correct the name of John Kasich's write-in vote)