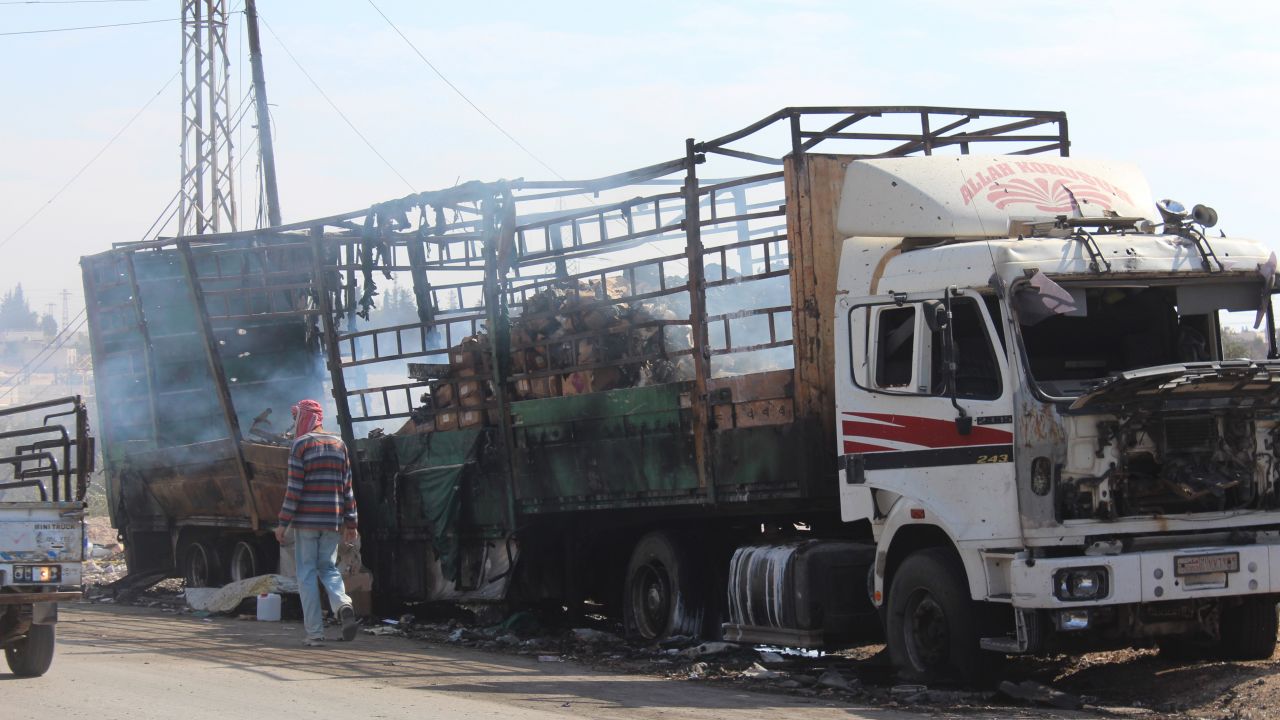 Cease-fire ends –> A cease-fire in Syria, which initially was negotiated to last only a week, expired yesterday at 4 p.m. GMT, when the Assad regime declared the truce would not be extended — following an attack by the US and UK that mistakenly killed 60 Assad regime soldiers. Following the end of the cease-fire, aid supply trucks headed for Aleppo were bombarded by either the regime or its Russian allies, Al Jazeera reports. According to the Syrian Observatory for Human Rights, at least 32 people were killed in that attack. AFP reports that Aleppo itself is now under constant bombardment.
The ceasefire never achieved its goal of getting aid supplies to Aleppo, where 250,000 citizens remain without food, water and medicine. Yochi Dreazen and Javier Zarracina write for Vox: "Under the terms of the ceasefire pact, the Syrian troops who have held the road since July and the rebels who've been fighting to take it back ever since were supposed to pull back from the highway, allowing aid convoys to make their way to Aleppo. Trucks holding enough supplies to feed 40,000 people for a month have been stuck in the Turkish city of Cilvegozu, unable to reach Aleppo's starving residents." By the time the ceasefire collapsed Monday, the supplies still hadn't gotten through.
Meanwhile, in Afghanistan, friendly fire: "An Afghan official says at least eight Afghan police officers have been killed in two US airstrikes in southern Uruzgan province in what was apparently a friendly-fire incident," ABC News reports. "Rahimullah Khan, a provincial operational commander, says the first airstrike killed one policeman at a checkpoint outside the provincial capital of Tirin Kot, while the second, which struck the same area, killed seven others."
The latest GOP defector? –> Former President George H.W. Bush may be casting his vote in November for Hillary Clinton — the wife of his successor — Politico reports. Kathleen Hartington Kennedy Townsend, the former Maryland lieutenant governor and daughter of the late Robert F. Kennedy, "posted a picture on her Facebook page shaking hands next to the former president and this caption: 'The President told me he's voting for Hillary!!'" A spokesman for Bush would not confirm.
First days in office –> Evan Osnos of The New Yorker has a report on what a President Trump could order unilaterally during his first days in office. In fact, a transition team already is paving the way: "Trump's advisers are weighing several options for the First Day Project: He can renounce the Paris Agreement on greenhouse-gas emissions, much as George W. Bush, in 2002, 'unsigned' American support for the International Criminal Court. He can re-start exploration of the Keystone Pipeline, suspend the Syrian refugee program, and direct the Commerce Department to bring trade cases against China. Or, to loosen restrictions on gun purchases, he can relax background checks."
Stumpf before Congress –> Wells Fargo head John Stumpf will testify to Congress about the practice of opening up fraudulent accounts without the knowledge of customers, which became common at the bank as employees were pushed to meet quotas. The New York Times' Dealbook reports that he will "say in testimony Tuesday morning that he is 'deeply sorry' for selling customers unauthorized bank accounts and credit cards and that he takes 'full responsibility' for the unethical activity, according to a copy of the remarks prepared for a Senate Banking Committee hearing." Still, expect aggressive questioning from committee members, including Massachusetts Democrat Sen. Elizabeth Warren, who already has denounced the bank executives' large bonuses.
Drug war –> A new Center for Public Integrity investigation: "The makers of prescription painkillers have adopted a 50-state strategy that includes hundreds of lobbyists and millions in campaign contributions to help kill or weaken measures aimed at stemming the tide of prescription opioids, the drugs at the heart of a crisis that has cost 165,000 Americans their lives and pushed countless more to crippling addiction."
Largest in history –> You probably wouldn't know it, but the largest prison strike in history is currently underway, Adam Johnson writes at AlterNet. Prisoners "began a labor strike on Sept. 9, the 45th anniversary of the Attica prison uprising, to demand better conditions and healthcare, the right to unionize and what one organizing group calls an 'end to slavery in America.'" Despite that, only a "handful of national outlets have covered the strike: The Nation, City Lab, Engadget, Money Watch, Buzzed and as of Thursday, The Wall Street Journal, but every other major publication, network news and cable network has thus far been silent."
It really is happening –> The web comic xkcd worked with climate scientists to create this vivid, dramatic illustration of how our planet is heating up.
Morning Reads was compiled by John Light and edited by Michael Winship. See a story that you think should be included in Morning Reads? Tell us in the comments!
---
We produce this news digest every weekday. You can sign up to receive these updates as an email newsletter each morning.