Bill Moyers retired from BillMoyers.com in 2017. The newly revamped BillMoyers.com is an archive website that pulls together journalism produced by Bill Moyers and his team over the past 40-plus years on television and online. The site includes an interactive timeline of Moyers's full career and a video archive that offers nearly 1,000 archived programs, video clips and online-original segments. Visitors may explore the archive via the site subnav or via our special video collection pages.
A broadcast journalist for more than four decades, Bill Moyers has been recognized as one of the unique voices of our times, one that resonates with multiple generations. With his wife and creative partner, Judith Davidson Moyers, Moyers has produced such groundbreaking public affairs series as NOW with Bill Moyers (2002-05), Bill Moyers Journal (2007-10) and Moyers & Company (2011-15). Since the company's founding in 1986, other notable productions have included the landmark 1988 series Joseph Campbell and the Power of Myth, as well as Healing and the Mind, The Language of Life, Genesis, On Our Own Terms: Moyers on Dying, Moyers on Addiction: Close to Home, America's First River, Becoming American: The Chinese Experience, Faith & Reason, and Moyers on America.
Moyers began his journalism career at age 16 as a cub reporter for his hometown daily newspaper in Marshall, Texas. He was a founding organizer and deputy director of the Peace Corps and special assistant to President Lyndon B. Johnson. Moyers served as Johnson's press secretary from 1965 to 1967.
As publisher of Newsday from 1967 to 1970, Moyers brought aboard writers including Pete Hamill, Daniel Patrick Moynihan and Saul Bellow, and led the paper to two Pulitzer Prizes. In 1976, he was the senior correspondent for the distinguished documentary series CBS Reports and later a senior news analyst for the CBS Evening News.
For his work, Bill Moyers has received more than 30 Emmys, two prestigious Alfred I. Dupont-Columbia University Awards, nine Peabodys, and three George Polk Awards. In the first year it was bestowed, Moyers received the prestigious Honorary Doctor of Fine Arts by the American Film Institute. A Fellow of the American Academy of Arts and Sciences, he also received the Career Achievement Award from the International Documentary Association and has been honored by the Television Critics Association for outstanding career achievement.
Moyers was elected to the Television Hall of Fame in 1995. A year later he received the Charles Frankel Prize (now the National Humanities Medal) from the National Endowment for the Humanities "for outstanding contributions to American cultural life." In 2005, Moyers received the PEN USA Courageous Advocacy Award for his passionate, outspoken commitment to freedom of speech and his dedication to journalistic integrity. He has also been honored with the National Academy of Television Arts & Sciences' Lifetime Achievement Award.
Over the years, Bill Moyers has had the distinct pleasure of working with numerous talented producers, editors, art directors, writers, production assistants, camera operators, sound engineers, makeup artists and others, including long-time collaborators Executive Producer Sally Roy; Senior Writer Michael Winship; Executive Assistant Karen Kimball; Comptroller Diana Warner; and President and COO Judy Doctoroff; and Executive Producer Judith Moyers.
The Museum of Broadcast Communications calls Moyers "One of the few broadcast journalists who might be said to approach the stature of Edward R. Murrow. If Murrow founded broadcast journalism, Moyers significantly extended its traditions."
Moyers' books include such bestsellers as Listening to America, The Power of Myth, Healing and the Mind, The Language of Life, Moyers on America: A Journalist and His Times, and Moyers on Democracy. His most recent book, Bill Moyers Journal: The Conversation Continues, was published in May 2011. He currently serves as president of the Schumann Media Center, a nonprofit organization that supports independent journalism.

JUDITH DAVIDSON MOYERS BIOGRAPHY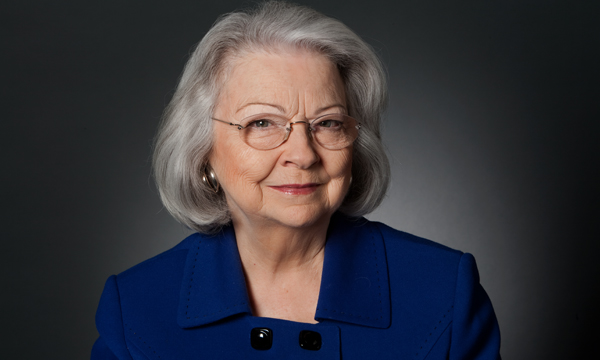 Judith Davidson Moyers was president of Public Affairs Television (PAT) for 14 years and retired as the company's CEO in 2015. During PAT's tenure, Moyers was executive producer of such major documentaries as Earth on Edge, Trade Secrets, On Our Own Terms, Amazing Grace, The Arab World, Genesis, All Our Children, and Free Speech for Sale. A member of the American Academy of Television Arts and Sciences, she has been awarded several Emmys, is the recipient of the DuPont Award, two Peabody Awards and the Christopher Award. Other television credits include the award-winning series A Walk Through the Twentieth Century and Creativity, both produced for CBS Cable and PBS.
In addition to serving on several corporate boards for more than 20 years, Judith Davidson Moyers was a trustee of the State University of New York and vice chair for 13 years. She served as a director of the Research Foundation of New York State and the Rockefeller Institute of Government and as a member of the New York State Judicial Selection Commission. She has served as a US Commissioner to UNESCO, on the White House Commission on Children and was a member of the National Governors Association Task Force on Education and Economic Development.
Moyers has been recognized for her work as an advocate for children by the Girl Scouts of America, The National Conference of Christians and Jews, the Christophers and the National Council of Churches. Her reputation as a group catalyst and moderator has brought many invitations to lead seminars for the Women's Political Caucus, the American Medical Association, the American Bar Association and the Aspen Institute's Executive Seminars, for which she was the first female moderator. In 2000, she was awarded the Aspen Institute Public Sector Award. In 2001 she received the Global Green Media Award "for bringing key environmental issues to a wide audience," and in 2002 she received the Eleanor Roosevelt Val-Kill Award. The Committee of 100 awarded her their Headliner Award in 2003 and in 2010 the Legacy Award was given by the Chinese in America Museum.
Born in Dallas, she is a graduate of the University of Texas earning a Bachelor of Science, summa cum laude, and holds several honorary degrees. She and Bill Moyers have been married for more than 60 years.

Judy Doctoroff O'Neill, Executive Producer
Judy is president and executive producer of Public Square Media. Previously, she worked with Bill and Judith Moyers at Public Affairs Television for nearly 30 years and played a critical role in PAT, which has been recognized as one of the most prolific and acclaimed independent production companies in journalism. She supervised the production, promotion, outreach and distribution of over 500 hours of television programming, and served as executive producer of some of the company's most notable series, including Close to Home, On Our Own Terms, Faith and Reason, and Bill Moyers Journal. In 2001, as Executive-in-Charge she was instrumental in the creation and launch of Now with Bill Moyers. She is the recipient of several Emmy Awards. Judy and her husband are the proud parents of three active, accomplished sons. In their times together, they enjoy high adventure — skiing, canyoning, snorkeling, rafting and more.
Public Affairs Television was Bill and Judith Moyers's independent production company from 1986 through 2015. PAT was widely acclaimed for its innovative and courageous exploration of subjects ranging from politics and the environment to the role of the media in democracy to the world of ideas. PAT was also a leader within public television in extending the reach of its broadcasts through the creative use of multimedia campaigns aimed at informing Americans of critical issues and involving them in cooperative efforts for the renewing of democracy.
The company was founded in 1986 when Bill Moyers left CBS News, where he was senior news analyst for the evening news and chief correspondent for the documentary series CBS Reports. The co-founder was the veteran broadcast journalist Joan Konner. When Konner became dean of the Graduate School of Journalism at Columbia University in 1988, Judith Davidson Moyers, an educator, corporate board member and creative adviser to the Corporation for Entertainment and Learning, joined the company as president.
PAT has produced hundreds of hours of programming for public television, including several groundbreaking series such as Joseph Campbell and the Power of Myth, A World of Ideas, The Language of Life, The Wisdom of Faith with Huston Smith, Moyers on Addiction, On Our Own Terms (about death and dying in America), Becoming American: The Chinese Experience, Healing and the Mind, and America's First River: Moyers on the Hudson. Among PAT's award-winning documentaries were such investigative reports as The Secret Government, Trade Secrets, Trading Democracy, Free Speech for Sale, Buying the War, Facing the Truth, and Capitol Crimes.
For three years beginning in 2002, Public Affairs Television produced the acclaimed weekly newsmagazine Now with Bill Moyers, followed by the three-part investigative series Moyers on America, and the seven-part series Bill Moyers on Faith and Reason. His last series, Bill Moyers Journal, aired on PBS from 2007 through 2010. From January 2012 to December 2014, PAT proudly produced Moyers & Company.  PAT closed operations in 2015 and the rights to the company's work were assigned to Doctoroff Media Group. For questions related to the distribution of the archive, please be in touch with Judy Doctoroff at [email protected].
Many of these productions are available to stream for free in BillMoyers.com's video archive. For those of you looking for DVD copies of specific series please contact us.
BILL MOYERS PRODUCTIONS
1971—72
This Week with Bill Moyers
1972—81
Bill Moyers' Journal
1975
Bill Moyers' International Journal
World Hunger! Who Will Survive?
1975—76
Our Story
1977—78
CBS Reports
1982
Creativity
Six Great Ideas with Mortimer Adler
1983
Our Times
1984
A Walk Through the 20th Century
Crossroads with CBS news correspondents Charles Kurault and Bill Moyers
1986
Heritage Conversations
1987
In Search of the Constitution
Report from Philadelphia
The Secret Government . . . The Constitution in Crisis
 God and Politics</td<
1988
Facing Evil
Joseph Campbell and The Power of Myth
A World of Ideas
The Prime Time President
Promises! Promises!
The Last Word Essay
1989
A Second Look
The Power of the Word
The Public Mind
1990
A Gathering of Men with Robert Bly
A World of Ideas
From D-Day to the Rhine
John Henry Faulk … The Man Who Beat the Blacklist
Amazing Grace
Frontline: Global Dumping Ground
Frontline: Springfield Goes to War
Frontline: High Crimes and Misdemeanors
The Power of the Past: Florence
Weapons of the Spirit
1991
The Songs are Free with Bernice Johnson Reagon
Project Censored
Sports for Sale
The Arab World
All Our Children
Your Mythic Journey with Sam Keen
Beyond Hate
The Home Front
Spirit and Nature
After the War
Oren Lyons the Faithkeeper
20 Years of Listening to America
Circle of Recovery
Facing Hate with Elie Wiesel
1992
Minimum Wages: The New Economy
Hate on trial
Families First
Listening to America
1993
Healing and the Mind
In Our Children's Food
Attorney General Janet Reno
Bullish on America
The New Holy War
A Life Together
1994
Money Talks
Presenting Mr. Frederick Douglass
Poet Laureate Rita Dove
Pure Pete Seeger
The Great Health Care Debate
1995
What Can We Do About Violence?
The Language of Life
Solutions to Violence
Frontline: Living on the Edge
1996
Oklahoma City: One Year Later
Children in America's Schools
Genesis: A Living Conversation
The Wisdom of Faith with Huston Smith
1997
Bill T. Jones: Still/Here
Bill Moyers in Conversation with Sister Wendy
1998
Moyers on Addiction: Close to Home
Frontline: Washington's Other Scandal
1999
Facing the Truth
Archbishop Tutu
Free Speech for Sale
The Mythology of Star Wars with George Lucas
An American Love Story Update
Fooling with Words
Sounds of Poetry
Frontline: Justice for Sale
2000
Srebrenica: A Cry from the Grave
Surviving the Good Times
On Our Own Terms: Moyers on Dying
2001
Trade Secrets
Earth on Edge
Moyers in Conversation
2002—05
Now with Bill Moyers
2002
Trading Democracy
America's First River: Bill Moyers on the Hudson
Kids and Chemicals
2003
Becoming American: The Chinese Experience
Becoming American: Personal Journeys
2006
Faith and Reason
Capitol Crimes
Is God Green?
The Net at Risk
2007—10
Bill Moyers Journal
2011—15
Moyers & Company
As we mentioned above, many of Bill's programs are available to watch for free on this website. Check out our collections, video page and show listing page to browse and search for shows. Additionally, many of Bill Moyers's recent programs are available on DVD for educators at Films.com. Downloadable and streaming versions of The Power of Myth are available at PowerofMyth.net.
If you are looking for a particular video and can't find it elsewhere, please email us, and we can tell you whether it's available.
Books are available from a number of online publishers. Check out Bill's book page to see all titles.