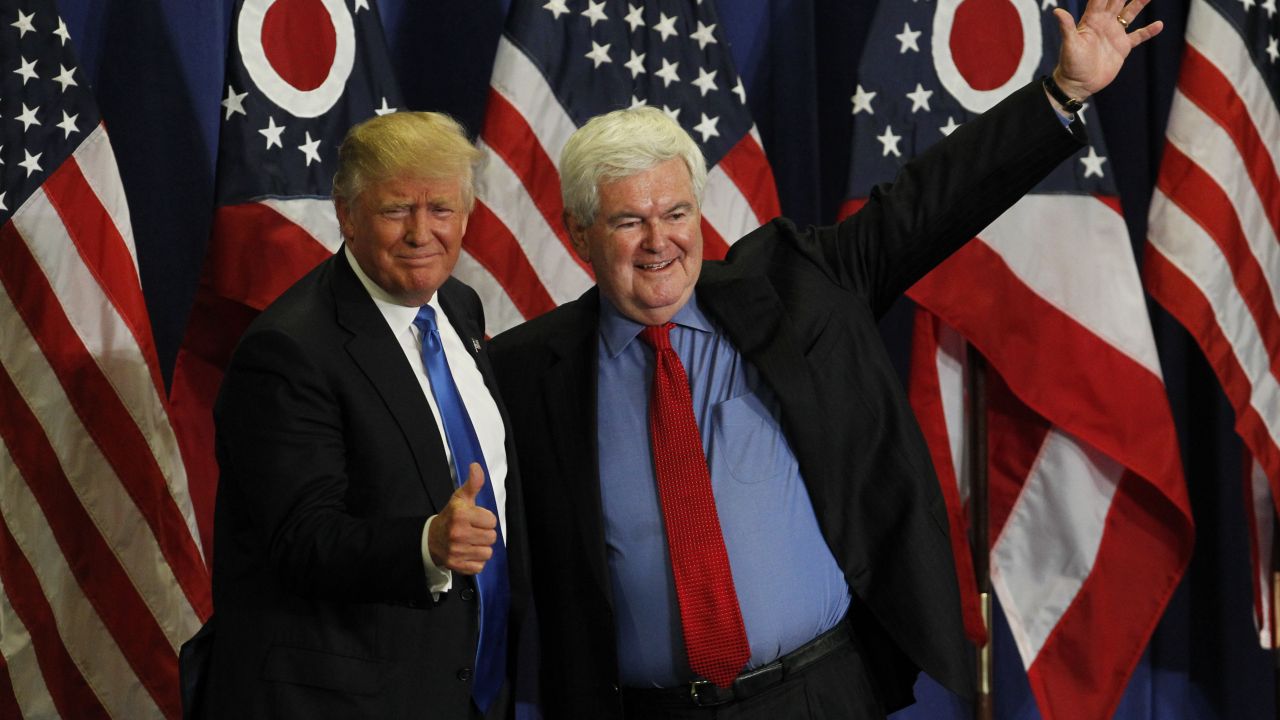 Trump's latest TV hit –> Trump's practically turned his VP-vetting process into a reality TV show, the prospects parading around the country with him or — when his plane broke down on Tuesday night in Indiana — having to come to him. Yesterday morning, FOX News host Sean Hannity ferried Newt Gingrich to Indianapolis on Hannity's private jet. CNN's Dana Bash and Dylan Byers: "A Fox News spokesperson replied to initial inquiries regarding the flight, but did not respond when asked if Hannity had paid for or arranged the flight."
And: Gingrich, who is a leading candidate among an ever-thinning crowd of potential GOP veeps, had mixed feelings about Trump as recently as February, according to ProPublica's Robert Faturechi. The reporter obtained a recording of a private fundraising event at which Gingrich spoke, saying "Trump is not a conservative, speaks to voters 'at the lowest level of any candidate in either party,' and could lose in a landslide if he didn't significantly change his approach to campaigning. Gingrich suggested Trump's move from campaigning to governing would be challenging: 'How we make the transition from, you know, language for fourth graders to real policy, I don't know.'"
Trump says he will make the big announcement in New York on Friday morning at 11 a.m. ET.
Meanwhile: Jeremy W. Peters at The New York Times got hold of a list of speakers for next week's GOP convention in Cleveland: "Donald J. Trump, the presumptive nominee, has been promising a different kind of Republican National Convention, and plans obtained by The New York Times show that he is eager to put his showbiz stamp on the party's gathering, even as he struggles to attract A-list talent. The roster of speakers obtained by The Times, and confirmed by two people with direct knowledge of the convention planning, reveals a lineup lacking many of the party's rising stars. Instead, it features some of Mr. Trump's eclectic collection of friends, celebrities and relatives, from his Slovenian supermodel wife to professional golfer Natalie Gulbis."
Koch dark money groups slapped with fines –> "The Federal Election Commission (FEC) announced [Wednesday] that it will fine three dark money groups a total of $233,000 for concealing the sources of funds spent on political ads in 2010," the Sunlight Foundation's Libby Watson writes. "Three groups — the American Future Fund, 60 Plus Association and Americans for Job Security — received money from the Center to Protect Patient Rights (CPPR), now American Encore. CPPR is linked to the Koch brothers — it was founded by Sean Noble, who was, at the time, central to the Kochs' dark money efforts."
The fine comes in response to a suit from the group Citizens for Responsibility and Ethics in Washington (CREW), which celebrated the fines as "massive." Watson continues, "CREW is right to note that the $233,000 total is large in the context of other FEC fines — 'the FEC gave out $273,000 in conciliation agreement civil penalties for an average penalty of $15,000.' But that's nothing compared to the kinds of funds these groups have. Fines this small can easily be seen as the cost of doing business for a well-funded group that wants to spend on elections — and obscure the source of such spending — until years after voters have had their say."
Cue the violins –> Major corporations are objecting to an administration plan that would keep them from avoiding taxes by fleeing the country. Reuters: "The Obama administration's plan to prevent American companies from shifting their headquarters overseas to avoid US taxes is coming under fire from companies and banks that say it would be costly and cumbersome… 'A financial services group would face the choice between, on the one hand, staggering administrative complexities and a tax burden disproportionate to its true economic profit, and on the other hand, the imposition of crippling constraints on its ordinary business activities,' said the banks, which seek an industry exemption."
CIA director would quit before waterboarding order –> "I can say that as long as I'm director of CIA, irrespective of what the president says, I'm not going to be the director of CIA that gives that order. They'll have to find another director," John Brennan told a Brookings Institution event, without mentioning Trump by name.
94 years –> That's how much time — since only 2015 — members of Congress have spent fundraising instead of doing their jobs, according to the campaign finance reform group Issue One. That figure assumes they are following their party leadership's recommendations for how much to fundraise each week. Issue One's Kelly Ngo writes: "Perhaps the most bizarre part of this whole thing is that the very people who could stop the endless fundraising (sitting members of Congress) actually really hate fundraising."
Black Republican gets personal about police targeting –> South Carolina Republican Tim Scott, the US Senate's only African-American member, gave a speech yesterday in which he revealed that he, too, has been targeted by police. Politico: "[A]s recently as last year he was stopped by a Capitol Police officer who did not recognize him as a senator even though he was wearing his member's pin. 'The pin, I know. You, I don't,' Scott recalled the officer saying with 'a little attitude.'
"… Scott said that in the course of one year as an elected official, he was stopped seven times by law enforcement. And while in some of those instances he was speeding, Scott said the 'vast majority' of those encounters were the result of 'nothing more than driving a new car in the wrong neighborhood or some other reason just as trivial.'
"'… I simply ask you this: Recognize that just because you do not feel the pain, the anguish of another, does not mean it does not exist,' he said. 'To ignore their struggles, our struggles, does not make them disappear. It will simply leave you blind and the American family very vulnerable.'"
Morning Reads is compiled by John Light and Michael Winship. See a story that you think should be included in Morning Reads? Tell us in the comments!
---
We produce this news digest every weekday. You can Sign up to receive these updates as an email newsletter each morning.