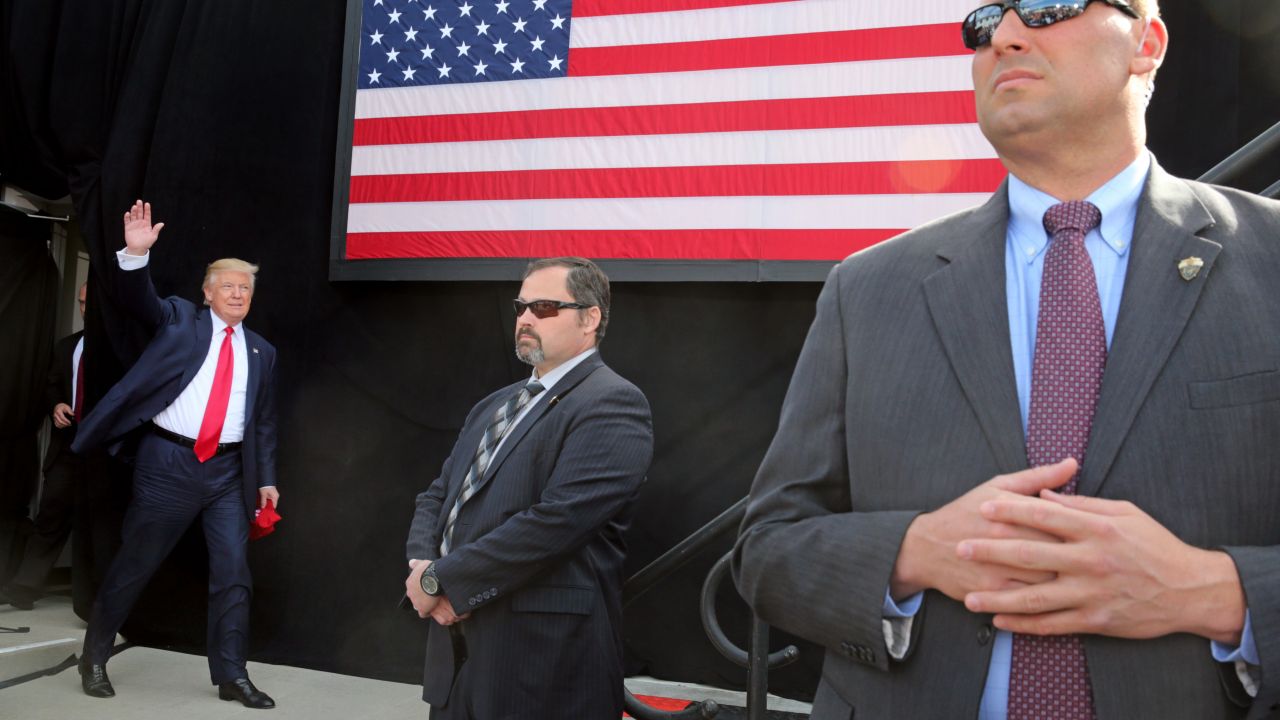 We produce this news digest every weekday. You can sign up to receive these updates as an email newsletter each morning.
---
Beyond Dogwhistles –> In a rally in Green Bay, Wisconsin, on Monday, Donald Trump spoke more specifically about his unsupported claims that the election will be rigged. Previously Trump has only spoken in dogwhistles about voter fraud in "certain communities," reports The Guardian. But, "on Monday he specifically said that 1.8 million dead people would vote – and for 'somebody else'. The statement was apparently a reference to the fact that one 2012 study found up to 1.8 million active voter registrations from deceased voters. In reality the study found no evidence of fraud or that any illegitimate ballots were cast – it simply meant state voter databases were out of date."
Trump's claim that the electoral process is rigged against him is without parallel in American history, reports Zachary Roth for MSNBC. Democracy depends on losers to graciously accept their loss. There's no sign Trump will do that, raising concerns about how his supporters will react if he loses the election.
Trump's "election protection" campaign — widely seen as an effort to intimidate minority voters at the polls — now has a point person. Mike Roman, the former head of the Koch Brothers' internal intelligence agency, used by the billionaires to keep a close eye on their opponents, will oversee Trump's poll-watching.
Roman is best knows for pushing a video that stoked controversy during the George W. Bush administration, reports Ben Jacobs for The Guardian. It showed "two members of the New Black Panthers – a fringe group that claims descent from the 1960s radicals – standing outside a Philadelphia polling place dressed in uniforms, with one carrying a nightstick. Police are called and the two men leave. A justice department investigation into the incident – filed in the weeks before George W Bush left office – became a political football that divided career lawyers within the justice department… The case was eventually dropped but not before it became a conservative cause célèbre. As Rick Hasen, a election law professor at the University of California, Irvine, said: 'It was one of the most retold stories on Fox News and the right for years and took on almost mythical status as evidence of thuggery by Democrats to harm the voting process.'"
Here's election law expert Rick Hasen again, this time at Slate: "Not only does zero evidence exist that this sort of fraud has taken place on any regular basis, but multiple voting simply cannot happen in any practical sense on a scale to influence a presidential election. To vote five, 10, or 15 times one would have to either register five, 10, or 15 times in different jurisdictions or with false names or go five, 10, or 15 times to polling places claiming to be someone else whose name is on the voter rolls, in the hopes that this person has not already voted and you would not get caught. And to do this on a scale for a presidential election, in a place such as Pennsylvania with millions of voters, you would need to pay tens of thousands of people, all without any way of verifying how they voted. What a stupid way to try to steal an election!"
Block anyone –> John McCain (R-AZ) told a Pennsylvania radio program that the Senate would block any Supreme Court nominee appointed by Hillary Clinton. "I promise you that we will be united against any Supreme Court nominee that Hillary Clinton, if she were president, would put up," he said. Ian Millhiser writes for ThinkProgress that McCain "is effectively proposing that only Republicans should be allowed to choose Supreme Court justices. And, as McCain notes, two or even three more vacancies could open up on the court during the next president's term, as three current justices are quite elderly."
Confidentiality agreements challenged –> The National Labor Relations Board is investigating the confidentiality agreements that many companies require employees to sign. At the world's biggest hedge fund, Bridgewater Associates, employees sign agreements that, among other things, prevent employees from discussing sexual harassment outside the company. The New York Times' Dealbook reports: "The labor board has set its sights on several aspects of Bridgewater's employment contracts, including the confidentiality agreement, a nondisparagement clause and a compulsory arbitration provision that states that if mediation fails, employees must enter binding arbitration and waive their right to a trial by jury or to participate with other employees in a lawsuit. It is part of a broader move by the labor board to go after employers in other industries that are using similarly restrictive employment contracts and employee handbooks."
Charges invalidated –> We wrote yesterday that two journalists, Amy Goodman of Democracy Now! and documentary filmmaker Deia Schlosberg were facing jail time for filming protests against oil pipelines in North Dakota. Yesterday, Judge John Grinsteiner refused to authorize the charges against Goodman. "This is a complete vindication of my right as a journalist to cover the attack on the protesters, and of the public's right to know what is happening with the Dakota Access pipeline," she said in a statement. The charges against Schlosberg, however, still stand, and authorities have not ruled out future charges against Goodman.
Apology –> The head of the International Association of Chiefs of Police — the largest police organization in the US, with a membership of 23,000 police officials — apologized yesterday "for the actions of the past and the role that our profession has played in society's historical mistreatment of communities of color." He continued, per The Washington Post: "Events over the past several years have caused many to question the actions of our officers and has tragically undermined the trust that the public must and should have in their police departments… The history of the law enforcement profession is replete with examples of bravery, self-sacrifice, and service to the community. At its core, policing is a noble profession."
Ohio investigating satirical tweet –> One denizen of Twitter sent a satirical tweet over the weekend, making light of Trump's "rigged election" claims. "I love working at the post office in Columbus, Ohio and ripping up absentee ballots that vote for Trump," tweeted @randygdub, whose Twitter bio says he lives in California. Conservative pundits including Matt Drudge, Rush Limbaugh and Curt Schilling thought the tweet was real, however, and repeated it to their audiences as evidence that Trump was right. Now the US Postal Service and the secretary of state of Ohio, Jon Husted, are investigating. Robert Mackey tells the story well for The Intercept.
Morning Reads was compiled by John Light and edited by Theresa Riley. See a story that you think should be included in Morning Reads? Tell us in the comments!
---
We produce this news digest every weekday. You can sign up to receive these updates as an email newsletter each morning.