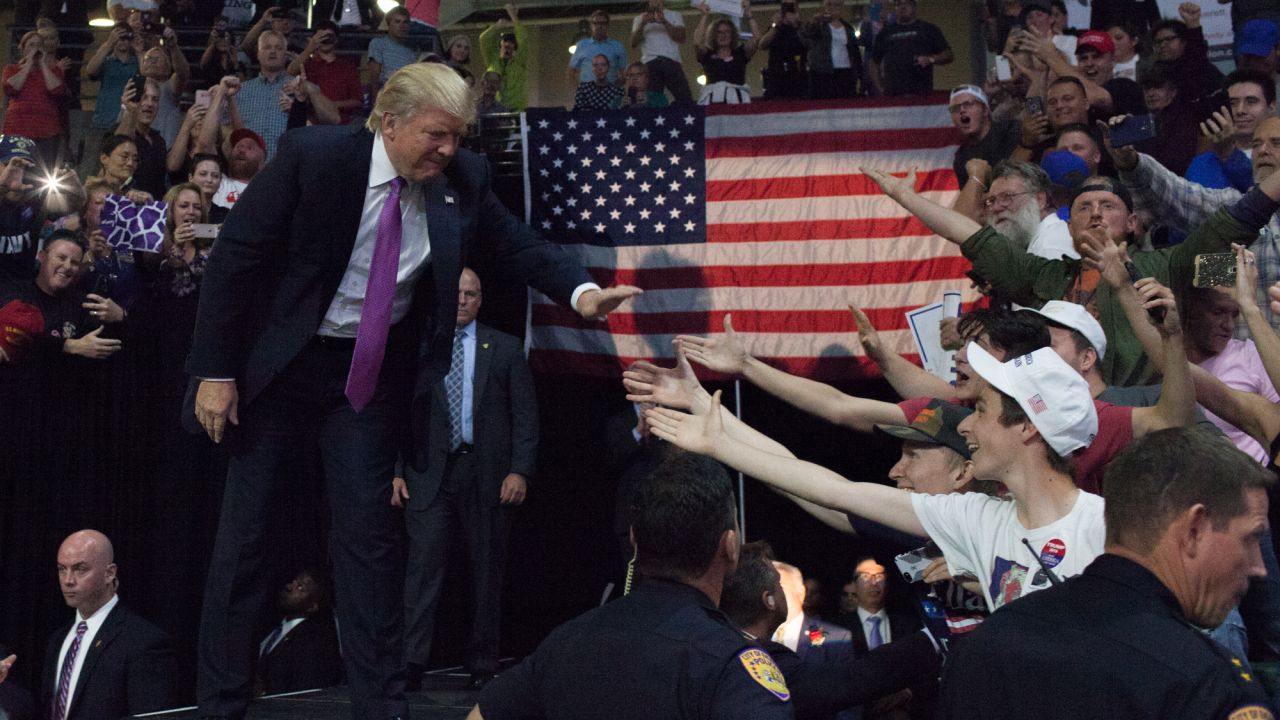 Bienvenidos, Trump –> The GOP candidate's meeting with Mexican President Enrique Peña Nieto could be awkward, The New York Times reports: "Mr. Peña Nieto is reaching out to Mr. Trump in the face of the Republican candidate's antagonistic attitude toward Mexico in his policies and campaign rallies… He is widely reviled in Mexico, where the wall proposal has revived deep grievances over sovereignty and respect that have historically dogged Mexico's relationship with the United States… Politicians in Mexico have largely remained silent on Mr. Trump, though there have been outbursts, including from Mr. Peña Nieto himself. In March, he compared Mr. Trump to Hitler and Mussolini for what he called Mr. Trump's strident remarks and populism, though he later tried to soften his words without quite taking them back."
Clinton's American exceptionalism –> Reuters' Caren Bohan: "In a foreign policy speech meant to reach out to Republican and independent voters, Democratic presidential candidate Hillary Clinton on Wednesday will argue for a robust commitment to US leadership in the world and tout the idea of 'American exceptionalism.' A Clinton aide said she would contrast her foreign policy approach with that of Republican Donald Trump, who puts the emphasis on what he calls an "America first" vision that includes a crackdown on illegal immigration and opposition to multinational trade agreements such as the Trans-Pacific Partnership."
Hanging in there –> In primaries in Arizona and Florida, Sen. John McCain (R-AZ) and Rep. Debbie Wasserman Schultz, former chair of the Democratic National Committee, won their primary fights. The venerable McCain was taken on by a tea party challenger, Kelli Ward, and Wasserman Schultz faced a Bernie Sanders-aligned opponent, Tim Canova.
Meanwhile, also in Florida, Patrick Murphy won the Democratic senate primary, defeating Alan Grayson and Pam Keith, and will challenge Marco Rubio in November. Rubio, as ever, seems ambivalent about the job he's running for, and yesterday refused to rule out that he might not serve his full term if elected. Sam Levine at The Huffington Post has the story.
New Democratic documents –> The hacker Guccifer, who was also behind the recent Democratic National Committee leaks, has released a new pile of documents. Perhaps most interesting is a memo from House minority leader Nancy Pelosi, advising members of Congress on how to "be prepared" to engage with Black Lives Matter. The memo describes the group as "radical" and tells represenatives that, "if approached by BLM activists… don't offer support for concrete policy positions."
Going into hiding –> The "Keep it in the Ground" movement has been protesting each Bureau of Land Management auction of fossil fuel leases on public lands, and at times disrupting the process through which fossil fuel companies secure the rights to drill. In an effort to avoid the activists, the BLM has taken the leasing process online. Jack Fitzpatrick reports for Morning Consult. As we noted in Morning Reads last week, the Bureau of Ocean Energy Management has taken a similar approach.
The perfect storms–> Eric Holthaus writes for Pacific Standard that four tropical storms, one of which might develop into a hurricane, are approaching the United States mainland, and two more hurricanes are heading for Hawaii: "The current situation points toward a changing relationship between Hawaii and hurricanes. As the Pacific Ocean warms, hurricanes are drifting a bit further north toward Hawaii, currently at the northern edge of a zone that's favorable for their formation. Two of the five Hawaii landfalls of tropical storm strength or greater on record have occurred in the past three years."
Blow to ISIS –> "Mohammad al-Adnani, the official spokesman of ISIS and one of its most senior members, has died in Syria, the terror group said in a rare public statement," CNN reports. "His death marks the highest-profile killing yet of an ISIS member… Al-Adnani was well known for ordering operatives to attack countries participating in the US-led coalition against ISIS. Western intelligence believes he had command responsibility for the Paris attacks."
Andy Borowitz headline –> "Obama Pays Mexico Five Billion Dollars To Keep Donald Trump."
Morning Reads was compiled by John Light and edited by Michael Winship. See a story that you think should be included in Morning Reads? Tell us in the comments!
---
We produce this news digest every weekday. You can sign up to receive these updates as an email newsletter each morning.