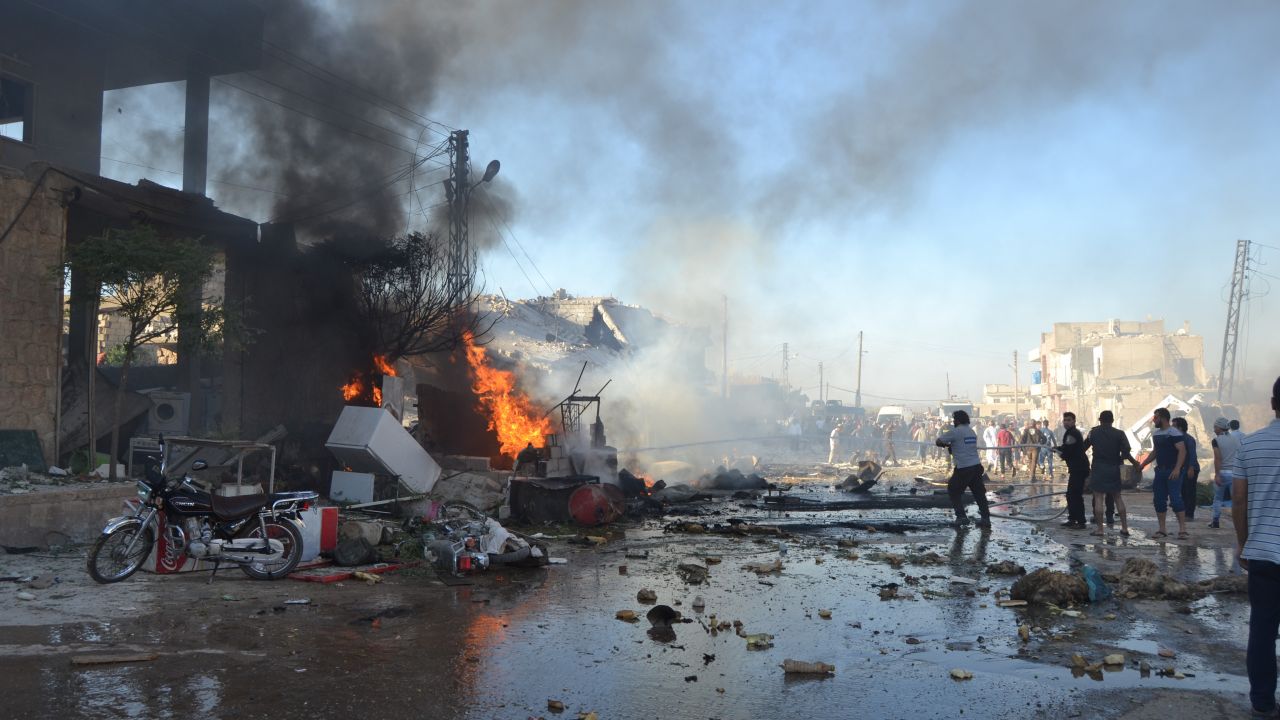 Shaky ceasefire begins –> The cease-fire in Syria, negotiated by the United States and Russia, began last night, the first evening of the Muslim holiday Eid al-Adha. Here are the terms, per The New York Times' Anne Barnard and Hwaida Saad: "All attacks will stop — except for attacks on the Islamic State and groups linked to al-Qaida. But the public does not know what Russia and the United States have defined as those groups' territory, and mistrust runs deep. If relative calm lasts for seven days, the United States is to begin coordinating with Russia to target Islamic State and Qaeda forces. In return, Russia is to make sure Syrian government warplanes do not fly over opposition areas."
The Assad government and rebel groups may already have violated the terms, although the US and Russia have stopped bombing missions. The Washington Post reported yesterday evening: "Residents and activists of the besieged rebel portion of Aleppo said that Syrian government helicopters had dropped barrel bombs on one neighborhood of the city and that loyalist forces were shelling a route intended to be used for the delivery of humanitarian aid. Pro-government media accused the rebels of launching a new attack in the southern province of Quneitra, and there were reports of airstrikes and artillery shelling in other parts of the country."
Another record-breaker –> For the 11th time in a row, a month has broken high-temperature records. Preliminary NASA data show August 2016 as the hottest August on record, tied with July 2016 for the hottest month ever recorded.
Mixed signals –> Earlier this month, Wells Fargo bank paid the Consumer Financial Protection Bureau and other agencies $185 million in fines after the bank was found incentivizing employees to create phony credit cards and bank accounts. But now, Fortune magazine reports, it appears the person who oversaw that department is leaving the bank with a $124.6 million payout. Months earlier, CEO John Stumpf called that executive, Carrie Tolstedt, "a standard-bearer" for the bank. Meanwhile, 5,300 employees, many of them low-level bank workers, lost their jobs as a result of the phony account practice.
Trump's 47 percent remark –> Trump's campaign is going after Hillary Clinton for saying that half his supporters — which would mean some 20 percent of voters — belong in "what I call the basket of deplorables… The racist, sexist, homophobic, xenophobic, Islamophobic — you name it. And unfortunately there are people like that. And he has lifted them up." But, at Mother Jones, David Corn has dug up a June 2015 quote from Trump denegrating half the nation, in language similar to that used by Romney in 2012: "The problem we have right now — we have a society that sits back and says we don't have to do anything. Eventually, the 50 percent cannot carry — and it's unfair to them — but cannot carry the other 50 percent."
Deplorables on the attack –> Henry Gomez, a political reporter for Cleveland.com/The Plain Dealer, writes that he has often been the target of the voters Clinton denounced: "There is no perfect way to quantify how many Trump fans fit the description. The point is, these voters are out there. I know because I hear from them. I don't think it's a coincidence that, recently, readers have told me I should be 'on the other side of the wall' and that my background should 'disqualify' me from covering this election. Some observers have suggested the Trump candidacy is like an online comments section come to life. But this was different. These came via email. From people using their real names."
And: There was violence at a Trump rally in Asheville, North Carolina, yesterday, Joel Burgess at the Asheville Citizen-Times reports, citing video and witnesses describing "a man slapping protesters and a woman described as 'elderly' struck and knocked to the ground… Video shows the man in a gray shirt making his way past several seated members of the audience and confronting the protesters. At one point he grabs a protester in a white shirt and strikes him and several others."
NCAA gets out of North Carolina –> Scott Gleeson at USA Today: "The NCAA announced on Monday the relocation of seven previously awarded championship events — including NCAA tournament games in Greensboro — from the state of North Carolina during the 2016-17 academic year as a result of the state's controversial House Bill 2. The law prevents cities and counties from passing protections based on sexual orientation and gender identity. And public schools must require bathrooms or locker rooms be designated for use only by people based on their biological sex."
Last chance for the TPP –> Obama is pushing hard to get the Trans-Pacific Partnership through Congress this fall, although congressional leadership has promised not to budge. While both presidential candidates also have said they will not agree to the current version of the TPP, Paul Ryan has said Congress would vote on the deal if President Obama can "fix it." That may not be possible. Japan Times reports that "the 12 countries that signed the Trans-Pacific Partnership free trade pact earlier this year agreed Monday that they will not renegotiate the deal, Japan's TPP minister Nobuteru Ishihara said."
Sweet –> And speaking of deals, Anahad O'Connor at The New York Times writes, "The sugar industry paid scientists in the 1960s to play down the link between sugar and heart disease and promote saturated fat as the culprit instead, newly released historical documents show. The internal sugar industry documents, recently discovered by a researcher at the University of California, San Francisco, and published Monday in JAMA Internal Medicine, suggest that five decades of research into the role of nutrition and heart disease, including many of today's dietary recommendations, may have been largely shaped by the sugar industry."
Morning Reads was compiled by John Light and edited by Michael Winship. See a story that you think should be included in Morning Reads? Tell us in the comments!
---
We produce this news digest every weekday. You can sign up to receive these updates as an email newsletter each morning.