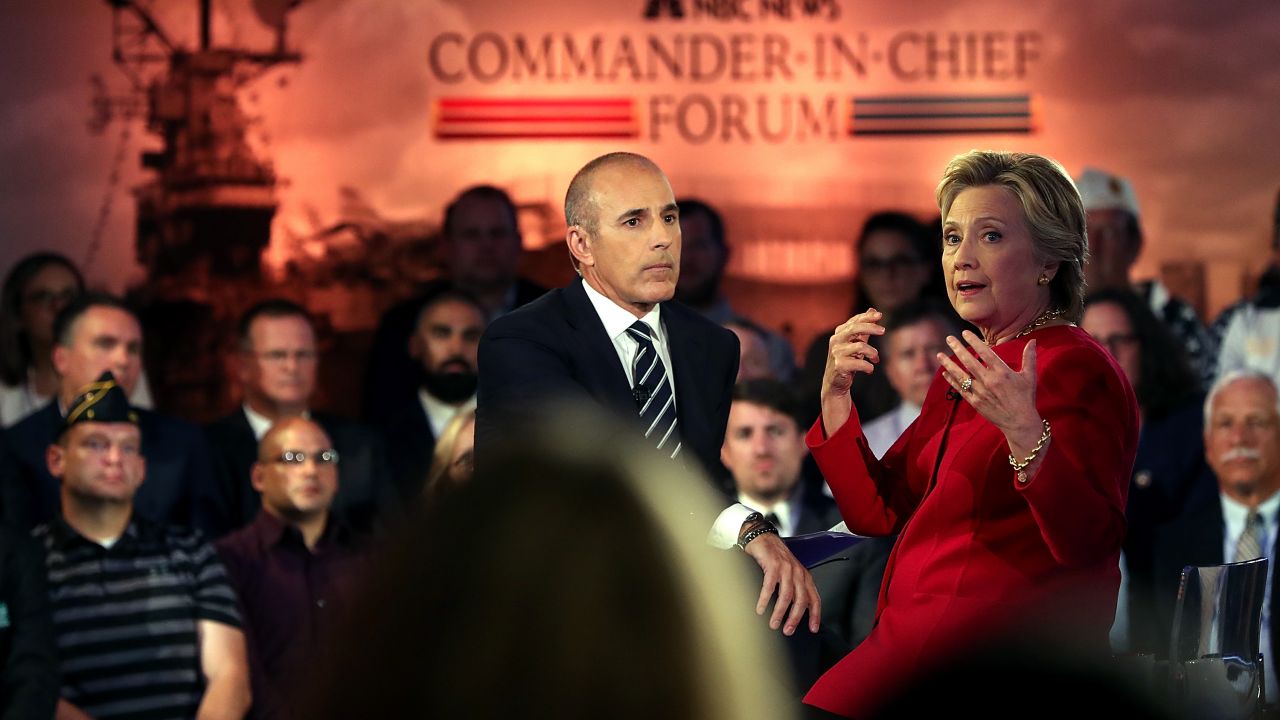 First time on the same stage –> Both Hillary Clinton and Donald Trump appeared last night at an NBC-hosted forum. While Clinton fielded many questions about her email server during the forum, despite the fact that the event ostensibly was about defense and veterans issues, Trump once again praised Russian President Vladimir Putin and made unfavorable comparisons to President Obama.
Trump also claimed he opposed the Iraq war, something that NBC News notes (online, but not on air) is incorrect. Letting this whopper slip by unchallenged has many political observers livid with host Matt Lauer this morning. Many also have criticized him for repeatedly interrupting Clinton while allowing Trump to talk over and ignore him.
Take the oil?  –> That's just one of the bizarre things Donald Trump said at that forum last night. Tierney Sneed at Talking Points Memo writes, "Asked at the NBC News' Commander-In-Chief Forum about [how] he planned to keep the Islamic State out of Iraq once he defeated them, Trump returned to his oft-recited call for the US to 'take the oil' from Iraq, and even offered a few details how he would go about it as President. 'If we had taken the oil, you wouldn't have ISIS. ISIS formed with the power and wealth of that oil,' Trump claimed.
"Pressed to explained exactly how the US should take the oil, Trump said, 'You would leave a certain group behind and take various sections where they have the oil.'" And then what?
"Shenanigans are afoot" –> Or so reports Atlanta Journal-Constitution politics writer Greg Bluestein. People with clipboards are roaming the campus of Kennesaw State University, registering black students to vote, but it's a fraud. A letter from the dean suggests that the same thing has happened in the past — and that this voter registration drive actually registered students improperly, intentionally, so they would not be able to vote on Election Day.
Take the money and run –> We noted yesterday that ITT Technical Institute, a large, for-profit college chain, is shutting down amidst government scrutiny of private institutions that take students' money and supply them with worthless degrees. A Department of Education blog post gives students the options of getting some of their money back, or transferring credits to a "comparable" institution. But Ben Popken at NBC News writes that financial experts are urging students "to take the money and run," getting out from under the debt they accrued at ITT.
Rough justice –> In one Louisiana county, Caddo Parish, state budget cuts mean 22 public defenders have to handle more than 18,000 cases. "To fill the void, judges were randomly assigning the neglected cases to all the lawyers in Shreveport, including those specializing in real estate, personal injury, taxes, and adoption. Anyone with a law license, a professional address in the parish, and a pulse was placed alphabetically on a list. They could be called on at any moment to take a criminal case, unpaid." Eli Hager reports this story, a collaboration between The Guardian and The Marshall Project.
Louisiana floods and climate change –> John Upton at Climate Central writes up a report from the group World Weather Attribution: "Climate change played a heavy role in the nightmarish storm that brought a three-day deluge to coastal Louisiana last month, triggering floods that killed 13 and left thousands more homeless, research released Wednesday showed.
"The unprecedented 1 to 2 feet of rain that fell over parts of Baton Rouge and nearby communities over several days in the middle of August stunned experts. While such deluges are rare, the new research indicated that the likelihood the region will experience them may have doubled during the past century."
California's aggressive approach to climate change –> Chris Megerian for the Los Angeles Times: "Gov. Jerry Brown will sign into law two sweeping measures on climate change Thursday in Los Angeles, his office announced… The legislation sets a tougher target for reducing greenhouse gas emissions, increases legislative oversight of climate programs and prods regulators to take stronger steps against local pollution problems." With this new law, Vox's Brad Plumer writes, California is "trying to prove to the world that it's possible — desirable, even — to pursue the really drastic emission cuts needed to stave off severe global warming."
Morning Reads was compiled by John Light and edited by Michael Winship. See a story that you think should be included in Morning Reads? Tell us in the comments!
---
We produce this news digest every weekday. You can sign up to receive these updates as an email newsletter each morning.