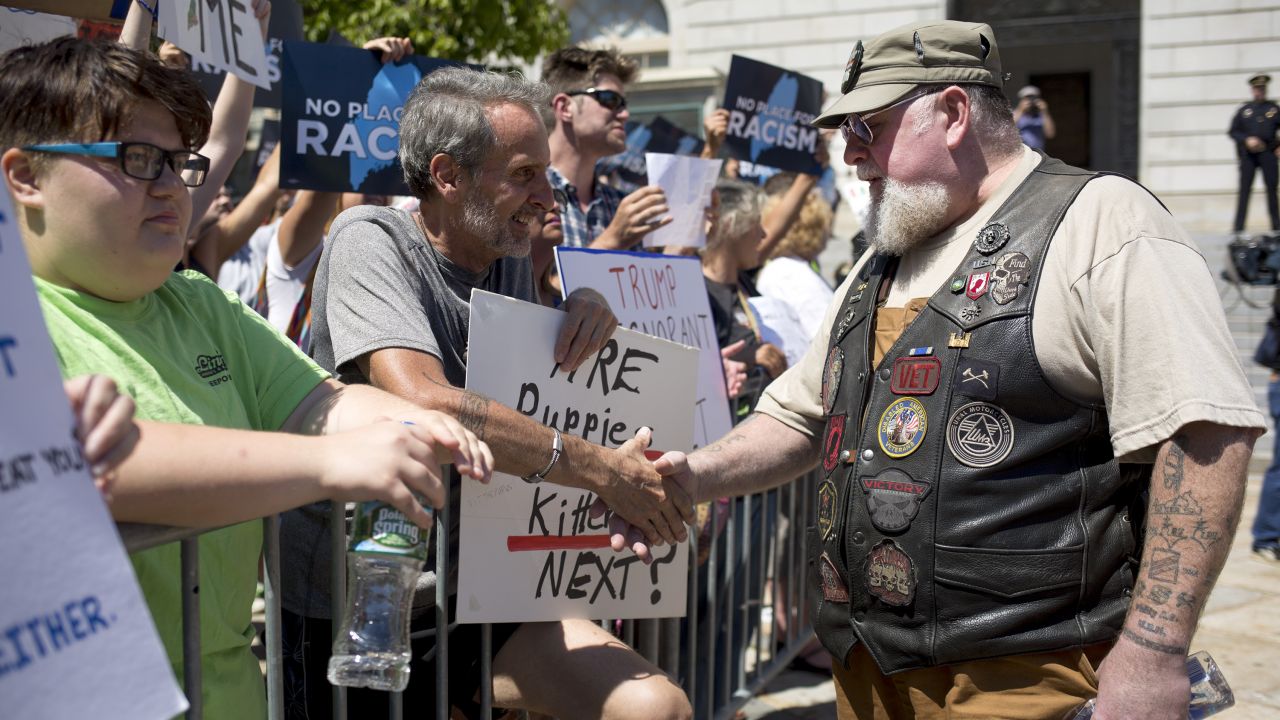 No longer friends –> A poll by the Pew Research center finds that only 25 percent of Donald Trump supporters say they have close friends who support Hillary Clinton. Among Clinton supporters the numbers are even lower: Just 18 percent say they have "a lot" or "some" friends who support Trump. In fact, 47 percent — nearly half — of Clinton supporters and 31 percent of Trump supporters say they have no friends who support the opposing candidate.
Pew: "Clinton and Trump backers also are far more likely to talk about the election with those who favor 'their' candidate than with those who back the opponent. In the survey, conducted before the party conventions, most voters (67 percent) say the election comes up in conversation at least somewhat often, but only 23 percent say it comes up very often."
But: The most aggressively die-hard voters are the ones going to the polls and choosing which candidates make it to the general election in the first place. David Wasserman at FiveThirtyEight: "In 2014, only 14.6 percent of eligible voters participated in congressional primaries — a record low, according to the Center for the Study of the American Electorate. That means a tiny fraction of voters who are the most hardened partisans are essentially electing more than 90 percent of members of Congress. And these low-turnout primaries are often easy prey for ideological interest groups who demand purity."
Now he tells us –>From Politico:  "Climate change will be one of the top national security issues for the next administration, a former national security adviser to President George W. Bush said Thursday. Stephen Hadley, who served both as deputy and top adviser through Bush's administration from 2001 to 2009, said climate change has resulted in massive refugee flows that have threatened European unity."
But: Hadley worked for a man who, at best, waffled on climate change, saying things like, "We do not know how much our climate could or will change in the future. We do not know how fast change will occur, or even how some of our actions could impact it."
Confusion grows –> Alejandro Davila Fragoso at ThinkProgress: "Twice as many Republicans are unsure about the evidence of global warming as they were a year ago, and Donald Trump could be playing a role, finds a new survey led by University of Michigan researchers. Some 26 percent of Republicans told researchers this spring they were unsure about global warming, up from 13 percent last year, according to the National Surveys on Energy and Environment (NSEE) report released Tuesday. Republicans are also more likely than Independent and Democrat voters to either doubt climate change or denying it altogether, according to the survey."
Paul Ryan's primary race –> When Donald Trump refused to endorse Paul Ryan, he drew attention to his primary challenger, businessman Paul Nehlen. Nehlen takes Trump's views and runs with them. ABC News: "House Speaker Paul Ryan's primary opponent, who has gotten support from Donald Trump, suggested Monday that the United States have a 'discussion' about deporting all Muslims from the United States. 'The question is, why do we have Muslims in the country?' conservative businessman Paul Nehlen said in a Monday radio interview with Chicago's AM 560 'The Answer.'
"… Nehlen, who has attracted the support of Sarah Palin and Ann Coulter, has endorsed Trump's presidential campaign, and has similarly focused his campaign on trade and immigration."
Greens hold convention –> Nadia Prupis at Common Dreams: "The Green Party kicked off its national convention in Houston, Texas on Thursday, where presumptive nominee Jill Stein will present a third-party challenge to Hillary Clinton and Donald Trump… On Wednesday, CNN announced it would host a Green Party town hall on Aug. 17 — offering the party a rare chance to access the large media platform usually reserved for establishment candidates."
Let the Games begin, but… –> The 2016 Olympic Games have their official opening ceremonies in Rio de Janeiro tonight. As Vincent Bevins at the Los Angeles Times reports, "The mood in Brazil during the run-up to the Rio Games has been tempered for months — the Zika epidemic, the country's political turmoil and the looming sense that the nation's interest in playing international host may have peaked two years ago during the World Cup. But the quality of the beaches and bays where Olympians will swim, row and sail has been a nagging issue here for years…
"A water quality study commissioned by the Associated Press recently found Rodrigo de Freitas Lagoon, where the game's rowing and canoeing events will be staged, to be teeming with viruses that can cause intestinal and respiratory problems… 'Don't put your head underwater,'  suggested biomedical expert and University of South Florida professor Valerie Harwood after examining the AP-commissioned study."
Now I've got your attention –> Ryan Felton writes for The Guardian that Michael Barrett, the director of Missouri's public-defender system, fed up with budget slashing and personnel shortages, has told Democratic Gov. Jay Nixon to dust off his law books and represent a case himself. Missouri's public defenders face more than 200 cases annually, Felton writes, and Barrett argued that his office "had faced repeated budget cuts while Nixon had not restricted 'a single dollar from [his] own budget.' The governor, Barrett said, also decided to veto a bill that would have provided caseload relief 'to an overburdened public defender system.' To avoid closing offices and to ensure poor individuals who face incarceration receive competent counsel, Barrett turned to a rarely if ever cited provision under state law: the power to delegate the 'legal representation of any person to any member of the state bar of Missouri.'"
Morning Reads was compiled by John Light and Michael Winship. See a story that you think should be included in Morning Reads? Tell us in the comments!
---
We produce this news digest every weekday. You can Sign up to receive these updates as an email newsletter each morning.