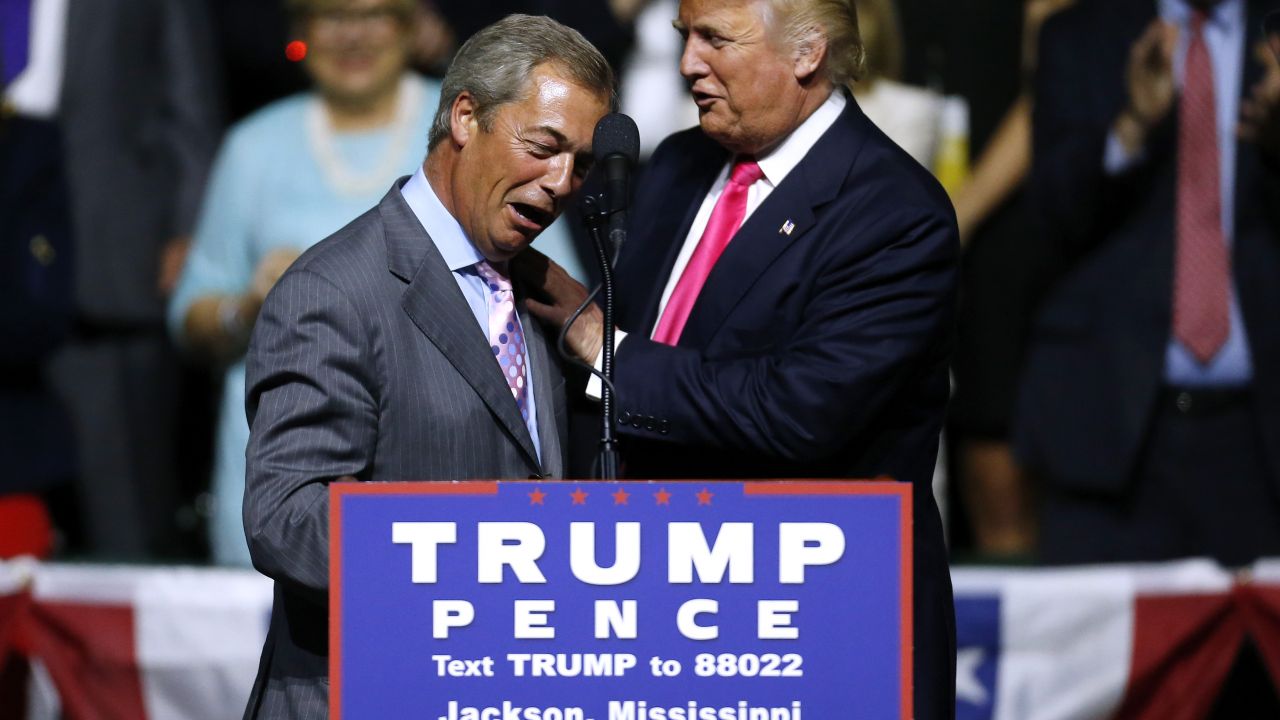 Real Mr. Brexit meets fake Mr. Brexit –> Trump recently said he soon may be called "Mr. Brexit," because his election to the presidency, thanks to angry voters, will surprise the media — just as the UK's vote to to leave the European Union stunned the British press. But yesterday the man who actually deserves the title of Mr. Brexit, Britain's Nigel Farage, former head of the anti-EU UK Independence Party, stumped with Trump at a campaign rally in Mississippi.
"I come to you from the UK with a message of hope, and a message of optimism," Farage told the crowd. "It's a message that says if the little people, if the real people, if the ordinary decent people are prepared to stand up and fight for what they believe in, we can overcome the big banks and the multinationals." When Trump's supporters, most of whom did not know who Farage was, started to get bored with all the talk of British politics, he shifted to Clinton bashing, declaring, "If I was an American citizen, I wouldn't vote for Hillary Clinton if you paid me!" The crowd broke into chants of "Lock her up!"
Crummy way to get rich –> Heather Bresch, CEO of the drug company Mylan (and Democratic Sen. Joe Manchin's daughter), presided over a decision to hike the cost of the EpiPen — the drug injection system used to prevent anaphylactic shock — 461 percent. The company's stock price tripled, and at the same time, Bresch's compensation increased 671 percent.
Ben Popken reports for NBC News that "after Mylan acquired EpiPen the company also amped up its lobbying efforts. In 2008, its reported spending on lobbying went from $270,000 to $1.2 million, according to opensecrets.org. Legislation that enhanced its bottom line followed, with the FDA changing its recommendations in 2010 that two EpiPens be sold in a package instead of one and that they be prescribed for at-risk patients, not just those with confirmed allergies. And in 2013 the government passed a law to give block grants to states that required they be stocked in public schools."
Death toll rising in Italy –> The count has reached 247 in the aftermath of the Italian earthquake, the BBC reports, "as thousands of rescuers continue efforts to find survivors. Dozens are believed trapped in ruined Amatrice, Accumoli and Pescara del Tronto, in mountainous central Italy. Rescuers have advised journalists and bystanders to leave Amatrice urgently, as 'the town is crumbling,' the BBC's Jenny Hill says."
Eyes in the sky –> "Baltimore police on Wednesday acknowledged for the first time that city residents had been subject to aerial surveillance, after a Bloomberg Businessweek story revealed that airborne cameras had snapped continuous photos in cooperation with the police since January," The Guardian reports. "Police spokesman TJ Smith insisted that the privately funded agreement between Persistent Surveillance Systems and city police 'was not a secret surveillance program.' Before Wednesday, not even the mayor, city council, and board of estimates had been told about the program."
Peace in Colombia? –> The Washington Post's Nick Miroff reports from Havana: "After 52 years of fighting and nearly four years of grinding negotiations, the Colombian government and the country's FARC rebel group declared Wednesday that they had reached an agreement to end the longest-running armed conflict in the Americas… 'We have finished fighting with weapons and will now do battle with ideas,' said FARC's chief negotiator, Iván Márquez, a former member of Congress who took up arms after many other leftist Colombian politicians were assassinated by right-wing groups in the 1980s."
America's Best Idea –> The National Park Service turns 100 today. But as the public radio show Marketplace reports, in this age of federal budgetary austerity, our parks and monuments aren't getting the funds they need: "During this centennial year, approximately 300 million people — a record number — will pour into national park areas nationwide. And the Park Service doesn't have sufficient resources to handle that traffic, according to Rob Smith, northwest regional director of the National Parks Conservation Association, a nonpartisan advocacy organization. 'It's not getting near the money — maybe only 60 cents on the dollar — of what the parks actually need to maintain the bathrooms, the lodges, the roads, the rangers to help guide people,' Smith said."
Bad news: $8.8 trillion –> That's how much the millennial generation will pay to deal with climate change, according to a report by NextGen, the environmental advocacy group founded by billionaire Tom Steyer. At Grist, Kate Yoder reports, "As communities scramble for resources to deal with various climate impacts, young people will pay for the ecological and social disasters created by older generations: rising sea levels, drought, declining crop productivity, heat-related health problems, wildfires — you name it. In response, incomes will plummet and tax bills will climb."
Good news: we've found a new planet to wreck! –> Kenneth Chang for The New York Times: "Another Earth could be circling the star right next door to us. Astronomers announced on Wednesday that they had detected a planet orbiting Proxima Centauri, the closest neighbor to our solar system. Intriguingly, the planet is in the star's 'Goldilocks zone,' where it may be neither too hot nor too cold. That means liquid water could exist at the surface, raising the possibility for life." New Scientist answers seven "big questions" about the planet.
Morning Reads was compiled by John Light and edited by Michael Winship. See a story that you think should be included in Morning Reads? Tell us in the comments!
---
We produce this news digest every weekday. You can sign up to receive these updates as an email newsletter each morning.