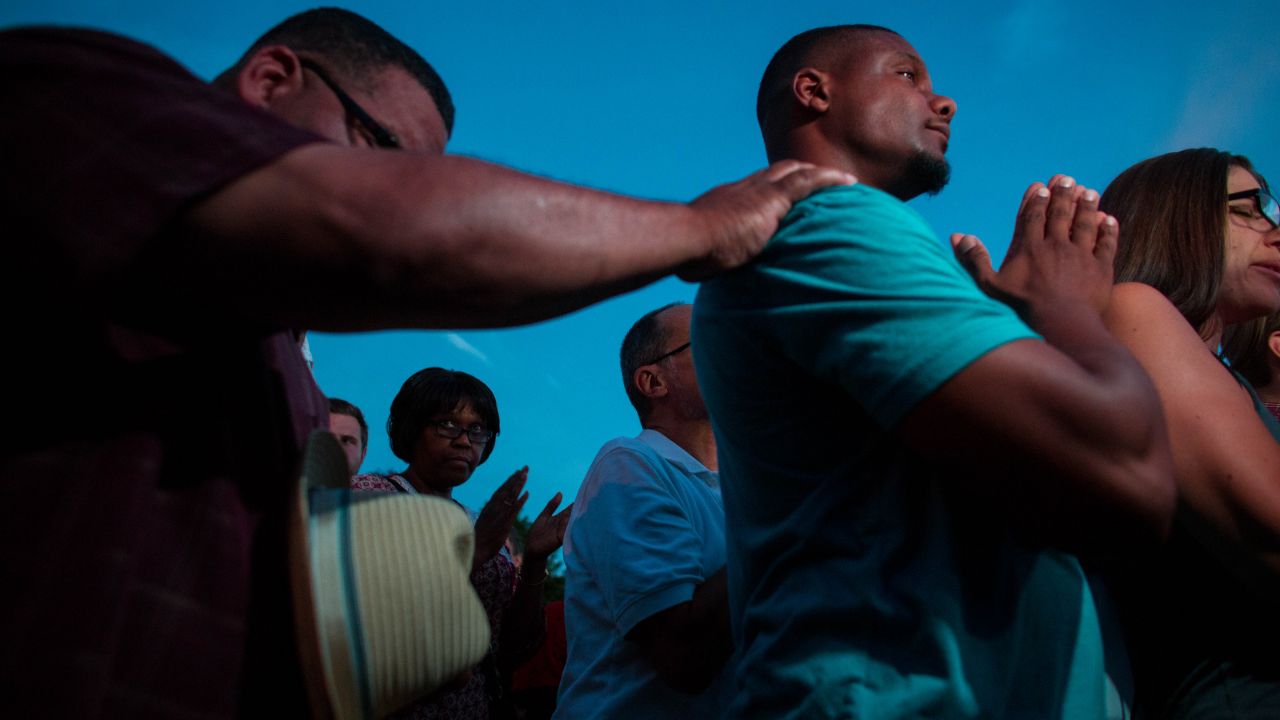 Unrest in Milwaukee –> Hours after a 24-year-old police officer shot and killed a 23-year-old armed man who fled from a routine traffic stop, violence erupted in Milwaukee. Both the police officer and the man killed, Sylville K. Smith, are African-American. As reported by the Journal Sentinel, a gas station and several businesses were set on fire. In at least one instance, firefighters hesitated to approach the blaze because of gunshots. "I think it's crazy, it's ludicrous," Dominic Lebourgeois, a 53-year-old handyman and resident of the area told The New York Times. "These are the stores we shop in. I got a feeling they're going to move instead of rebuild."
Disturbances continued through Sunday evening but subsided early Monday morning. Wisconsin Gov. Scott Walker had placed the National Guard on alert but Milwaukee Police Chief Edward Flynn did not see a need for them to be deployed. Video footage from the body cam worn by the police officer exists but has not yet been released to the public.
Flooding in Louisiana –> Campbell Robertson at The New York Times: "More than 20,000 people have had to be rescued from the flooding this weekend, Louisiana officials said, in a waterlogged stretch from the parishes to the north and east of Baton Rouge west past the city of Lafayette. Thousands of homes have been flooded, forcing more than 10,000 people into shelters. Those stranded by the waters found themselves further marooned by a massive cellular network failure."
These kinds of storms are becoming more common — and we need a new way of talking about them. Eric Holthaus writes for Pacific Standard, "Today's rainstorm in Louisiana is at least the eighth 500-year rainfall event across America in little more than a year, including similarly extreme downpours in Oklahoma last May, central Texas (twice: last May and last October), South Carolina last October, northern Louisiana this March, West Virginia in June, and Maryland last month… Statistical calculations like these make a major assumption: That the climate of the past is the same as the climate of today. That's no longer a very good assumption."
The Trump campaign and Russia saga continues –> Many in the press have been questioning the past of Trump's campaign manager, Paul Manafort, who, as Franklin Foer wrote at Slate back in April, has made his name reinventing autocrats as champions of democracy. One of those clients was former Ukrainian president Viktor F. Yanukovych, who was friendly with Russia and now lives in exile there. The New York Times reported yesterday, "Handwritten ledgers show $12.7 million in undisclosed cash payments designated for Mr. Manafort from Mr. Yanukovych's pro-Russian political party from 2007 to 2012, according to Ukraine's newly formed National Anti-Corruption Bureau…
"Mr. Manafort's involvement with moneyed interests in Russia and Ukraine had previously come to light. But as American relationships there become a rising issue in the presidential campaign — from Mr. Trump's favorable statements about Mr. Putin and his annexation of Crimea to the suspected Russian hacking of Democrats' emails — an examination of Mr. Manafort's activities offers new details of how he mixed politics and business out of public view and benefited from powerful interests now under scrutiny by the new government in Kiev."
Now The Wall Street Journal's arch-conservative editorial page has turned on the GOP candidate: "If they can't get Mr. Trump to change his act by Labor Day, the GOP will have no choice but to write off the nominee as hopeless and focus on salvaging the Senate and House and other down-ballot races. As for Mr. Trump, he needs to stop blaming everyone else and decide if he wants to behave like someone who wants to be President — or turn the nomination over to Mike Pence."
"Election observers" –> Politico's Rebecca Morin reported Saturday that as his poll numbers continue to decline, Trump's campaign "is seeking to recruit 'election observers' following the Republican nominee's repeated claims that the general election is 'rigged.' In a move that's unprecedented in a presidential election, the campaign late this week launched a page on its website proclaiming, 'Help Me Stop Crooked Hillary From Rigging This Election! Please fill out this form to receive more information about becoming a volunteer Trump Election Observer.'"
The previous day, at an election rally in Pennsylvania, Trump said: "The only way we can lose, in my opinion, I really mean this, Pennsylvania, is if cheating goes on. I really believe it." But as Ari Berman of The Nation and others have written, incidents of voting fraud are extremely rare and the suppression of turnout is a far more real and greater cause of concern.
The president and executive power –> As a presidential candidate critical of the George W. Bush White House, Barack Obama was skeptical of presidents taking too much advantange of executive power. Yet coming to the end of two terms fighting an intransigent Congress, "Mr. Obama will leave the White House as one of the most prolific authors of major regulations in presidential history," a New York Times investigation by Bunyamin Applebaum and Michael Shear finds.
Mum on Ailes –> The story of Roger Ailes' resignation from Fox News is "one of the most intriguing stories of the summer, a tale of sex, money, politics and corporate skulduggery that would seem especially ripe for coverage and discussion by the firebrands at Fox News," Paul Fahri writes at The Washington Post. But the conservative cable news station has had almost nothing to say on the scandal: "In all, Fox has devoted a total of about 11 minutes of airtime to the news about Ailes over the past five weeks, a review of the archive shows. That's less time than Bill O'Reilly spent criticizing the Black Lives Matter movement on The O'Reilly Factor over a couple of days this month."
Morning Reads was compiled by John Light and edited by Michael Winship. See a story that you think should be included in Morning Reads? Tell us in the comments!
---
We produce this news digest every weekday. You can sign up to receive these updates as an email newsletter each morning.