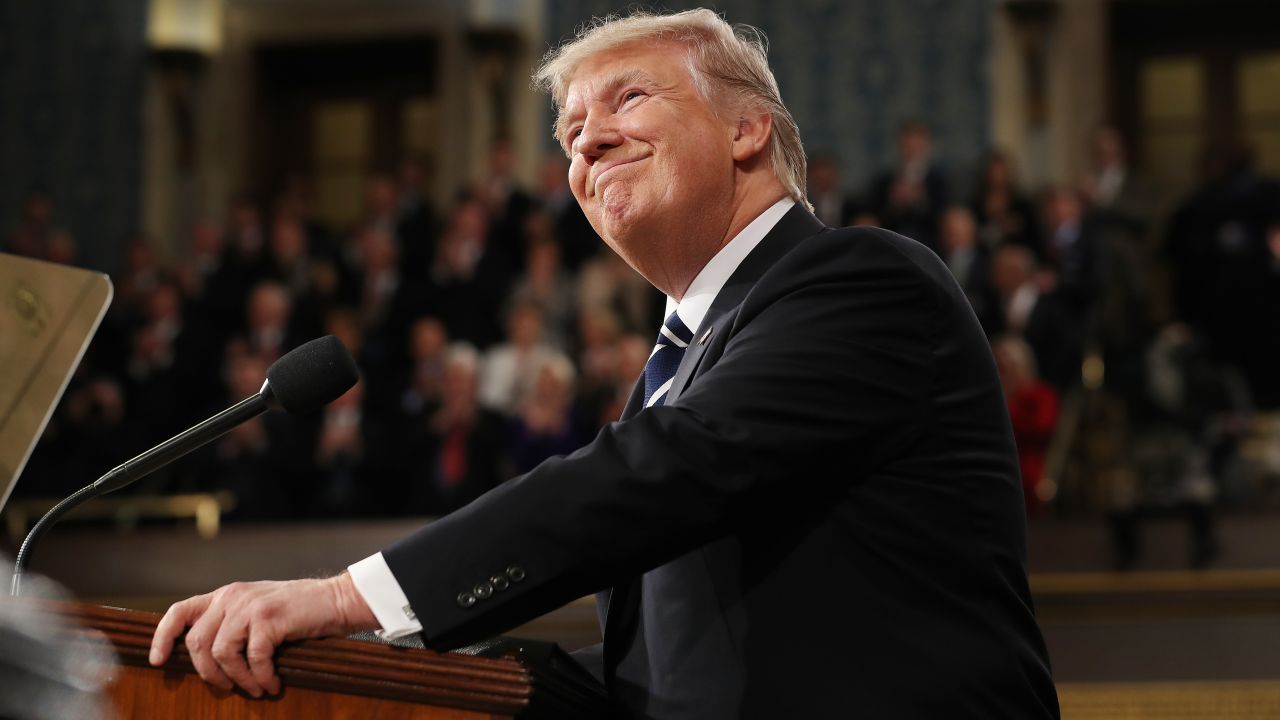 We produce this news digest every weekday. You can sign up to receive these updates as an email newsletter each morning.
---
The president's speech –> Some Washington insiders hailed Trump's speech to Congress last night as the answer to a question they've been asking for months: Will Donald Trump ever "pivot" and become presidential? For some, the answer is yes; it happened last night. "He looked the part," the authors of Politico's "Playbook" tipsheet write. "His suit fit a bit better, his tie looked a bit snazzier and his tone was considerably more measured. He talked like a practiced politician." Washington Post veteran Dan Balz writes, "the President Trump who spoke to a joint session of Congress on Tuesday night bore only passing resemblance to the President Trump who spoke from the Capitol's West Front on Inauguration Day. Some of the words were the same, but the tone was utterly different."
But appearances only go so far, S.V. Date writes for The Huffington Post. The president remained short on solutions: "Trump provided no details on how a promised replacement of the Affordable Care Act would work; how, precisely, tax reform would be structured or paid for; or even the functioning of his 'trillion-dollar' infrastructure plan. And all of that's before Trump has had the chance to return to Twitter, as he is wont to do, where he's not reading off a prepared script and can say what he really feels." At The New Republic, Brian Beutler observes, "Trump could have offered his congressional foot soldiers moral support and guidance. Instead he gave an address crafted almost entirely with his own immediate political fortunes in mind."
The Washington Post has this fact check of the speech. And Bernie Sanders delivered his own unofficial rebuttal, which can be watched in full at Mother Jones.
Trump opened his speech by condemning hate crimes across America, a statement that many have demanded for days now. In addition to the shooting of two Indian immigrants in Kansas and a growing wave of anti-Semitism, including bomb threats directed at Jewish centers and vandalism at Jewish cemeteries, four mosques have been burned in the last several weeks. "We haven't seen anything like this in the past," Mark Potok of the Southern Poverty Law Center, the nonprofit that tracks hate groups around the country, told Buzzfeed. "This is my 18th year here and I haven't seen anything remotely like this."
Wait, what? –> Hours before his speech, in a conversation with television anchors, Trump said he was open to a bill to grant citizenship to immigrants who haven't committed crimes if Congress could manage to pass it (which is very unlikely). The New York Times reports that, "Mr. Trump went so far as to raise the idea of granting citizenship to young undocumented immigrants who had been brought to the United States as children, one person present said. Such a change would go well beyond the temporary work permits President Barack Obama offered them through a 2012 executive order." Yet in his speech, Trump was back to his hardline and even announced the creation of a new agency to report on crimes committed by immigrants.
Blocked –> Rep. Jerrold Nadler (D-NY) has been pushing for a bill that would require the Justice Department to provide Congress with all the information it has on Russian interference in the 2016 election, so Americans can get a clearer picture of exactly what intelligence agencies are talking about. In a party-line vote yesterday, Republicans on the House Judiciary Committee blocked his efforts. "The integrity of our democracy should never be a partisan issue," Karen Flynn, president of the watchdog group Common Cause, said. "But today's vote follows a disturbing trend by many in Congress to stonewall their constituents who are demanding answers."
Data privacy –> Ars Technica reports that a rule scheduled to take effect tomorrow requiring internet service providers and phone companies to take "reasonable" steps to protect customers' information from theft and data breaches is being blocked by Ajit Pai, the new Republican chairman of the Federal Communications Commission. The rule, pushed by Obama's FCC chairman Tom Wheeler, would have protected data "such as Social Security numbers, financial and health information, and Web browsing data."
Not dead yet –> "By some accounts, the fight against the Dakota Access Pipeline now looks unwinnable," Sabrina Imbler writes for Grist. However, there is still a path forward. "The Sioux's best shot at stopping Dakota Access now lies in court. It may be a long shot, but a legal win is still possible, some advocates say." A legal challenge filed last month "asks a federal judge to rule on whether the Army Corps broke laws and treaties by allowing construction of the last leg of the pipeline under Lake Oahe, a reservoir along the Missouri River in North Dakota."
First Trump attack on clean water –> In an executive order yesterday, Donald Trump directed his administration to review the Waters of the US Rule, an Obama order that gave the federal government authority to regulate smaller bodies of water that empty into — and potentially pollute — larger bodies of water. Industry groups hate the rule, but undoing it may be easier said then done, Brad Plumer writes for Vox: "By law, [new EPA chief Scott] Pruitt has to go through the formal federal rulemaking process and replace Obama's regulation with his own version — and then defend it in court as legally superior. And, as Pruitt's about to find out, figuring out which bodies of water deserve protection is a maddeningly complex task that could take years."
"You could touch the air in New York" –> Jim Dwyer reflects on life in America's largest city in the days before environmental regulation, painting a terrifying picture (especially for those of us who live here now).
Morning Reads was compiled by John Light and edited by Michael Winship.
---
We produce this news digest every weekday. You can sign up to receive these updates as an email newsletter each morning.