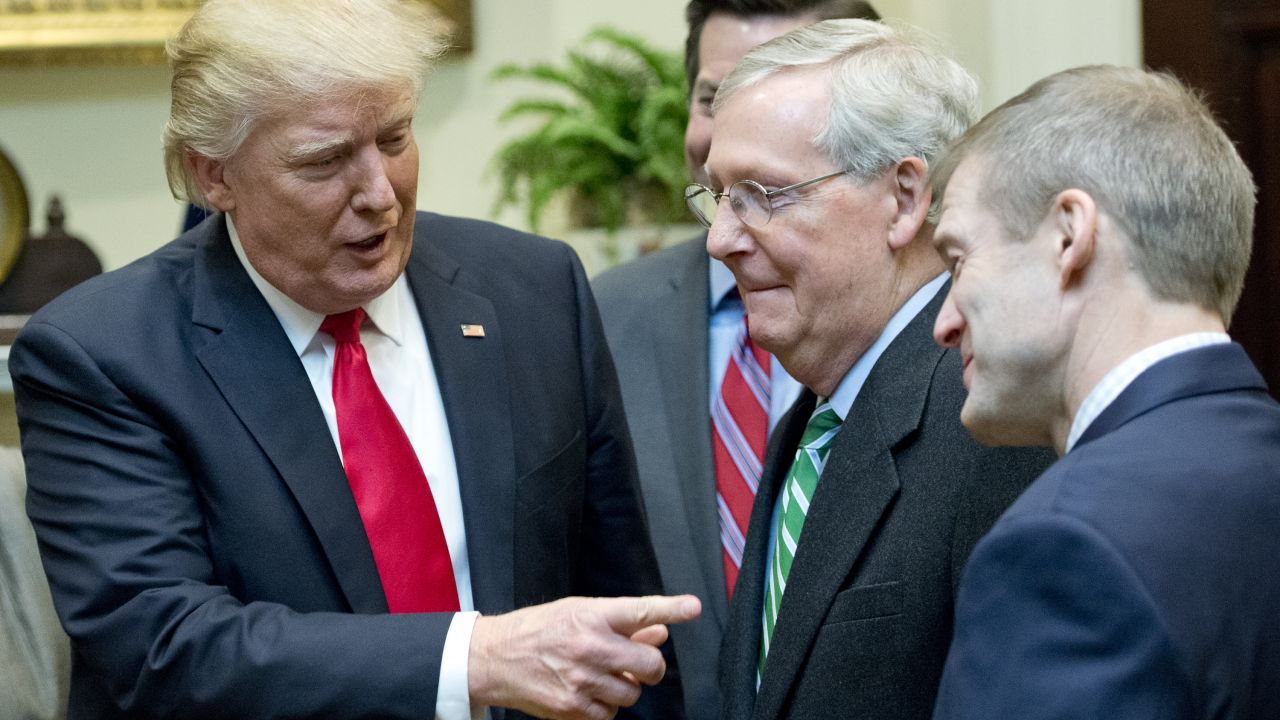 It is from our enemies that we often gain excellent maxims….
— Thomas Paine, Common Sense (1776)
Donald Trump and his compliant Congress don't care that Russia interfered with the 2016 election. Coupled with the events on the Trump/Russia Timeline, their refusal to urge creation of an independent bipartisan commission aimed at finding the whole truth renders them enemies of democracy. If Trump had nothing to hide, he'd welcome the inquiry. Along with Putin's help, the strategy that propelled Trump to the White House yielded an excellent maxim: Brand your opponents.
The truth is that Trump's congressional allies aren't really Republicans. As Trump branded his opponents — "Lyin' Ted Cruz" and "Little Marco" — during his hostile takeover of their party, he transformed it into something entirely different: the Trump Party. The victims remain oblivious to Trump's con, or they don't care. But they're easy to spot, and their days are numbered.

Real Republicans
Real Republicans reject the Trump Party because it is anathema to them:
Real Republicans reject the Trump Party because it is anathema to them.

The Trump Party
On the other hand, members of the Trump Party — led by Senate Majority Leader Mitch McConnell (R-KY) — are on the "cover-up" side of a growing scandal. They defer blindly to McConnell's rejection of an independent bipartisan commission to investigate the Trump/Russia connections. And now McConnell and Trump have put another Trump Party cheerleader in a key position on that issue: Attorney General Jeff Sessions.
Sessions was the first senator to embrace the Trump Party. He had little to lose. When President Reagan nominated him to a federal judgeship in 1986, Real Republicans in the Senate refused to confirm him. As a senator, he became a sufficient problem for his party that he dropped his bid to become chairman of the Budget Committee. But in 2016, Sessions' long-shot bet on Trump paid off for the both of them. Now he's FBI Director James Comey's boss, and he refuses to recuse himself from the Bureau's Trump/Russia investigation.
In the House, a leading card-carrying Trump Party member is Rep. Jason Chaffetz (R-UT). After the infamous Access Hollywood tape surfaced in early October, Chaffetz disavowed Trump, telling Salt Lake City's Fox News affiliate, "My wife and I, we have a 15-year-old daughter, and if I can't look her in the eye and tell her these things, I can't endorse this person." Three weeks later, he looked the other way, boarded the Trump train and promised years of investigations into Hillary Clinton if she won.
When Trump fired national security adviser Mike Flynn over the controversy surrounding Russia connections, Chaffetz said his House Committee on Oversight and Government Reform didn't plan to investigate the affair. "I think that situation has taken care of itself," he remarked glibly.
But Chaffetz definitely wants the inspector general to investigate the government leaks that ended Trump's effort to sweep Flynn's Russia connections under a big Trump Party rug.  So does former Trump transition team member, Rep. Devin Nunes (R-CA). His outrage is not over Flynn's lies to cover up Trump/Russia links. Rather, he's upset that someone recorded Flynn's calls and revealed the truth.

Turning the Tide in 2018
At all levels of government, Trump's historic unpopularity creates unprecedented opportunity to unseat the Trump Party.
At all levels of government, Trump's historic unpopularity creates unprecedented opportunity to unseat the Trump Party. Since 1946, the average midterm loss for a president's party in the House of Representative is 26 seats. Unpopular presidents have produced dramatically worse outcomes for their party. A loss of 24 Republican seats would give Democrats control of the House. (There's recent precedent: In 1994, Democrats lost 54 seats; in 2006, they gained 31 seats; in 2010, they lost 63 seats.)
With growing awareness that the Trump Party is no longer comprised of Real Republicans, even supposedly "safe" seats — including Jason Chaffetz's — could become shakier. The combined anti-Trump presidential vote in Chaffetz's district exceeded Trump's. His Utah win overall was the worst Republican presidential showing in the state since 1992.
During a packed town hall meeting on Feb. 9 chants of "Do your job" greeted Chaffetz, and shouts of "Your last term!" ushered him out the door early. Trump dismisses "so-called angry crowds" as "planned out by liberal activists." With Trump's latest approval rating at 38 percent, fellow Trump Party members heed him at their peril.
Jason Chaffetz may be eyeing the seat of Sen. Orrin Hatch, who has talked about retiring in 2018. That could create an opportunity for a Real Republican, such as Evan McMullin, to fill it. Seven other Republicans face re-election next year: Dean Heller of Nevada, Jeff Flake of Arizona, Ted Cruz of Texas, Deb Fischer of Nebraska, John Barrasso of Wyoming, Roger Wicker of Mississippi and Bob Corker of Tennessee. At least two — Sens. Heller and Flake — are likely to face formidable Democratic challengers.
We, the people, can unseat enough Trump Party incumbents to make a difference. Here are the three steps:
1. Force every elected GOP federal and state office holder to answer this question: Are you a Real Republican or a member of the Trump Party? Those who don't urge the creation of an independent bipartisan commission to investigate Russia's election interference are by definition members of the Trump Party.
2. Recruit strong Democratic challengers for federal, state and local elections everywhere.
3. Recognize that in some areas of the country, even an ideal Democratic candidate has no chance of winning. In many places, primary elections are often the whole ballgame. Republican gerrymandering after the 2010 census worsened that problem in the House. In those places, Real Republicans must now field candidates willing to challenge Trump Party incumbents dressed in GOP clothing. Then Democrats and Independents can help them win their primaries. Many states, including Alabama, Arkansas, Georgia, Missouri, Montana, North Dakota and South Carolina, allow Democrats and Independents to cross over in primary elections. State and party rules vary, but most permit some form of crossover voting.
Primary elections are imminent, so time is of the essence. If a Real Republican — someone who is willing to stand up for core American values and stick to them — defeats a Trump Party incumbent in the primary, democracy wins. If that candidate goes on to prevail in the general election, the outcome will disappoint many Democrats and independents who will have to settle for what economists call the theory of the second best. But it's far superior to third best — the loss of democracy itself.
Democrats, independents and Real Republicans must get to work now. The effort to unseat the enemies of democracy begins by stripping away their false Republican façades. It's not name-calling; it's who they are.
This is part of a series by Steven Harper. Read the other posts in the series: Trump Resistance Plan.