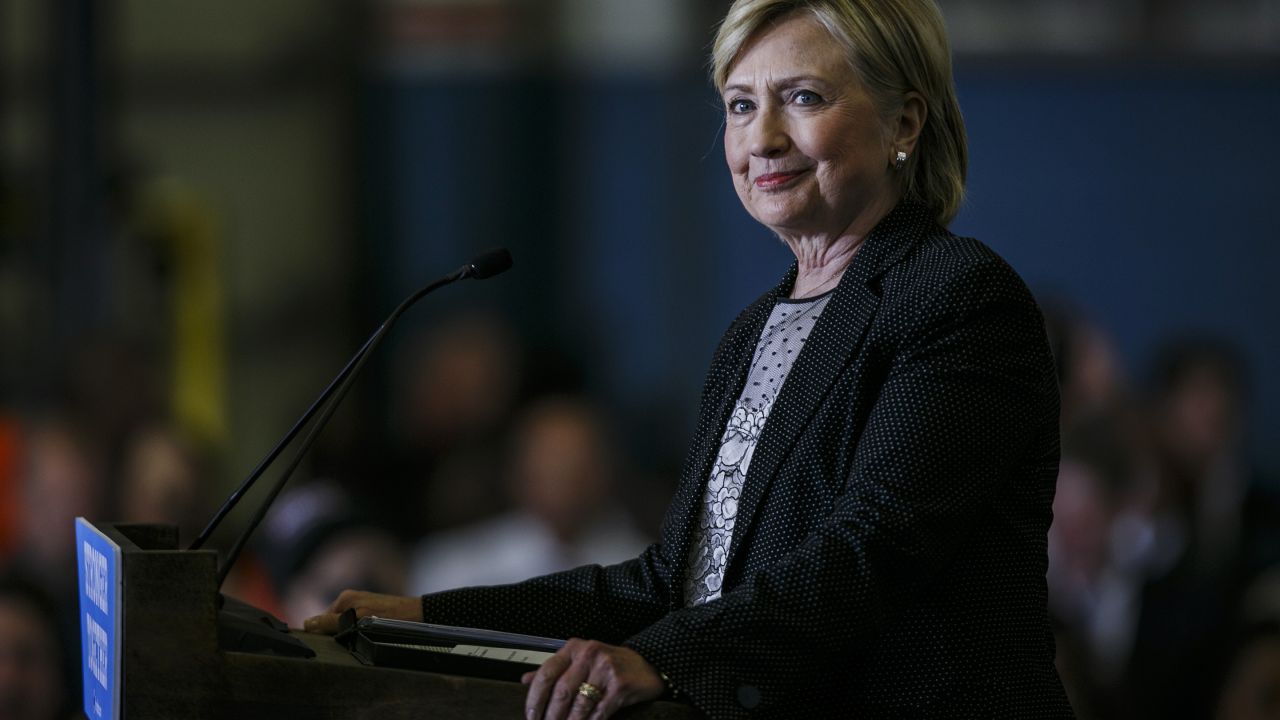 Community banking –> Both Democrats and Republicans are offering plans to boost community banking, Politico's Victoria Guida writes. Hillary Clinton unveiled hers late last week — and suggested that the Republican proposal is actually a "Trojan horse," aimed at rolling back regulations for all banks, including the big ones responsible for the 2008 financial meltdown.
Clinton's plan has won the endorsement of Senator Elizabeth Warren, one of Wall Street's most prominent, progressive critics of Wall Street. But other progressives are skeptical: The Roosevelt Institute's Mike Konczal writes that "the proposal is also representative of an unfortunate tendency among politicians to overstate the difficulties community banks face. While most attention on Dodd-Frank has focused on the efforts of big banks to water down the financial regulations, community banks have received an astonishing amount of carve-outs and benefits. They've done this facing no opposition—conservatives want to use them to argue Dodd-Frank goes too far, liberals falsely hope they can be a countervailing pressure on Wall Street, and politicians want their support. But in addition to leading to increasingly bad policies, it can undermine the overall effort of reform."
Restoring Appalachia –> At The New York Times, Coral Davenport looks at Hillary Clinton's plan to spend $30 billion repairing the Appalachian economy, which has been decimated by the phase-out of coal consumption to fight air pollution and climate change. "The effort would entail basic infrastructure work, such as road and sewage connections, along with new broadband, internet and cellphone technology; tax incentives for companies to locate in the region; and projects like turning old coal mines into industrial parks," Davenport writes. But she finds many residents skeptical of the Clinton plan, remembering similar federal payouts after the decline of the tobacco industry that failed to create a lasting impact.
Representing our warming planet –> The Washington Post's "Capital Weather Gang" have some charts showing that DC, always a swamp of summer heat and humidity, just keeps getting hotter and hotter. Meanwhile, at Vox, David Roberts has a graphic new way to show the global rise of temperatures.
AP and the Clinton Foundation's influence –> Last week, we pointed to the Associated Press story looking at the number of private citizens Hillary Clinton met with while secretary of state who also had donated to the Clinton family foundation. That story caused quite a stir and many, including Vox's Matthew Yglesias and Washington Monthly's Nancy LeTourneau, argue that the reporters cherrypicked data to paint a picture of special access that was misleading.
On the other hand, Huffington Post reporters Ryan Grim and Daniel Marans believe the story wasn't comprehensive enough and didn't take into account all the ways influence is exerted. They've reworked the story, incorporating more information.
Their rewrite begins: "Combined, the 101 donors contributed as much as $326 million. At least 40 donated more than $100,000 each, and at least 20 gave more than $1 million. Among those granted time with Clinton included an internationally known economist who asked for her help as the Bangladesh government pressured him to resign from a nonprofit bank he ran; a Wall Street executive who sought Clinton's help with a visa problem; and representatives of Gulf state governments working to undermine negotiations with Iran over its nuclear program. Her calendars and emails released as recently as this week describe scores of contacts she and her top aides had with foundation donors."
The next fun app for billionaires with lawsuits –> Jason Koebler at Vice's Motherboard: "Legalist is a Silicon Valley startup that was developed in the Y Combinator incubator offering 'data-backed litigation financing' using algorithms to 'analyze millions of court cases to source, vet, and finance commercial litigation.' It's the latest in a series of companies that allow third parties to 'invest' in the success of a lawsuit, by funding said lawsuit.
"The idea is that, using historical lawsuit data, the outcome of a lawsuit can be predicted before it's even filed. If you can predict which lawsuits will succeed, you can ensure big financial returns for people who invest in litigation. Similarly, to increase the probability of a lawsuit's success, would-be litigants should file their cases in districts with judges who are notoriously favorable to that type of case."
Brazil –>  "Fighting to save her job," AP reports (via ABC News), "suspended Brazilian President Dilma Rousseff told senators on Monday that the allegations against her have no merit and that history would judge the country if she is removed from office…
"After her 30-minute speech, Rousseff was to take questions from senators. The showdown will include accusations that the she hurt Brazil's economy with illegal budget manipulations and defenders arguing that she is being targeted by corrupt lawmakers… Her appearance comes a day or two before the Senate votes on whether to oust her from the presidency."
World-changing story –> BBC Magazine reflects on the impact of John Hersey's Hiroshima, first published as an entire issue of The New Yorker 70 years ago this month. The story revealed new and horrible information about the human impact of the first use of nuclear weapons in war: "Seventy years ago no-one talked about stories 'going viral,' but the publication of John Hersey's article Hiroshima in The New Yorker achieved just that. It was talked of, commented on, read and listened to by many millions all over the world as they began to understand what really happened not just to the city but to the people of Hiroshima on 6 August 1945 and in the following days…
"It was a radical piece of journalism that gave a vital voice to those who only a year before had been mortal enemies."
Morning Reads was compiled by John Light and edited by Michael Winship. See a story that you think should be included in Morning Reads? Tell us in the comments!
---
We produce this news digest every weekday. You can sign up to receive these updates as an email newsletter each morning.