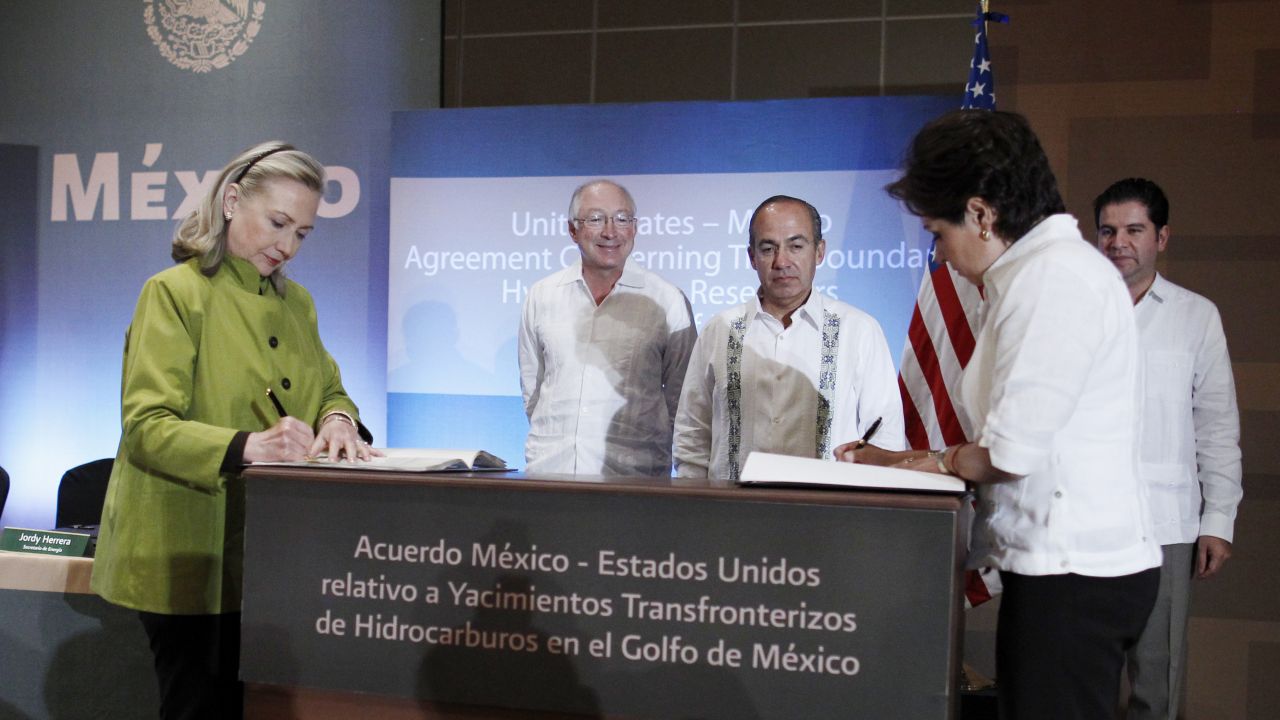 On top of winning over a clear majority of women and people of color, Hillary Clinton gets plenty of love from environmentalists, having gleaned endorsements from the NRDC Action Fund, the Sierra Club, and the political arm of the League of Conservation Voters. But many green activists backed Bernie Sanders during the Democratic primaries and they remain skeptical of the presidential hopeful's commitment to slashing carbon pollution fast enough to avert climate chaos.
On one hand, climate-minded leaders take pride in having pushed Clinton to take bolder stands on their issues. On the other, her choice of Ken Salazar to lead her transition team gets their banners in a bunch. Salazar, who on Thursday led Clinton's transition team to the White House for an initial briefing (along with representatives of Donald Trump's campaign), strongly backed renewable energy while representing Colorado in the Senate and serving as President Barack Obama's first secretary of the Interior. But he didn't exactly distinguish himself as Enemy No. 1 of the oil, gas and coal industries.
"For climate activists, the test is keeping fossil fuels in the ground," said Jason Kowalski, the US policy director of 350 Action, the political arm of the 350.org climate action group. One reason Kowalski thinks Salazar fails that test is that "in an era when climate science was telling us to stop this sort of thing, he pushed to expand fossil fuel extraction," including a controversial coal leasing program that has since been halted by President Obama and auctions for offshore oil-drilling leases held after BP's Gulf Coast oil disaster.
Salazar, who since leaving government has worked for the lobbying company WilmerHale (a list of the firm's 2016 clients, downloaded from the Senate Office of Public Records, is here), has given climate purists plenty of cause for concern. Consider:
At this point I wouldn't hyperventilate over Ken Salazar.
— Cari Rudd, consultant to environmental groups
A record like that rattles David Turnbull, the campaigns director for Oil Change International, a nonprofit organization that exposes the true costs of fossil fuels. "Personnel is policy," he said. "Who someone chooses to staff their team is indicative of their broader positions. That said, it remains to be seen who a Clinton administration would select" for key posts, such as its energy secretary.
Not everyone is outraged. "The guy's a figurehead," says Cari Rudd, a consultant to environmental groups. "He's also a high-profile Hispanic and known to be a relatively straight shooter. Choosing him was more about having stable leadership. At this point I wouldn't hyperventilate over Ken Salazar. But sure hold Clinton's feet to the fire and make her know that you're going to have people loud and proud and asking her to oppose fracking."
Salazar has also taken many stands that climate activists would appreciate — like ending subsidies for fossil fuels. As a lawmaker and Cabinet member, his support for renewable energy earned plaudits from the Solar Energy Industries Association, a trade association and lobbying group known as SEIA.
Salazar was "a champion of renewable energy" in the Senate, said Christopher Mansour, SEIA's vice president of federal affairs. "He did a great job as secretary of the interior to open up federal lands for renewable energy development and solar in particular."
Also worth noting: As a senator, Salazar got relatively little money from the oil and gas industry, considering its weight in the state's economy. In fact, his biggest single donor was the lefty group MoveOn.org, a sign of how much of a hero Salazar was to liberals back in 2004 when, running as a centrist Democrat, he snatched away a Colorado Senate seat from Republicans.
And his pro-fossil stands and comments came at a time when Democrats and Republicans were making serious efforts to strike a deal that could have produced long-term changes in the nation's energy mix. That effort evaporated in the Hill's toxic atmosphere.
The Democratic nominee now sounds ready to green the grid, despite her own decidedly all-of-the-above energy record.
She espouses a newfound opposition to both fracking and the foiled Keystone XL pipeline even though as secretary of state, she promoted them. However, the Democratic Party platform does call for stricter fracking regulations and reducing US greenhouse gas emissions by more than 80 percent from 2005 levels by 2050. The contrast between it and the Republican platform is extreme. The GOP's version labels coal a "clean" energy source, promises to discard the Clean Power Plan, and expresses an intent to renege on US commitments under the climate accord reached in Paris last year.
Despite the overall strength of the Democrats' platform, Clinton "needs to do more to win our trust," Kowalski said. "If she wants to turn out the climate base in the election she has to prove to us that she's serious about keeping fossil fuels in the ground."
The Obama administration's insistence on selling new leases for offshore oil and gas drilling in the Gulf of Mexico this week didn't help quell this trepidation. The auction went ahead on Aug. 24 despite weak demand that undercut the proceeds. Protests also inspired the government to move the auction online to avoid disruption. The sale took place the day after Obama personally met with people who survived Louisiana's biblical-scale flooding of the sort you can count on becoming more frequent due to climate change, making the optics even worse.
Furthermore, the residents of Shishmaref, an Alaskan village imperiled by a changing climate, had just voted in favor of collectively uprooting themselves. Like the people from Louisiana's Isle de Jean Charles, a waterlogged community film buffs may know as the location of "the Bathtub" in the movie Beasts of the Southern Wild, they are among the first US climate refugees.
"I understand their feelings and misgivings," Al Gore told ThinkProgress of climate activists' reluctance to support Clinton. In that interview, the former vice president and presidential nominee — who is now a fossil-free investor and climate campaigner — urged environmentalists to consider the contrast between her candidacy and Donald Trump's insistence on giving US oil, gas, and coal production a big boost. "I am voting for Hillary Clinton. I urge everyone else to do the same."