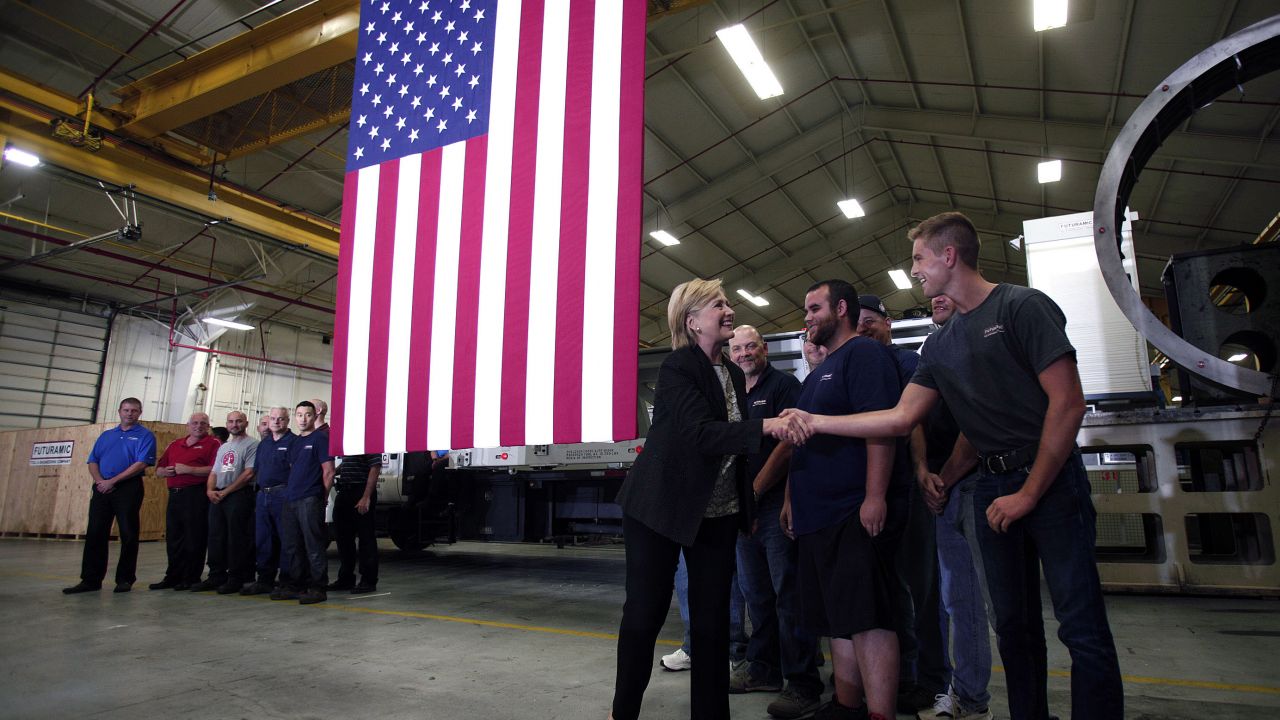 Clinton's economic speech –> The Democratic candidate outlined her vision for America's economy in a speech yesterday in a Detroit suburb. She reiterated her opposition to the Trans-Pacific Partnership, called for expanding public broadband and suggested an infrastructure bank to fund projects. "We will work with both parties to pass the biggest investment in new, good-paying jobs since World War II," she said. "We will put Americans to work building and modernizing our roads, our bridges, our tunnels, our railways, our ports, our airports."
She also used the opportunity to attack the Trump campaign for claiming to champion working Americans while advancing some of the boilerplate Republican policies that help the wealthy at the expense of everyone else. "Donald Trump wants America to work for him and his friends, at the expense of everyone else," she said. "He's offered no credible plans to address what working families are up against today."
But while both candidates talk a lot about the middle class, the very poor go largely unmentioned. "We don't have a full-voiced condemnation of the level or extent of poverty in America today," Matthew Desmond, a Harvard professor of sociology, told The New York Times' Binyamin Appelbaum. "We aren't having in our presidential debate right now a serious conversation about the fact that we are the richest democracy in the world, with the most poverty. It should be at the very top of the agenda."
That includes an enormous racial wealth gap, writes Joshua Holland in a piece for The Nation, also reprinted at our site: "If current economic trends continue, the average black household will need 228 years to accumulate as much wealth as their white counterparts hold today. For the average Latino family, it will take 84 years. Absent significant policy interventions or a seismic change in the American economy, people of color will never close the gap."
Intra-GOP war escalates –> "More than 70 Republicans have signed an open letter to Republican National Committee Chairman Reince Priebus urging him to stop spending money to help Donald Trump win in November and shift those contributions to Senate and House races," Anna Palmer reports for Politico. The Republican operative who helped organize the initiative, Andrew Weinstein — a veteran of Bob Dole's campaign who also worked for Newt Gingrich — told Palmer the letter is from "people who want the party to protect its majorities in the Senate and the House. It's not an endorsement of anybody."
Many of the party's biggest donors, in keeping with Weinstein's advice, continue to look further down the ballot for somewhere to dump their cash. Matea Gold and Anu Narayanswamy report that "the country's wealthiest Republican donors are targeting Senate and House races around the country, hoping a financial firewall will protect the party's congressional majorities on Nov. 8. Their investments — fuel for a record haul by super PACs this year — reflect a fear prevalent throughout the party: that Trump's contentious candidacy threatens to trigger an electoral rout up and down the ballot." So far, among other things, that's meant $32 million worth of super PAC ads in Ohio, a pivotal swing state and the battleground for a tight race between Sen. Rob Portman and former Democratic Gov. Ted Strickland.
Overhaul in Baltimore –> Following the Justice Department analysis of the city's policing records released earlier this week, which found widespread discrimination, law enforcement and political leaders in Baltimore promised to rework the city police department. "Officials promised improved community relations, a purge of race-based policing and a modernized department that better trains officers and holds them accountable," Lynh Bui and Peter Hermann write for The Washington Post. "But they warned that reforming an agency entrenched in a culture of unconstitutional policing would be a slow process and could cost millions of dollars."
The fight to vote –> The fight around voter ID in Texas is over, at least for this year, writes Christian Farias at The Huffington Post. A judge has outlined the policies that the state will have to follow to allow people to vote, including accepting, in addition to photo ID, "a voter registration certificate, a certified birth certificate, a current utility bill, a bank statement, a government check, a paycheck or any other government document" with the voter's name and address.
Meanwhile, in North Carolina, a court invalidated the state legislative district map, saying it was racially gerrymandered. This is amid a slew of voting challenges in North Carolina, writes Mother Jones' AJ Vicens. The decision comes "less than two weeks after a separate trio of federal judges struck down a host of North Carolina voting restrictions, including voter ID requirements, cuts to early voting, and the banning of same-day voter registration. North Carolina Gov. Pat McCrory, a Republican, said he was going to appeal that ruling, but that hasn't happened yet. A separate case, McCrory v. Harris, is also challenging the state's congressional districts."
Marijuana stays dangerous, according to government –> German Lopez at Vox: "After years of anticipation, the Drug Enforcement Administration (DEA) has decided whether it will remove marijuana from its harshest legal classification: Nope. The decision means marijuana will remain schedule 1, a category that includes other drugs like heroin and LSD, and is ranked higher than schedule 2, where cocaine and meth remain. Many advocates hoped marijuana would be rescheduled to schedule 2, particularly to unlock more research into the drug's medical value."
New old shark –> Nicola Davis writes for The Guardian that a newly discovered Greenland shark is the oldest living vertebrate: "She was born during the reign of James I, was a youngster when René Descartes set out his rules of thought and the great fire of London raged, saw out her adolescent years as George II ascended the throne, reached adulthood around the time that the American revolution kicked off, and lived through two world wars." The shark is 400 years old. The previous vertebrate to hold the record, the bowhead whale, lived to be 211 years old.
Morning Reads was compiled by John Light and edited by Theresa Riley. See a story that you think should be included in Morning Reads? Tell us in the comments!
---
We produce this news digest every weekday. You can sign up to receive these updates as an email newsletter each morning.