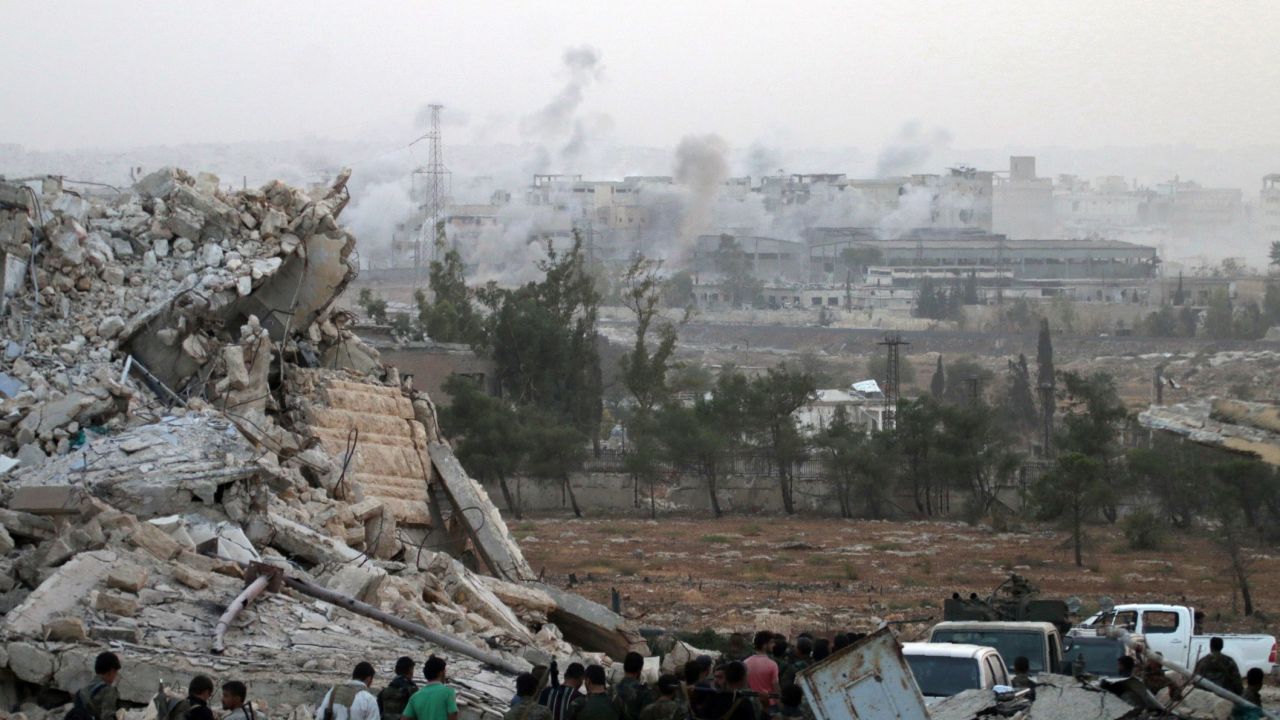 We produce this news digest every weekday. You can sign up to receive these updates as an email newsletter each morning.
---
A final assault on Aleppo –> The Bashar al-Assad regime in Syria is attempting to recapture the city, which has been bombed ferociously by the regime and its allies since a ceasefire crumbled last month. Hundreds — including more than 100 children — have already died in the assault, and the regime attacks have struck hospitals. Gulf States are calling on the UN to intervene and stop the attack, and the US is threatening to stop cooperating with Russia, Assad's most powerful ally, if it does not stop bombing the city. The Russians, meanwhile, are warning the US not to attack the Assad regime directly.
Trump's taxes –> You likely heard over the weekend that The New York Times got its hands on Trump's taxes from 1995. It shows that a maneuver by Trump that year, declaring a $900-million loss, may have let him go without paying income taxes for the next 18 years, while his shareholders would see their share prices decline and his contractors would go unpaid. Curiously, The Times writes: "The three documents arrived by mail at The Times with a postmark indicating they had been sent from New York City. The return address claimed the envelope had been sent from Trump Tower." Here's a first-hand account from the reporter who received them.
Colombia's FARC referendum goes awry –> The BBC: "Voters in Colombia have rejected a landmark peace deal with Farc rebels in a shock referendum result, with 50.2 percent voting against it. The deal was signed last week by President Juan Manuel Santos and Farc leader Timoleon Jimenez after nearly four years of negotiations. But it needed to be ratified by Colombians in order to come into force. Addressing the nation, President Santos said he accepted the result but would continue working to achieve peace."
Consumer protection –> Hillary Clinton will unveil today a plan to help customers go after "bad corporate actors," such as Wells Fargo, which pressured employees to open fraudulent accounts in customers' names. The plan, Reuters reports, would "curb the prevalence of contractual clauses that require consumers, employees and other individuals to resolve legal disputes in private arbitration proceedings instead of in courts, her campaign said. Mandatory arbitration clauses sometimes require that claims be pursued on an individual basis instead of on behalf of a class of similarly situated individuals. Consumer advocates say this makes it prohibitively expensive to take legal action." It would have to pass Congress, however, and with the current Republican majority pushing for less Wall Street oversight, that could prove difficult.
India ratifies Paris deal –> The historic climate accords will go into effect when 55 countries representing 55 percent of global climate change-causing emissions have signed on. The EU is moving toward signing the deal, and, yesterday, India opted in. The EU and India are responsible for the third and fourth largest amounts of climate change-causing emissions, respectively. China and the US, the first and second largest emitters, have already signed on. This means, the Times of India notes, that the deal will be in force by the time diplomats meet in Marrakesh on Nov. 7 in the follow-up to last year's Paris summit, where the deal was initially hammered out.
Voter suppression –> A huge proportion of Ohio voters won't be getting applications for absentee ballots, The Columbus Dispatch reports. The Dispatch's Darrel Rowland writes: "The news release said, 'Ohio Secretary of State Jon Husted today announced his office will begin mailing absentee ballot applications to voters statewide this weekend.' What it didn't say was that more than a million of Ohio's 7.7 million registered voters wouldn't get the mailing, because Husted's office had pared the list beforehand."
Meanwhile, Wisconsin is failing to provide its voters with the IDs the state requires them to have in order to vote, writes The Nation's Ari Berman. But a court is requiring a state investigation. Federal district court Judge James Peterson writes: "Recent news stories in the Milwaukee Journal Sentinel and The Nation have reported that DMV personnel have provided incorrect information to persons who have applied for Wisconsin IDs for voting. These reports, if true, demonstrate that the state is not in compliance with this court's injunction order, which requires the state to '[p]romptly issue a credential valid as a voting ID to any person who enters the IDPP or who has a petition pending.'"
AT&T's CEO gave a forceful defense of Black Lives Matter –> Brian Fung has the speech, given to the company's employees, at The Washington Post.
Morning Reads was compiled by John Light and edited by Theresa Riley. See a story that you think should be included in Morning Reads? Tell us in the comments!
---
We produce this news digest every weekday. You can sign up to receive these updates as an email newsletter each morning.