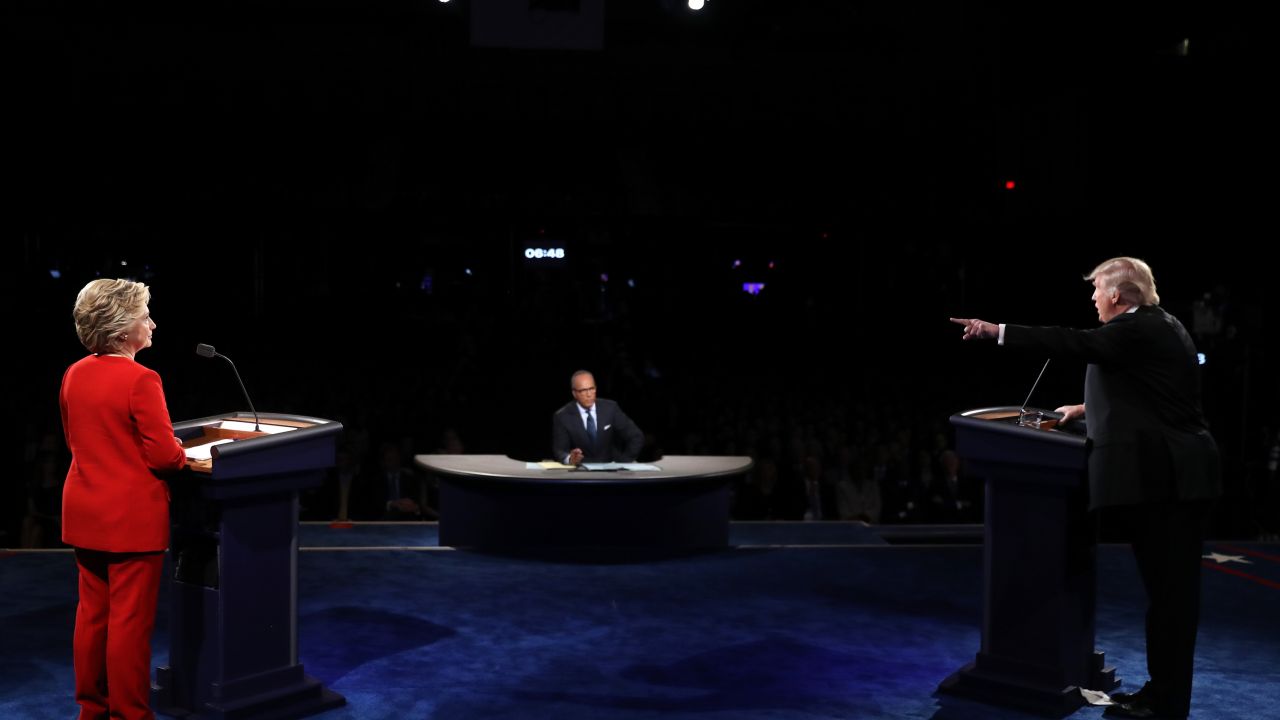 Morning after –> The consensus following last night's debate is that Clinton did well — and Trump did not. "By any normal standard, Hillary Clinton crushed Donald Trump in the first presidential debate," writes Thomas Edsall at The New York Times. What that means for Trump, an unusual candidate in an unusual election year, is anyone's guess, but Democrats are encouraged by their candidate's calm and prepared performance, and conservatives dismayed by Trump's flustered and sometimes incoherent one.
"The first presidential debate featured a man who didn't know what he was talking about repeatedly shouting over a woman who was extraordinarily prepared," Ezra Klein writes at Vox. John Podhoretz, editor of Commentary magazine and conservative columnist at the New York Post writes that, "due to the vanity and laziness that led [Trump] to think he could wing the most important 95 minutes of his life, he lost the thread of his argument, he lost control of his temper and he lost the perspective necessary to correct these mistakes as he went."
Fact checkers were out in force last night. See: The New York Times, The Washington Post, The Guardian, The Associated Press (via Talking Points Memo), the Los Angeles Times, USA Today, the San Francisco Chronicle, the Detroit Free Press, NPR (with full, annotated transcript), CNN, ABC, PolitiFact, FactCheck.org, Politico, Wired.
A green New Deal? –> Clinton, at the beginning of the debate, and unprompted by the moderator, tied together the looming climate crisis and the lack of economic opportunities for many Americans. "Some country is going to be the clean energy superpower of the 21st century. Donald thinks that climate change is a hoax perpetrated by the Chinese. I think it's real." ("I did not — I do not say that," Trump interjected here, though, in fact, he did say just that.) "The science is real," Clinton continued. "And I think it is important that we grip this and deal with it both at home and abroad. And here's what we can do: We can deploy a half a billion more solar panels. We can have enough clean energy to power every home. We can build a new modern electric grid. That's a lot of jobs. That's a lot of new economic activity."
Meanwhile: Donald Trump has picked Myron Ebell, head of the Center for Energy and Environment at the libertarian Competitive Enterprise Institute, to lead his EPA transition team. Ebell is one of America's most prominent climate change deniers, and his think tank is part of the Koch Brothers' funded State Policy Network, according to research by the Center for Media and Democracy, a progressive watchdog group.
Showdown over the Clean Power Plan –> The plan's future will be decided following arguments in court today between the Obama administration and coal interests and their political allies. And the world is watching. "The Clean Power Plan alone would have a small effect on global temperatures, but environmental authorities say it has been crucial to spurring other countries to act. If it falls to legal challenges, diplomats warn, repercussions will be felt around the world," Emily Holden reports for ClimateWire. Should the Clean Power Plan be struck down, it could threaten the future of the Paris agreement.
Syria –> Reporting from Beirut, Josie Ensor of The Telegraph writes, "Syrian government forces have begun a ground assault on besieged rebel-held east Aleppo, as they attempt to retake the whole of the city. Troops attacked from four fronts, in their first offensive inside the city since the opposition took hold in 2012…
"For the past five days, Syrian and Russian warplanes have been bombing east Aleppo with an unprecedented ferocity. More than 350 people have been killed in the bombing campaign since Friday, half of which reported to be women or children."
Bizarre attack in Houston –> Derek Hawkins for The Washington Post: "An attorney who injured nine people in a shooting spree in Houston on Monday was wearing military clothes and Nazi emblems during the attack, and was carrying nearly 2,600 rounds of ammunition inside a Porsche convertible parked at the scene, authorities said."
Department of Labor looks at Wells Fargo –> Sarah Lynch for Reuters: "US Labor Department Secretary Thomas Perez on Monday pledged to conduct a 'top-to-bottom' review of all cases, complaints and other alleged violations that the department has received concerning Wells Fargo in recent years. Perez's announcement, outlined in a Sept. 26 letter to Sen. Elizabeth Warren of Massachusetts, comes after Warren and other Democrats asked the Labor Department last week to launch a probe into possible wage and working-hour law violations involving Wells Fargo tellers and sales representatives who may have stayed late to meet sales quotas."
Trump launches unintentional get out the vote –> During the debate, Google searches for "registrarse para votar" — "register to vote," in Spanish — hit an all-time high.
Morning Reads was compiled by John Light and edited by Michael Winship. See a story that you think should be included in Morning Reads? Tell us in the comments!
---
We produce this news digest every weekday. You can sign up to receive these updates as an email newsletter each morning.