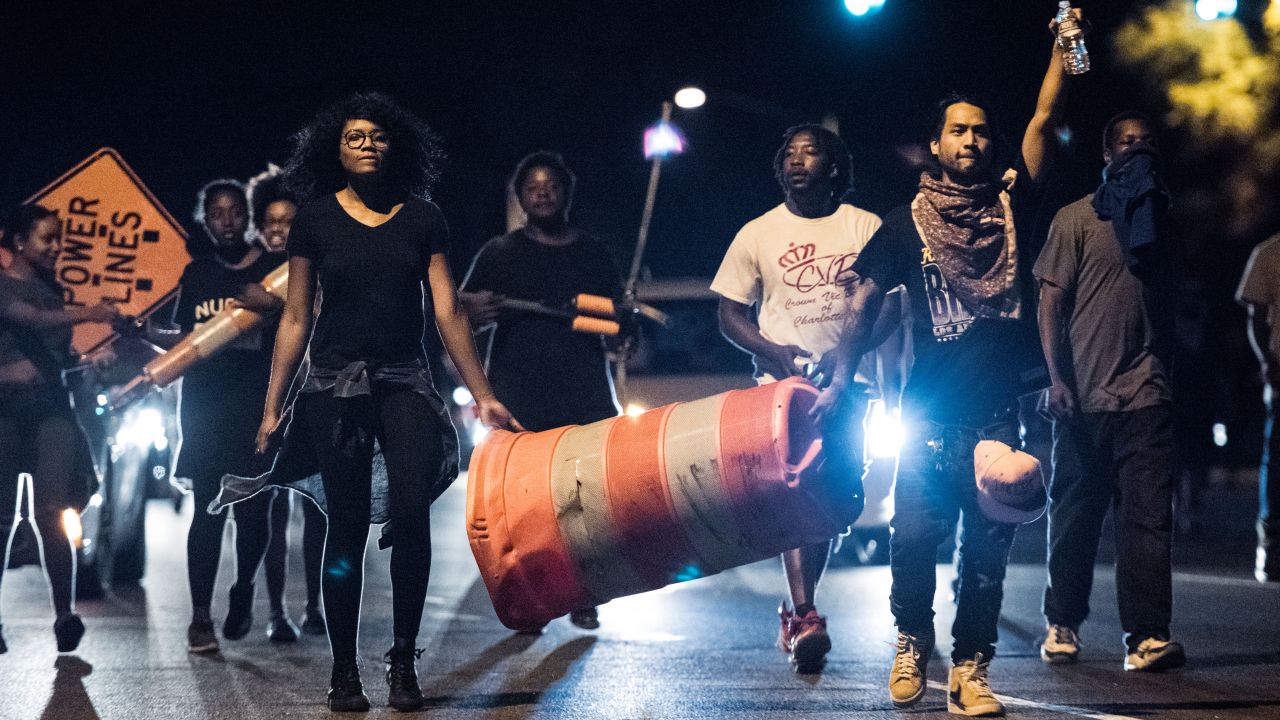 Police shootings trigger more unrest –> "Police in Charlotte, North Carolina, on Tuesday fatally shot a black man they said was armed as they searched for someone else, sparking violent protests," Kim Bellware writes for The Huffington Post. "…Witnesses said the man who was killed, Keith Lamont Scott, was unarmed." The Charlotte Observer reports that 12 police officers and three journalists were injured during the protests.
Scott's daughter says her father was unarmed and was instead holding a book, write the Observer's Joe Marusak, Ely Portillo and Mark Price: "Police said they recovered the firearm Scott was holding. But a woman who said she is Scott's daughter claimed on a live-streamed video on Facebook that Scott was unarmed when he was shot. The video went viral, with more than 521,000 views by 9:30 p.m. In the video, the woman said her father was sitting in his car reading a book and waiting for the school bus to drop off his son. She claimed that her father was Tasered and then shot four times, and that he was disabled."
Meanwhile, the Justice Department has opened an investigation into a separate shooting over the weekend in Tulsa, Oklahoma, The New York Times reports. It appears from police video released Monday night that Terence Crutcher was tasered after his car broke down and then shot by police while he had his hands in the air.
NBC News reported, "Crutcher's twin sister, Tiffany, described him as a brother and father who was enrolled in Tulsa Community College and loved singing at church. And she criticized one of the officers [from a police helicopter] who can be heard telling a second officer aboard that Crutcher looks like 'a big bad dude.'
"'That big bad dude — his life mattered,' she said."
The latest on Trump's charity fund –> After finding that the overwhelming amount of money the Trump Foundation supposedly disbursed to charity never reached recipients, David A. Fahrenthold of The Washington Post has now uncovered possible illegal activity: "Donald Trump spent more than a quarter-million dollars from his charitable foundation to settle lawsuits that involved the billionaire's for-profit businesses, according to interviews and a review of legal documents. Those cases, which together used $258,000 from Trump's charity, were among four newly documented expenditures in which Trump may have violated laws against 'self-dealing' — which prohibit nonprofit leaders from using charity money to benefit themselves or their businesses."
Conflict of interest? –> Matthew Zeitlin notes at Buzzfeed that Trump owes hundreds of millions to Deutsche Bank, the German global financial institution from which US regulators currently are trying to extract a $14 billion fine for its behavior during the financial crisis. "With the real estate guys, how well they do depends on a good relationship with the bank — the bank gives them credit, they'll extend credit, they'll make the terms better, but if the relationship goes sour, the real estate people can get in trouble," Richard Painter, who was chief ethics lawyer for the Bush White House from 2005 to 2007, told BuzzFeed News. "The banks have a lot of control over how much money he could make in his business, it's all about borrowing money."
SEC joins in on Exxon probe –> The Wall Street Journal: "The US Securities and Exchange Commission is investigating how Exxon Mobil Corp. values its assets in a world of increasing climate-change regulations, a probe that could have far-reaching consequences for the oil and gas industry… The SEC's probe is homing in on how Exxon calculates the impact to its business from the world's mounting response to climate change, including what figures the company uses to account for the future costs of complying with regulations to curb greenhouse gases as it evaluates the economic viability of its projects."
Changing the message –> Karl Mathieson for Climate Home, via The Guardian: "Hillary Clinton has dropped the words 'climate change' from most of her public addresses since winning the endorsement of her party rival Bernie Sanders, according to Climate Home analysis. While the presidential candidate talks regularly about her plan for the US to become a 'clean energy superpower,' in recent months she has rarely made reference to the planetary crisis that necessitates it. On Monday, when she launched her pitch to millennials online, she could find no room for an issue that will affect that voting cohort more than any other."
As promised, Warren tears into Wells Fargo –> Sen. Elizabeth Warren called for Wells Fargo CEO John Stumpf to resign, Emily Peck and Zach Carter write for The Huffington Post: "'This just isn't right,' Warren said. 'You squeezed employees to the breaking point' to drive up the stock price and your compensation, she said, referencing the bank's fierce drive to 'cross-sell' or make customers open up multiple accounts. 'You went on television to blame thousands of $12-an-hour' workers. It's gutless leadership,' Warren said." Politico reports that after yesterday's grilling by both Democrats and Republicans, Stumpf may actually lose his job.
Morning Reads was compiled by John Light and edited by Michael Winship. See a story that you think should be included in Morning Reads? Tell us in the comments!
---
We produce this news digest every weekday. You can sign up to receive these updates as an email newsletter each morning.