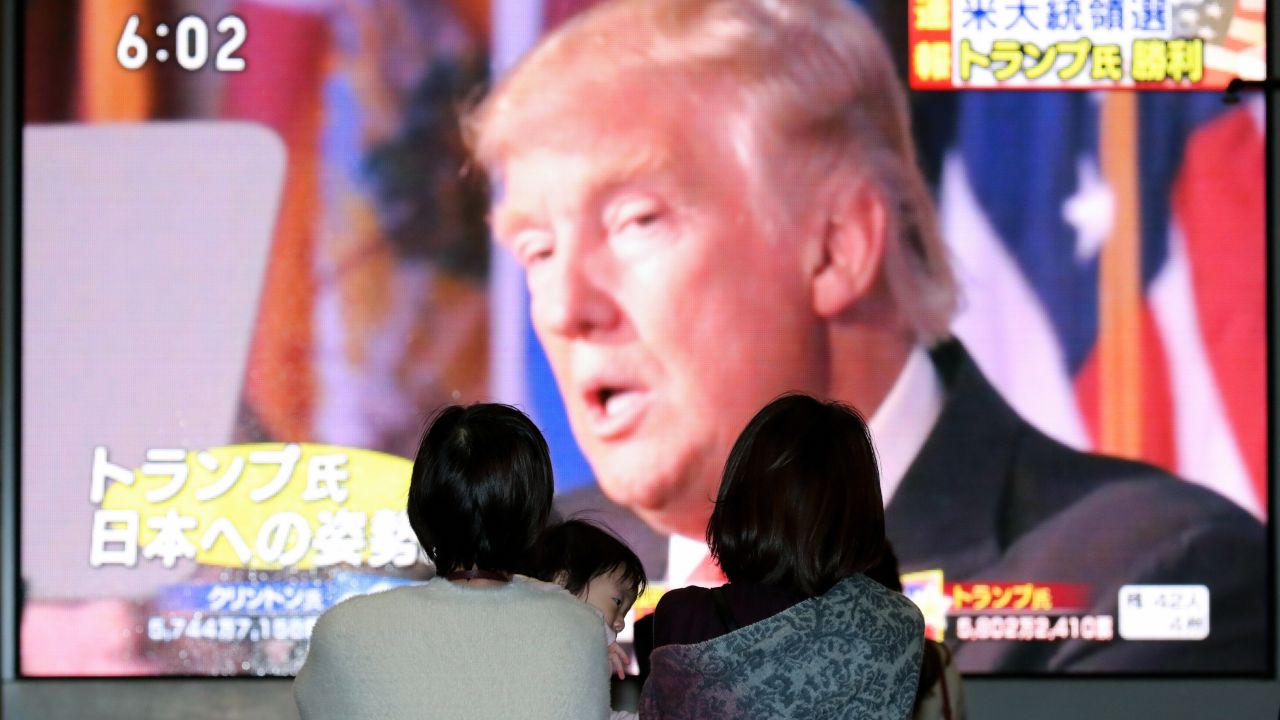 We produce this news digest every weekday. You can sign up to receive these updates as an email newsletter each morning.
---
Historic moment –> We are, like many, still working to fully comprehend last night's election results, which show Donald Trump becoming the 45th president of the United States. Republicans also held onto the Senate and the House of Representatives, potentially giving President Trump a blank check to enact policy and make appointments.
David Remnick, editor of The New Yorker, noted early this morning, "The election of Donald Trump to the presidency is nothing less than a tragedy for the American republic, a tragedy for the Constitution, and a triumph for the forces, at home and abroad, of nativism, authoritarianism, misogyny and racism… On Jan. 20, 2017, we will bid farewell to the first African-American president — a man of integrity, dignity and generous spirit — and witness the inauguration of a con who did little to spurn endorsement by forces of xenophobia and white supremacy. It is impossible to react to this moment with anything less than revulsion and profound anxiety."
"… But despair is no answer. To combat authoritarianism, to call out lies, to struggle honorably and fiercely in the name of American ideals — that is what is left to do. That is all there is to do."
John Nichols at The Nation writes, "Those who oppose Trump now must do so for a common good that has been denied not just by Republicans but by too many elite Democrats. The frustration that Trump capitalized on as an insurgent candidate for the Republican nomination, and then for the presidency itself, is real. Trump's response was too frequently xenophobic, racist and reactionary; but his wrong reaction does not make the economic and social inequality of our times right.
"Those who oppose Trump must embrace the critiques of Vermont Sen. Bernie Sanders and Massachusetts Sen. Elizabeth Warren — who must be accepted as the leaders of Democratic Party that requires a great reflection and an even greater reformation — along with the programs and policies of Congressional Progressive Caucus leaders such as Minnesota Congressman Keith Ellison and Wisconsin Congressman Mark Pocan. They must utilize the inside-outside strategies of the Working Families Party, National People's Action, 350.org and the Dreamers and the Black Lives Matters activists and all the groups that have challenged politics as usual far more sincerely than Trump ever has — and than Trump and his Republican allies ever will."
The polls got it wrong –> Mona Chalabi writes for The Guardian: "The polls were wrong. And because we are obsessed with predicting opinions rather than listening to them, we didn't see it coming. So, the world woke up believing that Republican candidate Donald Trump had a 15 percent chance of winning based on polling predictions – roughly the same chance of rolling a six if you have two dice. Despite those odds, the next US president will be Donald Trump."
There was one poll that got it right, according to Nathan Bomey at USA Today: "The Los Angeles Times/University of Southern California tracking poll consistently pegged Trump as the leader throughout the final months of the campaign — and to much derision from political pundits. Arie Kapteyn, director of the University of Southern California's (USC) Dornsife Center for Economic and Social Research, which jointly runs the poll, said some voters were apparently sheepish about admitting to a human pollster that they were backing Trump. But the L.A. Times/USC poll was based on an internet survey of a recruited group of voters."
Media culpa –> Margaret Sullivan at The Washington Post: "To put it bluntly, the media missed the story. In the end, a huge number of American voters wanted something different. And although these voters shouted and screamed it, most journalists just weren't listening. They didn't get it. They didn't get that the huge, enthusiastic crowds at Donald Trump's rallies would really translate into that many votes. They couldn't believe that the America they knew could embrace someone who mocked a disabled man, bragged about sexually assaulting women, and spouted misogyny, racism and anti-Semitism."
Lobbyists on deck –> Lee Fang, yesterday morning, at The Intercept: "As Donald Trump finishes his campaign with a promise to break the control of Washington by political insiders, his transition team is preparing to hand his administration over to a cozy clique of corporate lobbyists and Republican power brokers. 'Our movement is about replacing a failed and corrupt political establishment with a new government controlled by you the American people,' Trump says in his closing campaign advertisement, followed by flashing images of K Street, Wall Street, and Goldman Sachs Chief Executive Lloyd Blankfein. But the Trump transition team is a who's who of influence peddlers, including: energy adviser Michael Catanzaro, a lobbyist for Koch Industries and the Walt Disney Company; adviser Eric Ueland, a Senate Republican staffer who previously lobbied for Goldman Sachs; and Transition General Counsel William Palatucci, an attorney in New Jersey whose lobbying firm represents Aetna and Verizon."
Taking stock of the damage –> If Trump delivers on his campaign promises, we could be facing the end of Obamacare and a repeal of the Dodd-Frank financial reforms that sought to check the banks following the financial crisis. But the biggest casualty of his presidency could be the planet. The Paris Agreement, an insufficient but important first step hammered out after years of negotiations by the countries responsible for the majority of the world's climate change-causing pollution, will become largely impotent without American participation. But Trump's advisors have a plan to pull us out of it during his first 100 days in office.
Morning Reads was compiled by John Light and edited by Michael Winship. See a story that you think should be included in Morning Reads? Tell us in the comments!
---
We produce this news digest every weekday. You can sign up to receive these updates as an email newsletter each morning.