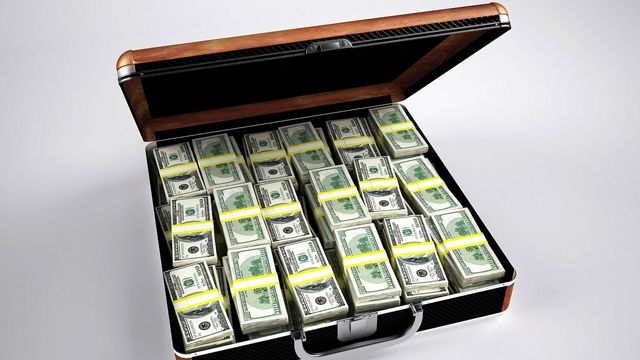 Eight years after Missouri legislators tossed out the state's campaign-donation limits, a well-funded effort is underway to give the state's voters a chance to partially reinstate them this fall.
Within weeks, the Missouri secretary of state's office should announce whether a group called Returning Government To the People submitted enough qualified voter signatures to put a proposal limiting campaign contributions onto the November ballot. It's one of a number of referendum efforts afoot in states and municipalities to give voters — who overwhelmingly oppose the tide of money flowing into political campaigns — a chance to end-around the partisan deadlock that's keeping lawmakers from doing anything about it.
The Show Me State has no limits on campaign contributions and none on gifts from lobbyists.
A battle over campaign finance limits in Missouri would be symbolically significant because the state is unusually wide open when it comes to political money: The Show Me State has no limits on campaign contributions and none on gifts from lobbyists.
Also notable: the rift this fight has opened among conservatives. A handful of GOP state lawmakers are backing the initiative, which is bankrolled by an anti-abortion activist; meanwhile, the state's leading mega-donor, a billionaire benefactor of state Republican politicians and causes, is expected to spearhead the opposition.
The proposal that Returning Government To the People hopes to place on the November ballot would establish a $2,600 limit on individual donations to candidates running for statewide office or the state legislature. Political parties could give no more than $25,000 to a candidate. The proposal would not affect candidates for local or regional offices, nor would it restrict donations to groups advocating for or against ballot issues.
Todd Jones, the lawyer for Returning Government To the People, acknowledges that the ballot measure won't get all big money out of politics. But, he explained, the hope is that measure — if approved by voters — might eventually lead to broader donation restrictions.
The group is focusing on legislators and statewide officials and candidates, Jones said, because "that's where we see the possible corruption happening. Where one individual is able to give $1 million to one candidate."
Ironically, the group's initiative-petition effort has been underwritten by one donor: Fred Sauer, a conservative who heads the anti-abortion group Roundtable for Life. Sauer made an earlier stab to get a ballot proposal to restore donation limits two years ago, but it got snagged in court. His latest effort to get campaign contribution limits on the ballot comes after the state legislature refused to act on campaign contribution limits proposed by state Sen. Rob Schaaf, a Republican who represents St. Joseph, Missouri.
Schaaf is a convert to the cause of campaign finance limits: He was among the majority that narrowly repealed the state's multi-tiered campaign donation limits in 2008. Those limits, increased every two years to reflect inflation, had been in place since 1995 and applied to all state and local candidates. Now Schaaf is working to undo his 8-year-old vote.
"At the time I believed it was the right thing to do, but subsequently I've come to realize that the benefits of campaign contribution limits outweigh the downside." Schaaf told reporters at a news conference last year. "If somebody gives you a big check, the rule is that you dance with the one who 'brung' you," Schaaf added. "You are going to have a certain benevolent feeling toward them."
He proposed a constitutional amendment to impose donation limits for state legislative or statewide races of $500-$1,500 per candidate per election, with the limit depending on the office sought.
Though Schaaf's views are shared by most top Missouri Democrats — including US Sen. Claire McCaskill and Gov. Jay Nixon — and a handful of other former Republican legislators who regret their vote to repeal campaign-donation limits, such as former state Sen. Scott Rupp, his proposal went nowhere.
One possible reason: Many of Missouri's Republican legislative leaders have benefited from the large checks that have become almost routine in state politics.
On June 2, according to records filed with Missouri Ethics Commission, state Senate President Pro Tem Ron Richard, a Republican from Joplin, Missouri, received $100,000 from David Humphreys, the owner of the building-products firm Tamko. Humphreys ranks among the state's largest political donors.
On May 27, Humphreys  gave $250,000 to Lt. Gov. Peter Kinder, a leading GOP candidate for Missouri governor this year. Kinder got another $250,000 five days later from Humphreys' sister, Sarah Atkins. Those two donations almost doubled the size of Kinder's bank account, which had been the smallest among the state's five major candidates for governor from both parties.
Meanwhile, the likely Democratic nominee for governor, Missouri Attorney General Chris Koster, is a former Republican who as a Missouri state senator voted in favor of repealing donation limits. Koster argues that the biggest deterrent to the influence of money on politics is transparency, noting that Missouri law requires that any donation over $5,000 be reported publicly within 48 hours to the state Ethics Commission.
But in a recent interview, Koster acknowledged concerns over the way donations have skyrocketed. Some in Missouri have topped the seven-figure level. Koster has benefited from a few large donations himself. Just this week, the Sheet Metal Workers union wrote his campaign committee a check for $125,000. A few years ago — shortly after switching parties — he was a favorite of Rex Sinquefield, Missouri's most prolific campaign donor.
Sinquefield, a semi-retired financier who gave $250,000 to Koster during his 2012 reelection campaign, has built a national reputation on the strength of the financial clout he's been able to wield thanks to his state's open door for big political check-writers. Since 2008, Sinquefield has given more than $45 million to Missouri candidates and causes. His financial clout has become so significant that it has earned him the nickname Tyrannosaurus Rex."
In this year's gubernatorial contest, Sinquefield backs former Missouri House Speaker Catherine Hanaway. He has given almost $900,000 directly to her campaign committee, with another $240,000 coming from the Missouri Club for Growth — a campaign committee that has gotten virtually all of its money from Sinquefield.
He wrote a $1 million check to Bev Randles, a GOP candidate for lieutenant governor, and also has doled out generous contributions to a handful of other statewide candidates – generally Republicans.
Sinquefield's pet cause: eliminating taxes. This spring, he single-handedly financed a campaign to get rid of the city of St. Louis' earnings tax, which has been in place for 60 years.  He failed.  But in 2010, Sinquefield did successfully bankroll a statewide ballot measure that requires the cities of St. Louis and Kansas City to hold votes every five years on their earnings taxes — and bars any other Missouri municipalities from adopting such income taxes.
Sinquefield also has spent millions on efforts, so far unsuccessful, to do away with Missouri's income tax or require a statewide vote. He wants to replace the state's income tax with a higher sales tax.
Wake Up St. Louis County! Rex Sinquefield Wants You To Pay For His Empire
— headline on Fred Sauer broadside against fellow Republican
While Sinquefield's donations directed at ballot issues would not be affected by the current initiative-petition proposal to impose donation limits, he has made clear he opposes limits on any political donations. In 2013, he helped pay for a lawsuit that successfully derailed Sauer's last attempt to get a campaign-donation limit proposal on the ballot.
Jones, the lawyer for the Sauer-financed group behind the latest donation-limit initiative, acknowledges that a legal fight may come up this year in an attempt to keep the initiative off the ballot. Supporters and opponents of the measure also expect a lawsuit.
If the initiative does make the November ballot, Sinquefield is widely expected to aid in the likely ad campaign to defeat it.
Sauer has become a harsh critic of Sinquefield, writing and distributing an article entitled, "Wake Up St. Louis County! Rex Sinquefield Wants You To Pay For His Empire."