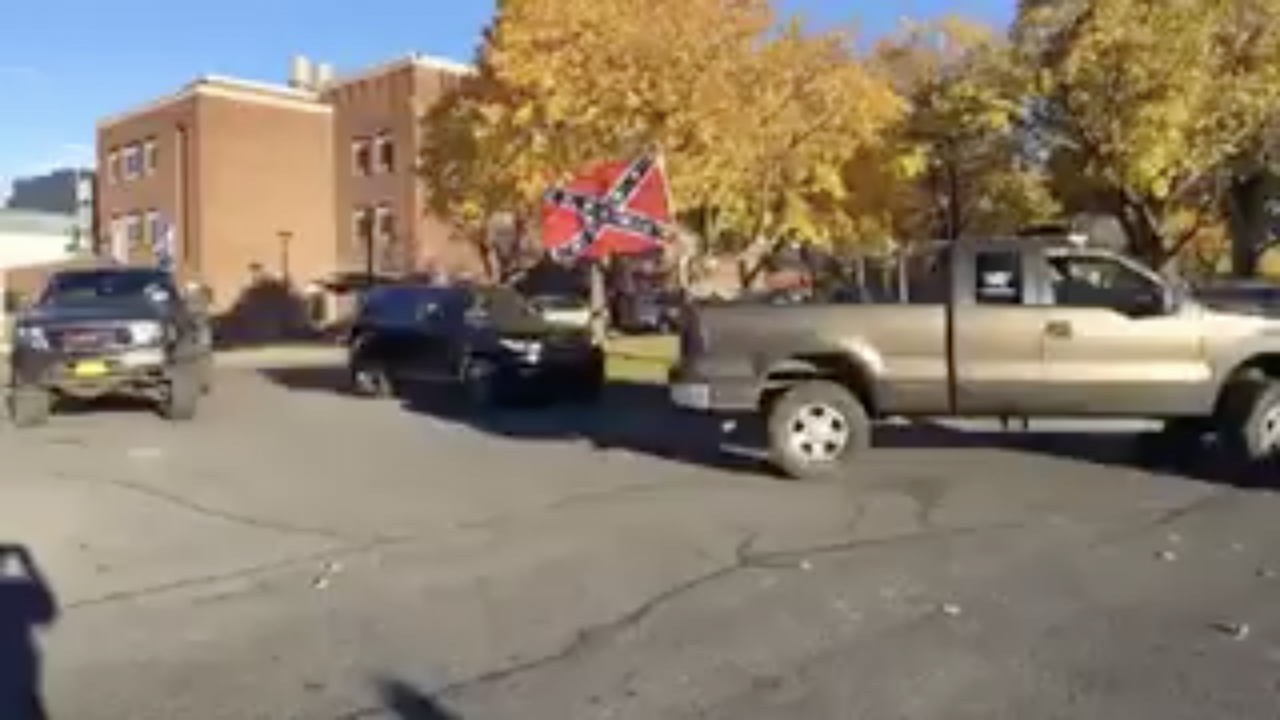 This post originally appeared at The Nation.
Donald Trump's hate-filled rhetoric has been encouraging violence against people of color since the beginning of his campaign. In March, for example, Wichita State University student Khondoker Usama and his friend were assaulted at a gas station. After, the perpetrator sped off in his motorcycle chanting, "Trump! Trump! Trump!" Similar accounts cropped up over the course of his campaign, but Tuesday's election has brought on an even greater magnitude of violent acts: burnings, threatening graffiti, assaults, intimidation. The surge prompted Nevada Sen. Harry Reid to write in a statement, "Watching white nationalists celebrate while innocent Americans cry tears of fear does not feel like America.… If Trump wants to roll back the tide of hate he unleashed, he has a tremendous amount of work to do and he must begin immediately."
Instead, yesterday Donald Trump addressed those protesting his election on Twitter: "Very unfair!"  When will he say the same for the hate crimes committed in his name?
Many of these acts have been disseminated through social media: Shaun King has been keeping a near-hourly tab on the crimes; several compilations have been made under the heading "Day 1 in Trump's America." Below are only a few.
Welcome to the Trump era. Students wrote hate speech in bathrooms of Maple Grove high school in Minnesota. Not even children are safe. pic.twitter.com/weXILatKOS

— CallMeWin (@WintanaMN) Nov. 10, 2016
#TrumpsAmerica "Trump Black Bitch" pic.twitter.com/gszSwlxx2A

— Anthony (@Anthony19145) Nov. 9, 2016
White supremacist flyers found near St. Paul, Minn. campuses pic.twitter.com/kMEfIQuPbV

— Hatewatch (@Hatewatch) Nov. 10, 2016
Someone spray painted "Black lives don't matter and neither does your votes" on a wall in Durham overnight. pic.twitter.com/Idfm5T8RFg

— Derrick Lewis (@DerrickQLewis) Nov. 9, 2016
I walked into my room and my heart aches with pain. pic.twitter.com/GFD5gBmPmD

— María Sanchez (@TRmariasanchez) Nov. 10, 2016
A hateful note saying "Bye Bye Latinos Hasta La Vista" was found in Kivette Hall Room 100 this morning at @elonuniversity. pic.twitter.com/xL2SCMdBhR

— Bryan Anderson (@BryanRAnderson) Nov. 10, 2016
#Cookeville #transgender veteran's truck painted 'Trump,' lit on fire https://t.co/zhrbHDygbx

— TAVA (@Transveteran) Nov. 10, 2016
PRO-Trump chalk was littered in front of the EGD library last night. pic.twitter.com/fAmThGzr5Y

— The Vermilion (@TheVermilion) Nov. 9, 2016
As I'm stopped at a gas station this morning, a group of guys yell over: "Time to get out of this country, Apu!"

Day 1.

— M ? (@ManikRathee) Nov. 9, 2016
School leaders investigating after racist signs found at a #Jacksonville high school. @DanielleANjax has details next on FOX30 at 10. pic.twitter.com/YkfqbWhNHL

— ActionNewsJax (@ActionNewsJax) Nov. 11, 2016
this happened at @lemoyne today, three blocks from my house, while students were protesting pic.twitter.com/bgEFW1jC4y

— daniel sieradski (@selfagency) Nov. 11, 2016
ICYMI | A woman put up a sign in East Haddam meant to promote unity. Then vandals painted over it with "Trump 2016" https://t.co/zXxJrDBPzw pic.twitter.com/niZki987PP

— NBC Connecticut (@NBCConnecticut) Nov. 11, 2016
I know of at least 50 instances of this happening in the past 48 hours. pic.twitter.com/FFG9HU36HU

— Shaun King (@ShaunKing) Nov. 10, 2016
What can you do if you see or are a victim of a hate crime?