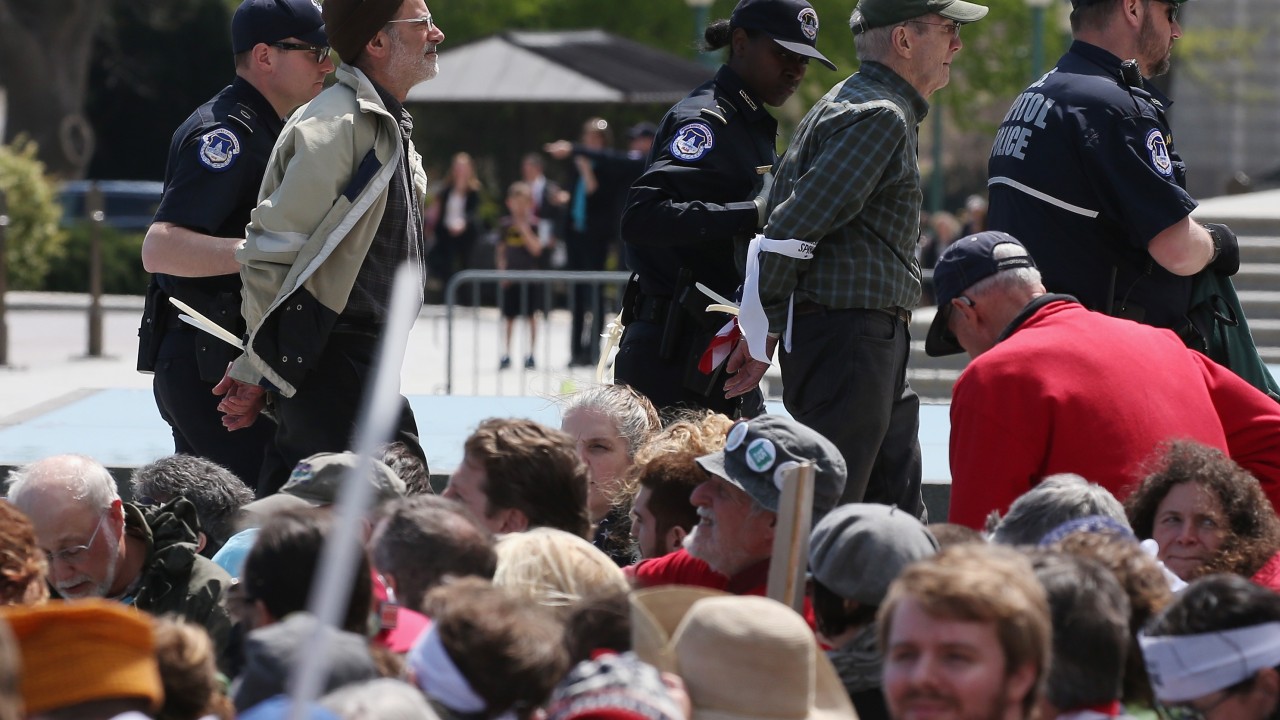 The evasions, obfuscations and deliberate lies employed by so-called "dark money" groups — organizations that play politics under the guise of nonprofits — are undermining the nation's voluntary tax system and pushing the envelope into the realm of illegality, a former top Internal Revenue Service official suggested Wednesday.
As Democracy Spring demonstrators engaged in a second day of civil disobedience at the US Capitol, part of a week-long series of demonstrations aimed at expanding voting rights and reducing the influence of money in politics, attorney Marc Owens told an audience at the National Press Club that the widespread use of nonprofits as ways to shield the identities of political donors has corrupted the system.
"I've been practicing tax law for 40 years. I've never seen anything quite like what is going on right now," said Owens, former director of the IRS division that regulated nonprofit institutions."There's something building up here and at some point it will break open. I don't think it will be a civil investigation at that point. I think it will be a criminal investigation."
Owens spoke as part of a National Press Club panel for reporters trying to track "dark money," so called because it is funneled through political nonprofit organizations that never have to disclose their donors. Under the 2010 Citizens United decision, the nonprofits can raise and donate unlimited amounts to influence elections. Unlike super PACs, which must report donors to the Federal Election Commission, "dark money groups," usually organized as 501(c)4s (social welfare organizations) or 501(c)6s (trade associations), never have to reveal the sources of their funds, as long as — supposedly — politics is not their main focus.
According to another panelist, Robert Maguire of the non-partisan Center for Responsive Politics, it looks like another record-breaking year for stealthy political spending. Maguire said CRP so far has tracked $21 million in dark money spending for the 2016 cycle. That's almost three times what it was at this time four years ago, a campaign in which total dark money spending ended up north of $300 million. Another sign of the escalation of covert spending: Non-disclosing groups have already spent more on Senate races alone this year than they had on all races at this point in 2012, Maguire said.
Marc Owens said the opaque nature of the nonprofits invites violations of US law. For one thing: "I'd be willing to bet some of that money is being siphoned into personal bank accounts," he warned.
For another: While it is illegal for foreigners to donate funds to candidates or to organizations trying to influence American elections, Owens noted that there is nothing in the tax code that restricts foreigners from making a donation to a nonprofit. If they do and it happens to be a political nonprofit? Owens said the IRS doesn't have the manpower to investigate: "The resource pressure on the IRS is immense."
He also accused nonprofits of ignoring legal obligations. The National Rifle Association, "may have last filed an accurate 990 in 2007," said Owens, referring to the one tax form that nonprofits must make public. While every year "six to twelve" law and lobbying firms register with congressional ethics officials as lobbyists for the gun-rights group, to the IRS, the NRA reports "zero" lobbying expenses, Owens said. BillMoyers.com has requested a response from the NRA and will update this post when we receive one.
Such flouting of the law, especially by such a well established nonprofit, has "a corrosive impact on overall tax compliance," Owens said. He noted that the IRS has begun to prosecute nonprofit officers who submit inaccurate 990s. Of the cases the agency has brought so far, they have never lost one, he said.
Asked by a veteran tax reporter whether the IRS isn't "terribly intimidated right now by a Republican Congress" and worried about budget reprisals from the GOP, Owens predicted that the pressure to act will become too great to quash.
"It's not really going to matter whether it's a Republican or Democrat as president," he said, "because the system just can't tolerate that sort of outright disregard for the voluntary reporting requirements."
(Editors' Note: Kathy Kiely served as the moderator of Monday's panel at the National Press Club)